Benefits to the Artist and Community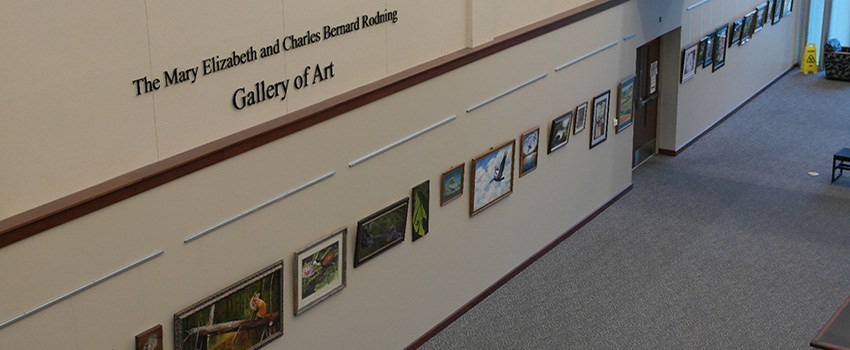 In addition to building art collections of books and other materials, many academic libraries throughout the United States support the arts by exhibiting works by students, employees, and other artists. Such exhibitions not only enhance the library's cultural role on campus and in the community but also creates an environment that is uplifting, inviting, and inspirational for library visitors and employees.
With this in mind, the University Library at the University of South Alabama established two art galleries in March 2003. More than 12 exhibits each year since 2003 have established the library as an important venue for art on campus and in the Mobile community. The library galleries have offered artists venues whereby thousands of students, staff, faculty, visitors, and community residents have seen a wide range of art, including watercolors, oils, acrylics, engravings, and multimedia to photographs, miniatures, baskets, and graphic arts. These shows often introduce viewers to new artists and art forms such as Sumi-e, multimedia, etchings, book arts, fabric arts, graphic arts, and basketry. At a time when more and more information resources are available online, the library's exhibits and displays provide an additional reason for people to come to the University Libraries. Based on user feedback, the galleries and gifts of art hanging throughout the library help to establish an environment conducive to study, inspiration, and learning. The numerous works of art found throughout the University Library truly differentiate this library from those without art.
The University Library galleries also benefit artists who exhibit by offering a venue and opportunity to showcase their works publicly. Current art exhibitions are also publicized in the Mobile Press-Register, the Mobile Arts Council's website, and other websites. Because the library does not sell works of art, artists may sell directly to the public by leaving contact information about each work on exhibit and for sale. As a result of the publicity which the library provides, artists are exposed to a larger population and can list the library as a place where their works were exhibited. The library's art website and social media pages list current exhibitions, policies, etc. It also helps to publicize artists who have exhibited at the library in the past.
The University Library galleries, therefore, benefit both artists and all those who view the works of art that are on exhibit throughout the year. Finally, the galleries have contributed to the reputation of the University of South Alabama as an institution that supports the arts in the greater Mobile community.
Contact Information:
Paula Webb
Outreach and Communications Librarian
Phone: 251-461-1993
Email: pwebb@southalabama.edu