Chiisai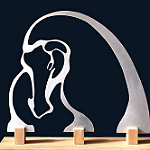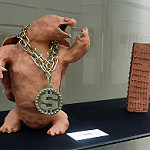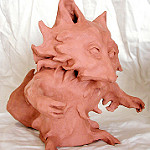 University of South Alabama Marx Library
Third Floor, Mary Elizabeth and Charles Bernard Rodning Gallery of Art
January 15, 2016 – February 29, 2016
A new art exhibition, "Chiisai" (Japanese for "small"), is currently showing at the University of South Alabama Marx Library. The exhibit will be on display in the glass display cases in the Mary Elizabeth and Charles Bernard Rodning Gallery of Art on the third floor of the Library through February 29, 2016. This collection of art features small paintings and sculptural works by local artist Regina Doi-Kollegger. In Regina's 25 year career as an artist, she has painted murals and panels for public display in U.S. embassies, train stations, art walks, and museums. The work is large scale, sweeping and abstract. Yet, there is another side to her, something she calls "Chiisai" – small and precious, perhaps child-like. In "Chiisai" she sculpts in wax and casts intricate bronze and precious metal jewelry and sculptures. Regina says, "I sculpt animals as I would like to play with them as a child. If in terracotta clay, my figures are spirits of preciousness within."
In this exhibit you will view rough castings and waxes, and have a glimpse into the process of "lost wax metal casting– a process where, an originally sculpted wax is molded then, its model attached to a wax "tree" that reflects the eventual path of poured metal, that occurs in a metal foundry. You will also view sculptural terracotta excerpts from, "Building New York City" a public exhibition from the New York State Museum.
Regina Doi-Kollegger born in Tokyo, Japan is a painter and sculptor. Her fine art is influenced by her Eurasian heritage. Regina's work is displayed in both public and private collections and installations throughout the U.S. and the world, including Saratoga, Manhattan, East Hampton, NY, San Francisco, Austin TX, & Tokyo and Osaka Japan, Dubai and Brunei. Today, Regina paints, sculpts and plays with her horses, puppies and her painter husband, Benno Kollegger at their studio farm on Heron Bayou, Mon Louis Island, Alabama.