Southern Ceremonial Complex: Cosmology and Continuity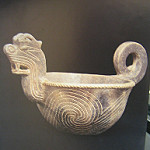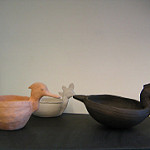 Currently on display at the USA Marx Library is an exhibit entitled, "Southern Ceremonial Complex: Cosmology and Continuity", which will be on display through December 15, 2016. Iconography was, and still is, used by many Native American cultures. In this exhibit the icons and their descriptions on the wall of the art gallery are a "key" of sorts to the icons that you will find in many of the artifacts and art pieces in the glass cases. Another thing to keep in mind when going through the exhibit is that the items on the top shelves are items pertaining to the upper world; The items on the middle shelves are pertaining to the middle world and the items on the bottom shelves are pertaining to the lower world. Toward the end of the exhibit, you will see how these icons are still being used today in the basket making and other works of art, thus showing continuity. This exhibit was produced through a partnership between the Poarch Band of Creek Indians and the USA Native American Studies Program.
The exhibit is being shown in the Mary Elizabeth and Charles Bernard Rodning Gallery of Art on the third floor of the Marx Library. The exhibition is free and open to the public during regular Library hours. We hope you will come out and learn more about the fascinating Native American culture.