Southern Favorites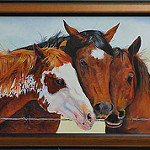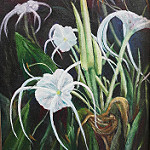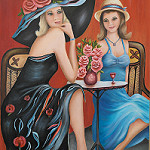 Mobile – "Southern Favorites" is an art exhibit currently on display in the Mary Elizabeth and Charles Bernard Rodning Gallery of Art on the third floor of the University of South Alabama Marx Library. This exhibition of artwork brings together several local artists, who beautifully capture the people, places and animals of the South through their paintings. These works of art will be on display through February 29, 2016. The exhibitors are as follows:
Penny Lewis of Mobile, Alabama was born and raised in an artistic family, musical as well as art. She has been drawing and painting since she was very young. She enjoys painting animals, birds and people, with horses being her love. Her medium of choice is oil, but she enjoys watercolor as well as graphite. She is a member of the Mobile Art Association and the Watercolor and Graphic Society.
Carmel Alvis is a native of Mobile Alabama who enjoys portraying the beauty of the Gulf Coast along with painting portraits of both people and pets, architecture and her latest discovery of historical reenactments. She is known for her vibrantly colorful pieces and has been juried into many local art shows and seen in many galleries and local museums. She is a member of the Watercolor and Graphic Society.
Liz Zirlott has been drawing since she was old enough to hold a pencil and is largely a self taught artist. Art was the one thing that could hold her interest in school. After raising a family and retiring, she rediscovered her first love. She has been painting and teaching ever since and is a member of the Mobile Art Association and the Watercolor and Graphic Society.
Nancy Hanrath is an award winning and professional watercolor artist who enjoys painting vibrant florals, colorful landscapes and wildlife. She has developed a realistic style over the past twenty years and strives to capture the essence of her subject through her use of fluid colors. Nancy is a lifetime member of the National Academy of Flemish Painters in Antwerp, Belgium, a member of the Watercolor and Graphic Society, The Portrait Society of America and the Mobile Art Association.
Karen McGahagin is an award winning artist who had the opportunity to devote to full time painting after retiring in 2005. She attended workshops in Mississippi, Alabama and Florida to become a better artist and refine her painting skills. She currently is a member of the Mobile Art Association and the Watercolor and Graphic Society where she has served on the board for several years. Karen is also a member of the local and national Sumi-e Society and a member of the Mobile Arts Council and the Mobile Museum of Art. Her work can be seen at the Dauphin Island Lighthouse Gallery.
Vivienne Stevens has been an art lover all of her life. She had a deep desire to learn to create the type of pieces she admired. She began painting in oil in the mid 70's. She is now an accomplished oil and watercolor artist. Her favorite subjects to paint are birds, beach scenes, old barns, houses, animals and flowers. She is known for saying, "Getting together with friends and painting is the best therapy in the world". Vivienne is a member of the Mobile Art Association.
Kathy Sikes started her artistic adventure at the age of thirty eight. Having built houses during this time aided in her inspiring love for art and learning to create it. She studied under Audice Shelton in Mississippi for fourteen years. Kathy has won several awards in Singing Rivers Art Association and has served as the Treasurer of the Biloxi Art Association for six years. She is an astounding artist of watercolor and oil and is a member of the Ocean Springs Art Association.