In Stillness and The Serpents of Bienville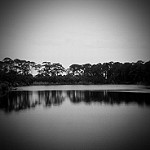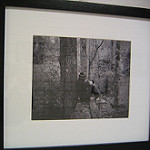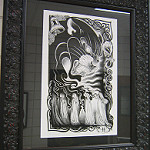 Mobile – The University of South Alabama Marx Library is proud to present the combined exhibits of artist Kathrena Rivera's "In Stillness" and Sean and Amanda Herman's "The Serpents of Bienville". This combined show is currently on display on the 1st floor gallery of the library. The exhibit will be on display through April 30, 2017. The exhibit is free and open to the public during regular library hours.
About Artist Kathrena Rivera: Photography has been the main form of Kathrena's creative expression for the majority of her life. It is a passion that continues to morph, expand and refine the way she views the world. This series reflects her drive to create images that are reminiscent of dreamscapes or memories translated onto film.
Kathrena wants to convey a sense of timelessness and abstract quality to landscapes. A girl walking down a country road, a child running in the park at dusk or a man reaching out to view the horizon of the sea, seemingly unimportant or simplistic moments of humans relating to their surroundings.
This exhibit features work using medium-format film Holga cameras, both standard and pinhole. Kathrena enjoys the simplicity of "toy" cameras. Without multiple settings and sharp lenses the photographer is left with only their vision to rely on. The very limitations of toy and homemade cameras are what appeals to her.
The images were created in-camera using long exposure and Intentional Camera Movement techniques. While still creating a dreamy effect, Kathrena's goal as an artist is to keep the images as true to the moment of capture as possible.
About Artist Sean Herman: Sean Herman lives and creates art in Daphne, Alabama. He grew up in Daphne, leaving to pursue his dreams of learning the ancient craft of tattooing. He began traveling the world, working with highly respected tattooists in Sweden, Canada, New York City, Southern California, and many other cities in his adventures. His work has been featured in magazines all over the world, including Norway, Russia, Germany, and Taiwan, with over thirty different articles being written on his life and work. Herman returned home in 2008, longing for the culture he missed, amongst the beautiful Live Oak. Outside of his craft of tattooing, Herman has had his work shown throughout multiply art galleries, including the MOCCA (the Museum of Contemporary Canadian Art) in Toronto. Sean Herman is currently tattooing by appointment. He can be reached through his website www.seanherman.com, or by email at sean@seanherman.com.
Sean's illustrations are based on local folklore and ghost stories from the Alabama Gulf Coast and were created using micron pen and ink wash, painstakingly creating detailed images consisting of tiny dots. These dots grow into a much larger image, one that draws the viewer into specific lore, setting the stage for the larger message to come. These stories, which have been passed down for generations, are also more closely examined by Herman in essay form, with small explanations accompanying each print hanging at the gallery show. The full essays can be found via the project's website.
About Amanda Herman: Amanda is a southern writer and creator, vegan recipe experimentalist, discoverer, adventurer, wife and mom to the hyper focused and wildly creative. Amanda has been referred to by the Smithsonian as an Amazonian gladiator, proud supporter of PMA and big hair. By the time I've reached my golden years, I would like at least one person to be able to say, "That old bat may be crazy as a loon, but she can tell a darn good story".
Contact Information for the Serpents of Bienville:
Website: www.serpentsofbienville.com
Email Address: theserpentsofbienville@gmail.com