USA Students Win International Scholarships to Study Abroad
---
Posted on January 10, 2020
Joy Washington
---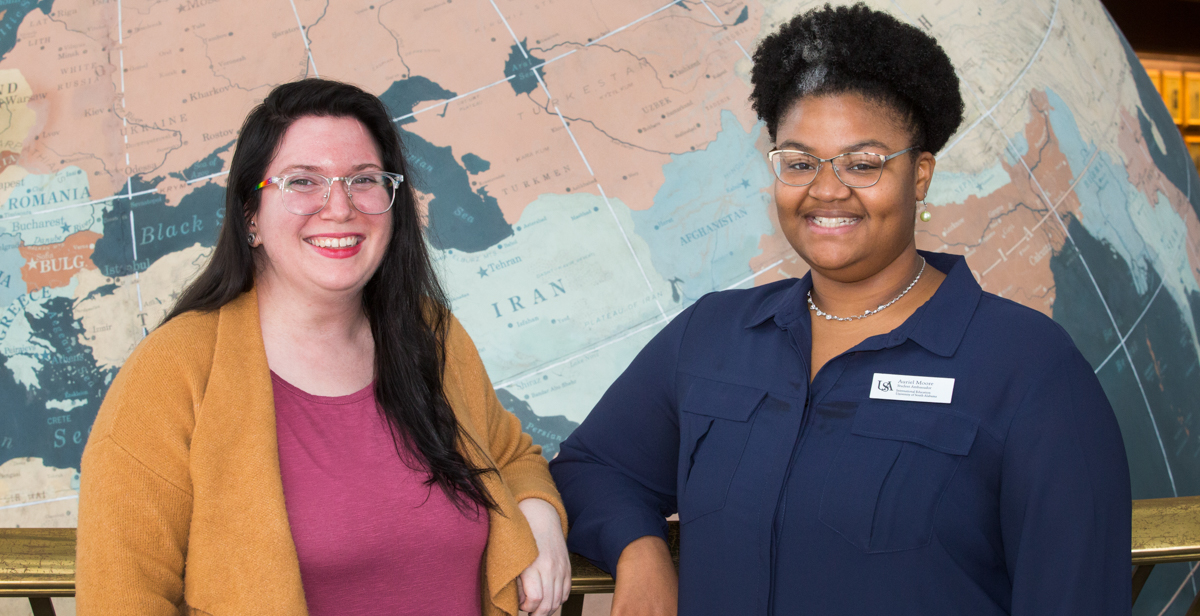 Shelby Merritt, left, and Auriel Moore each were awarded a Gilman Scholarship to study in Russia. "This opportunity to study in Russia has opened a lot of doors for me to help mentor and prepare other students who want to study abroad," Moore said.
---
"The Gilman Scholarship is provided to students with the opportunity for them to return home with a deeper understanding of their place in the world, encouraging them to be a contributor, rather than a spectator, in the international community." -Benjamin A. Gilman.
Shelby Merritt ended up changing majors. Auriel Moore has decided to work abroad following graduation.
They are two of the four University of South Alabama students who were awarded Gilman Scholarships to study abroad this year, and their experiences have been life-changing.
"Shelby was initially majoring in nursing, and found her passion and love in foreign languages," said Jan Dominique Santos, education abroad adviser in South's Office of International Education. "She hopes to work with the U.S. Foreign Service in public diplomacy. With her determination, Shelby will make great strides in building bridges between communities."
Merritt, from Theodore, is a senior majoring in German and Russian. "I was shocked to have been selected out of all the students nationwide," she said. "This experience has been humbling. I went through a long application process of writing an essay about my need for this scholarship to study in another country. Because of my major, I had to study abroad and I didn't have the funds. This scholarship allowed me to travel and study in Russia."
Shawn Dillard, assistant director for international programs in South's Office of International Education, said the late Congressman Benjamin A. Gilman of New York helped to establish this study abroad scholarship program under the International Academic Opportunity Act of 2000. According to Dillard, the Gilman Scholarship program supports underrepresented students in study abroad.
"The Gilman prioritizes language learning, especially critical languages deemed important for national security," she explained. "Gilman is a highly competitive national award that not only provides students with skills that benefit their personal, academic and career development, but also incorporates a component of service."
"Because of the financial support of the Gilman Scholarship and what USA provided, I was able to complete an important requirement so that I can graduate this fall," Merritt said. "The language I was able to use while studying abroad has given me an important advantage. I hope to work abroad following graduation."
Moore is a junior from Mobile majoring in foreign languages with a concentration in Spanish and Russian.
"This opportunity to study in Russia has opened a lot of doors for me to help mentor and prepare other students who want to study abroad," Moore said. "One of my favorite places in Russia was Siberia. After a few weeks of classes in Moscow, we took a break from the capital to explore Irkutsk, and we even went camping on Lake Baikal. It was absolutely beautiful there with the bright green plains and clear blue skies. I was in a great place to learn the language and compare the differences in cultures. Moscow was also great for practicing the language, and it was there that I learned to navigate their world-famous metro system. Upon graduation, I would like to teach English abroad and have a career in global education."
Students who study abroad on the Gilman Scholarship return with the responsibility of sharing their experiences. Santos said Moore has had much to share.
"Since Auriel's study abroad experience, she has been named an International Education Ambassador for our department," she said. "She is a liaison for the students considering an education abroad and for those who are transitioning back to the states from a study abroad experience. She recently returned from a human rights conference in Brazil and plans to depart for Eastern Europe and the United Kingdom in the summer of 2020.
"Auriel is the definition of a global citizen."
South's other two Gilman Scholars are Patrick Mutual, who studied in Germany, and Sunny Souvannasy, who studied in South Korea.
---