Two South Students to Present Papers at the Alabama Academy of Sciences Annual Meeting
---
Posted on January 19, 2017
Joy Washington
---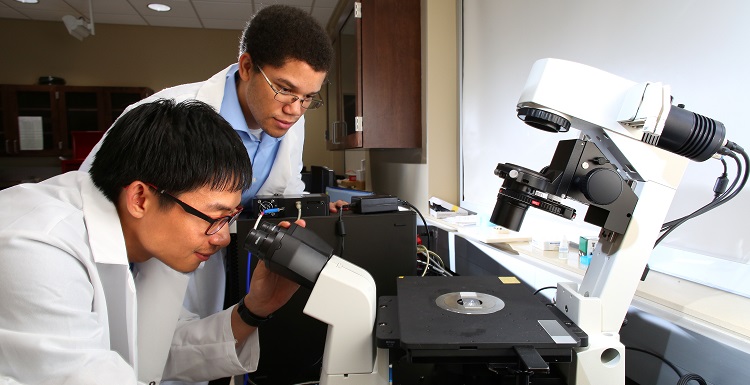 Phiwat Klomkaew, left, a junior chemical engineering major, and Kevin Ingles, a junior math and physics major, will present scientific papers at the 94th Alabama Academy of Sciences annual meeting.
---
Gaining experience and collaborating with the state's top scientists and students will be the key focus for two University of South Alabama students who will present their scientific papers at the 94th Alabama Academy of Sciences annual meeting, Feb. 22-24 at USA's Student Center.
"This is a great opportunity for me, and my primary goal in writing this paper is to classify what are called Hamiltonian multi-vector fields, which include those fields that preserve the metric of space, or the idea of distance," said Kevin Ingles, a junior math and physics major. "I must admit, I am a little nervous about presenting my paper in front of such a distinguished crowd, but I will be ready."
With the expectation to earn his Ph.D. in physics one day, Ingles' paper is about "Hamiltonian Structures on Spin (7)-Geometry."
Phiwat Klomkaew, junior chemical engineering major, wants to pursue a Ph.D. in biomedical engineering. His paper is "Optimizing Speed and Sensitivity of an LED-based Hyperspectral Imaging System."
"This is a topic I wanted to learn more about," Klomkaew said. "I have spent hours researching to prepare for this presentation. But, because of the support I have received from my professors, I am confident and ready to present a good paper."
Both students are active outside the classroom. Ingles is the first vice president for the Student Organization for Academic Research. He is in the process of developing a new program, "Community Outreach for Mathematics and Engineering." It will focus on providing after school tutoring in math and science for Mobile County Public School students.
Klomkaew is a member of South's Honors Program, Circle K International, the Meditation and Mindfulness Club and Tau Beta Pi, the national engineering honor society.
Dr. Larry K. Krannich, AAS executive director and professor emeritus of chemistry at the University of Alabama at Birmingham, said the Academy, which includes members representing all areas of science, is available to provide public service, be a resource in scientific matters, and advocate for and promote the study of science by Alabama youth.
"To encourage achievement in science by Alabama youth, the Academy awards scholarships and engages students in paper reading competitions," he said. "At each annual meeting, the Gorgas Scholarship Competition and the Junior Academy Paper Reading Competition takes place. The Gorgas Scholars compete for more than $10,000 in scholarships and most Alabama colleges and universities offer additional scholarships. These programs encourage high school students to become engaged in scientific research."
Krannich said the Academy is important as a venue for established scientists, graduate, undergraduate, and high school students who are aspiring scientists, to meet and discuss their research, exchange scientific information, and stimulate scientific research within Alabama.
Dr. Jack Shelley-Tremblay, local arrangements committee chair for the meeting, professor of psychology and director of undergraduate research at South, said the meeting also provides opportunities for established scientists to remain connected with new and innovative research topics and gives young scientists opportunities to become more influential in the scientific community.
"This is an excellent opportunity for scientists and experts in the STEM fields and various specializations to connect with one another and share ideas and mentor students," Shelley-Tremblay said. "Kevin and Phiwat work side-by-side with outstanding faculty mentors Drs. Albert Todd, assistant professor of mathematics, and Silas Leavesley, associate professor of chemical and biomolecular engineering, to conduct their research. I am proud that they will represent South at this prestigious conference."
Harvard University Research Professor Emeritus Dr. E.O. Wilson of Mobile and recent USA graduate Catherine Zivanov are featured speakers at the banquet.
Wilson, a world-renowned scientist, has transformed his field of research—the behavior of ants—and applied his scientific perspective and experience to illuminate the human circumstance, including human origins, human nature and human interactions. Wilson has also been a pioneer in spearheading efforts to preserve and protect the biodiversity of this planet.
Zivanov graduated summa cum laude in May with a bachelor's degree in chemistry and a minor in biomedical sciences. A 2014 recipient of a Goldwater Scholarship, Zivanov last year became the first student from USA to receive the Phi Kappa Phi Marcus L. Urann Fellowship.
---