Called to Teach, Supported by South
---
Posted on February 3, 2020
Joy Washington
---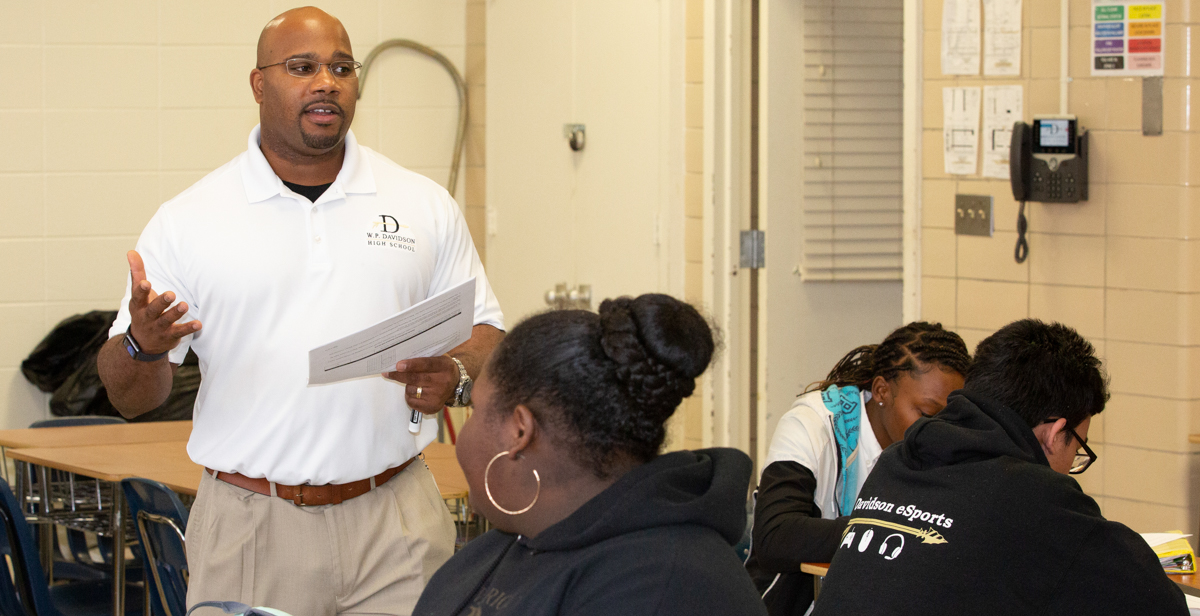 Ramsey Willis instructs students during a geometry class at Davidson High School in Mobile. Willis majored in business and worked in industry prior to completing his master's degree in education from South through the Robert Noyce Teacher Scholarship Program.
---
Watching Ramsey Willis teach 10th-grade geometry in his Davidson High School classroom in Mobile, he makes what is complex, easy to understand. His students are able to problem solve and support each other to get the right answer.
Willis is one of more than 70 teachers who has completed the Robert Noyce Teacher Scholarship Program, which includes the Pathway to Math and Science Scholarship at the University of South Alabama College of Education and Professional Studies.
The Robert Noyce Teacher Scholarship Program, funded by the National Science Foundation, responds to the critical shortage for K-12 teachers in science, technology, engineering and mathematics, or STEM, by encouraging talented college students and professionals to pursue teaching careers in elementary and secondary education.
Willis, a native of Detroit and a USA Noyce Scholar alumnus, majored in business and worked in industry prior to completing his master's degree in education from South in 2015. Willis has a passion for education.
"The Noyce program has been amazing for individuals like myself who have degrees in non-education areas but feel called to teach," Willis said. "Knowing that the Noyce grant has been funded means more teachers that really want to be in the classroom helping students. The best part about Noyce is that the teachers are able to benefit by having experience in the real world and understand what our youth need to be successful."
Willis and other graduates of the Noyce program feel fortunate to have the continued support.
"As a Noyce Scholar, I have been blessed with support throughout the school year and through the summer as well," Willis noted. "The Noyce leaders continue to reach out to us to make sure we have what's needed to be successful in the classroom."
Principal investigator for the $3.5 million NSF Noyce grant is Dr. Andre Green, professor and associate vice president for academic affairs. Green has received more than $32 million in grants and contacts over the course of his career. This summer, Green will welcome Willis and many others to the annual Southeastern Regional Robert Noyce Conference, to be held in Montgomery.
"Our focus is 'Removing Barriers in STEM Teacher Education,'" Green said. "For the first time, more than 250 Noyce participants and alumni will meet in Montgomery for this annual conference. Since this city was one of the primary sites for the civil rights movement, those attending will have more to learn about the rich history and how it connects to mathematics and science education.
"We are building on the momentum from last year's conference held in Mobile. We will continue our exploration of the challenges and problems of equity in education. We will discuss social justice and culturally relevant pedagogy in mathematics and science education. We will also visit the National Memorial for Peace and Justice along with the Legacy Museum, which was created by the Equal Justice Initiative. The founder is Bryan Stevenson, a public interest lawyer and best-selling author of 'Just Mercy,' which has been released as a movie."
Willis is looking forward to attending the conference and will go understanding that he has been teaching for five years now, which gives him more to share with other Noyce scholars who are just starting to teach.
"Since I have been teaching, I now know what works and what needs to be tweaked so it can work better for my students," he said. "One overwhelming theme at the Noyce conference is to keep the students involved in their learning and don't just lecture to them. I agree wholeheartedly with this philosophy and try to incorporate this into my classroom teaching daily. I am more interested in how my students see things, so I know better how to help them understand. I must listen to my students to know where they are coming from. I want to be the best teacher for my students."
Green said Willis and other Noyce alumni have benefited a great deal from the Noyce Pathways to Mathematics program. He is thrilled to have received the new grant, which is supported by the College of Education and Professional Studies, College of Arts and Sciences and USA's Center for Integrative Studies in Science, Technology, Engineering and Mathematics.
"We are building a community of learners," Green noted. "And Willis is one great example of a teacher who understands the importance of connecting and engaging with the students in the classroom."
---