Turning Adversity into Opportunity
---
Posted on March 2, 2020
Marketing and Communications
---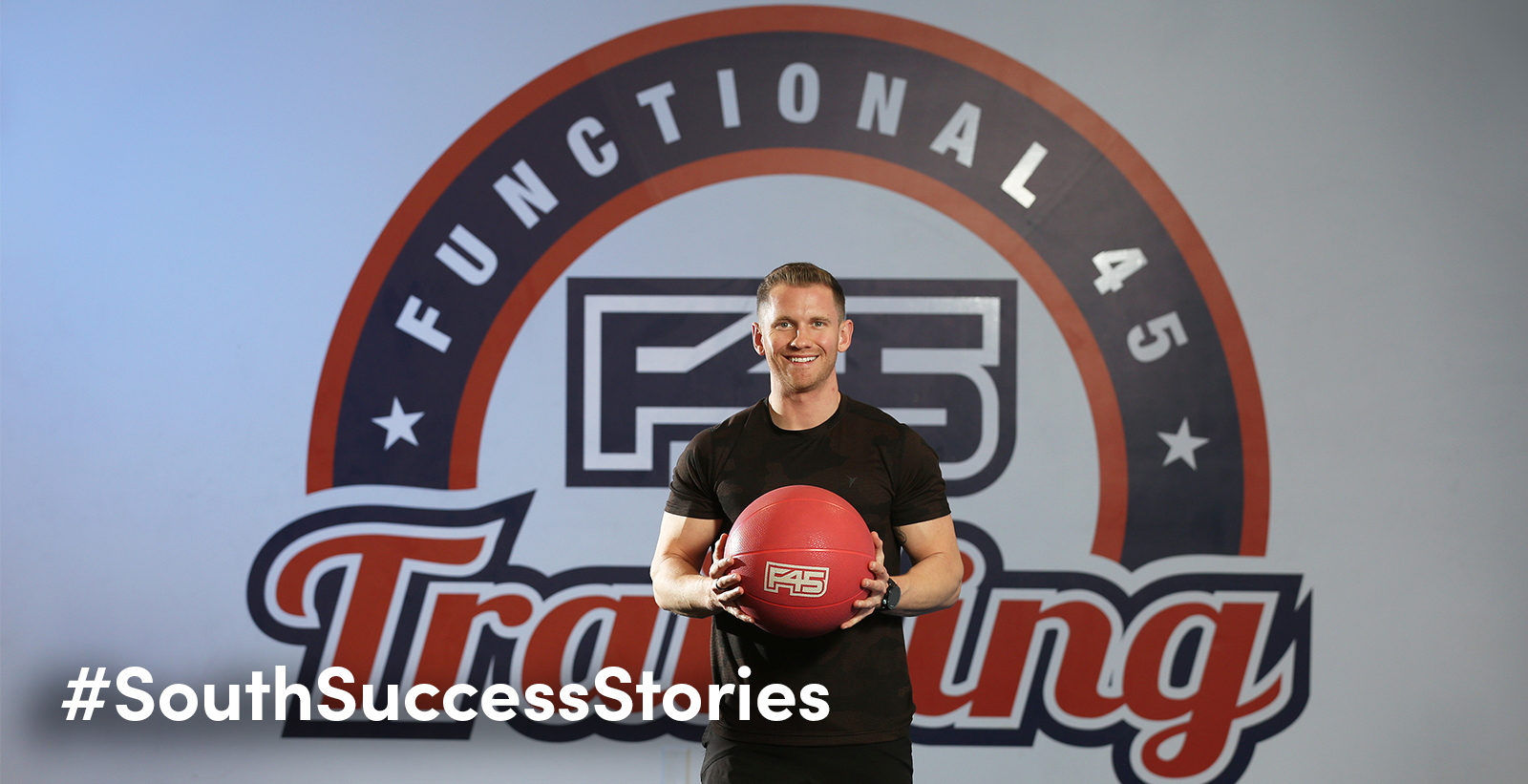 Andy Vickers, a graduate of the University of South Alabama's Mitchell College of Business, opened two F45 fitness training studios and plans to open a third in Pensacola.
---
#SouthSuccessStories is an ongoing series featuring University of South Alabama alumni who are life-savers, innovators, game-changers, music-makers and creative-thinkers, successful in their careers and supportive of their communities.
When Andy Vickers walked across the Mitchell Center stage in 2015 to collect his University of South Alabama degree, he had unconventional post-graduation plans: to launch a career as a professional wakeboarder. "It was my sole focus," he said.
Within a month, though, he suffered a career-ending injury in his first competition. A three-month recovery from one reconstructive surgery grew into a nearly yearlong ordeal with rejected hardware, infections and more operations.
"It was a complete redirect," he said. "Looking back, it was a blessing. I wouldn't have done the things I have in business had that not happened."
Vickers' ability to recover and bounce back has been key in his professional journey.
Today, Vickers runs two F45 fitness training studios in Mobile and Daphne, and he's on the cusp of opening a third location in Pensacola, Fla. He's already reinvented his career several times, and he's OK with that.
"I have learned more from the things I tried that I don't want to do, the things I shouldn't do, the ways not to manage others, ways not to do other things. I'm a firm believer in that," he said.
Jumping out of a plane
Vickers, who earned a scholarship to USA, majored in business management and was among the first students to declare a concentration in entrepreneurship. When Vickers was a senior, he decided to pursue an internship. It wasn't required at the time, but an episode of "Shark Tank" featuring Mobile businessman Scott Tindle spurred an idea.
Dr. Donald Mosley Jr., executive director of the Mitchell College of Business's Melton Center for Entrepreneurship and Innovation, was one of Vickers' professors at the time and remembers Vickers' drive.
"The entrepreneurship program was very new, so there were few internship opportunities compared to what we have today," Mosley said. But that drive and Vickers' fearlessness — key characteristics for an entrepreneur — helped him land an internship and find a "perfect mentor" in the process, Mosley said.
Vickers invited Tindle to lunch through a mutual connection, and the student's calculated meet-up paid off. Tindle, then executive director of Mobile's Greater Gulf State Fairgrounds, agreed to bring Vickers on as an intern. Among the student's first challenges was to help Tindle's team move toward a more Disney-centric customer service model – away from the traveling carnival approach.
Tindle also wanted to bring new events to the fairground and charged Vickers with developing a plan for a professional barbecue competition.
"That was my first confidence builder, to take an idea, put action behind it and learn as I go," he said. "I often describe entrepreneurship as 'We're jumping out of a plane, and we're building a parachute on the way down.'"
After Vickers' injury, he had an opportunity to manage a wakeboard and watersports park in North Carolina. He emptied his savings, packed his bags and relocated. But his first "big-boy job" was another setback. "I was back in Mobile within a month."
Like any good entrepreneur, Vickers started to search out another opportunity. He sank on one project – as the branding manager for a screenprinting startup. "None of us knew anything about screenprinting. We were making more mistakes than we were doing things right." Then he learned to swim again. Float, actually.
An old idea Vickers and Tindle had discussed was new again: Launching a tourism business with amphibious boats.
Gulf Coast Duck Boat Tours took off, growing to 40 employees and multiple World War II-era DUKW boats. Tindle and Vickers, as general manager, expanded the enterprise, adding maintenance and property management businesses as well as The Fort of Colonial Mobile under the holding company, Think Bigger.
Next adventure
In 2018, an investor group approached Vickers about opening F45 gyms along the Gulf Coast. He jumped at it.
With two F45s open, one in Mobile and the other in Daphne, Vickers is in the final stages of settling on the Pensacola location. In F45, Vickers is following a personal love of fitness while taking advantage of a national trend in the industry that is seeing more and more people join boutique studios. F45 focuses on functional training in the form of high-intensity 45-minute workouts.
At first, he was putting in 17-hour days, serving as the manager, trainer and janitor. He has since focused on building the gyms' leadership teams so they can run without him.
He has also revived another interest: real estate investment. While working at Think Bigger, he obtained a real estate license. Now, two years later, he just launched his own real estate brokerage, Wellhouse Real Estate.
"I knew absolutely nothing about it, so I just started networking and reaching out," he said of his initial interest in real estate. Vickers says he would urge students interested in entrepreneurship to do the same. He credits his resilience to his willingness to reach out.
"I can't stress enough the importance of reaching out to somebody if you are interested in something. The worst thing they can say is no," he said.
As a Mitchell College of Business graduate, Vickers is on the advisory council for the department of management. He still regularly visits professors who have become mentors.
"I built relationships that have been foundational to my success," Vickers said of his time at South. "I also credit my experience at South to the redirection of my family tree. I'm a first-generation college graduate and plan on changing the course of future Vickers generations to come by showing them what is possible with an education."
---