South Holds Democracy Day Teach-in
---
Posted on March 6, 2018
Joy Washington
---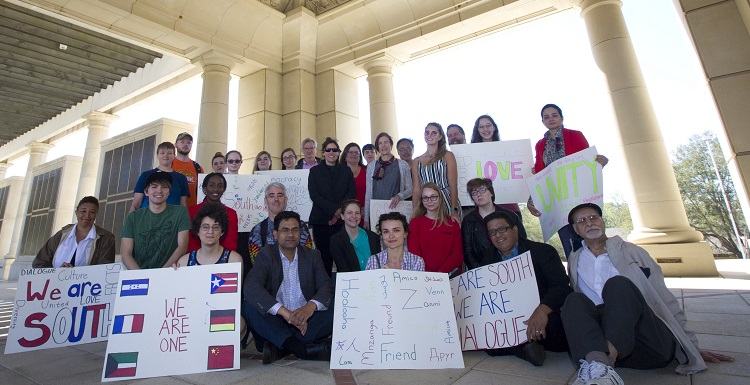 Following break-out sessions, students and faculty attending Democracy Day walked to Moulton Tower and Alumni Plaza, where they debriefed and wrapped up discussions.
---
More than 300 students swapped ideas and solutions at the 2018 Democracy Day, an annual event to celebrate democracy's role and open conversations.
We Are South: Democracy Day was held at the University of South Alabama's Student Center Amphitheater on Friday, March 2. The sessions happened concurrently in different areas of the amphitheater, with students, faculty and staff moving from one session to the next and joining in informative and empowering dialogue.
The session topics were "Education and Democracy," "Democracy and Free Speech," "Media and Democracy," "Science and Democracy," "Black Lives Matter and Democracy," "Me Too Movement," "Voting Rights, Representation and Democracy," "Reproductive Rights and Democracy," "DACA: Immigration and Democracy," "LGBTQ Rights and Democracy" and "Global Perspectives on Democracy."
"Democracy Day began with opening remarks," said Dr. Martha Jane Brazy, associate professor of history. "Participants were involved in 30-minute breakout sessions, which were led by students and faculty. We encouraged thoughtful discussions about important topics that affect us as Americans."
After last year's event, the students submitted suggestions via a survey. Many wanted to move the event from the indoor classroom to an outdoor space, and overall, the event was noted as a success with the classroom transported to the open area outside the Student Center.
"This event allows students, faculty and staff to come together and discuss issues that are important to our country and community," said Dr. Bob Coleman, assistant dean in the College of Arts and Sciences. "We are hopeful that this will become a model for other universities around the country."
---