Phi Kappa Phi Presents Scholar and Artist Awards
---
Posted on March 9, 2022
Joy Washington
---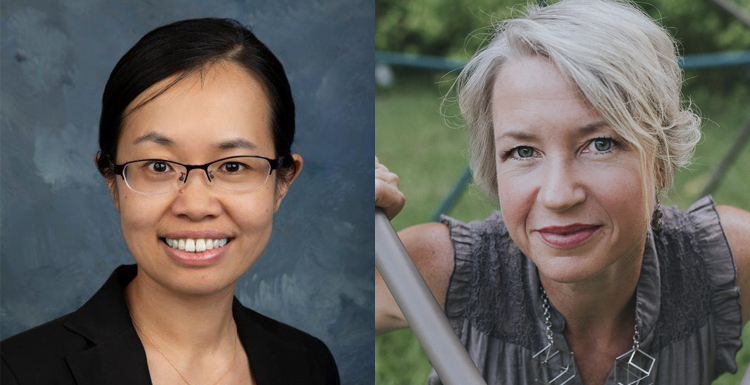 The Warren Nicholson Associate Professor Dr. Na Gong, associate professor of electrical and computer engineering, left, and Director of the Stokes Center for Creative Writing Dr. Charlotte Pence, associate professor of English, at the University of South Alabama were selected respectively as the 2021-2022 Phi Kappa Phi's Scholar of the Year and Artist of the Year
---
The University of South Alabama chapter of Phi Kappa Phi, the nation's oldest multidisciplinary honor society, has selected Warren Nicholson Associate Professor of Electrical and Computer Engineering Dr. Na Gong as Scholar of the Year, and Director of the Stokes Center for Creative Writing and Associate Professor of English Dr. Charlotte Pence as Artist of the Year.
"It's our pleasure and honor to recognize the outstanding scholarly achievements in research and the excellent creative literary work of Drs. Na Gong and Charlotte Pence, respectively," said President of the USA Phi Kappa Phi Chapter Dr. Romulus Godang, professor of physics in the USA College of Arts and Sciences.
The award announcement came during the chapter's annual induction ceremony, where each of the award recipients gave a brief presentation about their research and creative work. Gong said she is very honored to receive this award.
"I have designed new efficient and intelligent computing circuits and systems for different applications such as mobile videos and deep learning," Gong noted. "In addition to the research, I also enjoy teaching, both in the classroom and through personal interactions with students. As a female faculty member, I am committed to attracting students, particularly women and minority students, into the exciting engineering programs."
Membership in Phi Kappa Phi recognizes student achievement in research, study or leadership. Invitations are typically extended late in an undergraduate's career or after graduation, marking the transition from accomplished work of high merit to further exceptional achievement.
"As a member of Phi Kappa Phi as an undergraduate, I am especially honored to be recognized by this organization that I value so much," Pence said. "Code, my book of poems, was inspired by the death of a friend. The poems and essays in this collection explore how to sustain memories when words are no longer enough."
Today, Phi Kappa Phi recognizes and promotes academic excellence in all fields of higher education and engages the community of scholars in service to others. Additional information about each award recipients work is below.
Na Gong, Ph.D.
Na Gong's research interests include intelligent computing circuits and systems. Her work has been supported by federal funding from the National Science Foundation, Department of Energy, National Institute of Health, and NASA, totaling more than $2.7 million. Gong has published more than 90 peer-reviewed research papers, most in leading academic journals. She received her Ph.D. in Computer Science and Engineering from the University at Buffalo, SUNY in 2013. Her work has been recognized in the best paper award/nomination in top international conferences. She is also an associate editor of three prestigious journals and has served on program committees of multiple conferences. Additionally, Gong has integrated scholarly work into her teaching, advising, and mentoring, and she has organized many K-12 programs to encourage female and minority students to pursue engineering and computing careers.
Charlotte Pence, Ph.D.
Pence's newest book of poems, Code, received the 2020 Book of the Year award from the Alabama Poetry Society and was a finalist for Foreword Reviews Indie Poetry Book of 2020. Code details not only the life cycle of birth and death, but also the means of this cycle: DNA itself. Pence's first book of poems, "Many Small Fires," won Foreword Reviews' silver medal award in poetry. Both poetry books weave together personal experience and scientific exploration. She also is the author of two award-winning poetry chapbooks, and the editor of "The Poetics of American Song Lyrics." Her poetry, fiction and creative nonfiction have been published in "Harvard Review," "Poetry," "Sewanee Review," "Southern Review," and "Brevity."
---