Seven Tips for Getting Your Yard in South Condition
---
Posted on March 16, 2017
Jeb Schrenk
---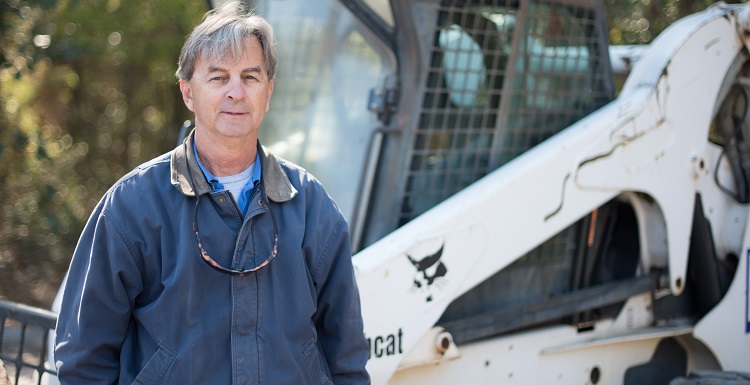 "Don't create a false environment for your plants," said Gary Carley, South's landscaping manager. Dig a hole, plant and be confident.
---
More than 16,000 students, including 3,000 who live on campus, call the University of South Alabama home. Every student wants to be proud of their home, so the landscaping team at South stays busy enhancing the natural beauty of campus.
The most recent high-profile landscaping project was the beautification of South's eastern and southern borders, an effort mostly funded by the city. Increasingly, the physical environment is being recognized for its important role in USA's academic mission.
"The landscaping and the natural beauty of the campus turn heads of prospective students and parents," said Christopher Lynch, associate vice president, enrollment services. "Students can imagine themselves not just coming to campus to study, but to live. It has a tangible impact on our enrollment." (To take a tour, visit Enrollment Services.)
With spring arriving, South's grounds crews are ready for the growing season. Landscaping Manager Gary Carley, the person responsible for those crews and maintaining South's 1,250 acres, offers these seven spring gardening tips:
Hold off on the fertilizer. Carley said he likes to wait until the first week of April before fertilizing: "I like to make sure all the frosts are done and the bad weather has cleared out." Mobile was under a freeze warning this morning. Need we say more?

Carley recommends using a fertilizer that is time-released and includes added minerals such as iron, manganese, sulfur, zinc, boron and copper. Check the bag to know the details of what's in your fertilizer.

Watch your grass. With the weather fluctuating, now is the perfect environment for fungus to start growing on grasses, especially St. Augustine and Centipede. "With the fluctuating weather, that fungus starts kicking up. You many need to use fungicide on brown patches," Carley said.

Plant now. It's time to start digging. Don't wait until it gets too hot. When planting, make sure the root ball is an inch or two above ground level; you can add pine straw or bark on top. The root ball will sink some, so you don't want your plant drowning in water. "Plant it high, never die. Plant it low, watch it go," Carley said.

Water longer, but less often. Speaking of water, when it comes to grass or plants, water longer, but less frequently, to create a stronger subsurface root structure. "You don't need to water established plants or grass every day. But you do need to make sure the water is getting absorbed into the soil," Carley said. On South's campus, nearly all the water used for irrigation comes from wells.

Save money. Many gardeners dig up the ground and till in peat moss, bark, sand and vermiculite. Not Carley. "Don't create a false environment for your plants," Carley said. Dig a hole, plant and be confident. "I rarely lose plants." If you must put something in your soil, Carley said, add some bark.

Another way to save money is to use fewer plants by spacing them apart. Some landscapers place plants too close together for immediate results. Then once the plants grow together, a canopy or dome effect traps in heat and moisture, creating a rich environment for disease. Lastly, save money by losing the weed barriers. Weeds will simply grow on top of them.

Think practically. "Don't put plants someplace because you like the way they look in an area where they can't grow," Carley said. If the plant needs sun, it won't grow in the shade. While that seems simple enough, Carley said it's a mistake often made. He suggests growing native plants that naturally thrive in the area.

Be a rock star. Carley likes landscaping rocks, and that comes as no surprise to anyone that's been on South's campus. They add color, help the soil retain moisture, and, importantly, "you don't have any maintenance on them."
---
Gary Carley is the landscaping manager for the University of South Alabama. Carley worked part-time with a landscaper through high school and college. Following Hurricane Frederic in 1979, he purchased a stump grinder and chainsaws to replace damaged trees and plants. He hasn't stopped.
---