New Book Shares Hopes and Challenges of American Democracy
---
Posted on March 29, 2022
Joy Washington
---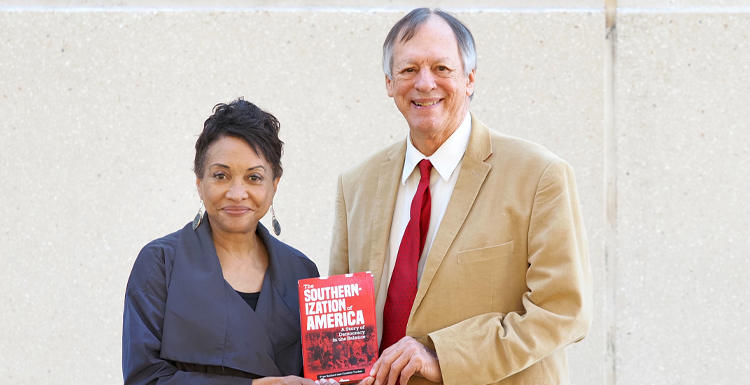 University of South Alabama Journalist-in-Residence Cynthia Tucker, a Pulitzer Prize-winning commentator and Writer-in-Residence Frye Gaillard, an award-winning author on faculty at the University of South Alabama have joined forces to write their new book, "The Southernization of America: A Story of Democracy in the Balance."
---
University of South Alabama Journalist in Residence Cynthia Tucker, a Pulitzer Prize-winning commentator, and Writer in Residence Frye Gaillard, an award-winning author, have joined forces to write their new book, "The Southernization of America: A Story of Democracy in the Balance."
Published by NewSouth Books, "The Southernization of America" features alternating essays that consider the role of the South in shaping America's current political and cultural landscape. Issues examined include voter suppression, immigration and the Jan. 6, 2021, at the Capitol. The authors find hope in the South too, a legacy rooted in the civil rights years.
The English department in the College of Arts and Sciences recently held a book launch and reception at the Marx Library to honor the work of Tucker and Gaillard, where more than 50 people attended.
"Having the extraordinary writers and journalists Cynthia Tucker and Frye Gaillard as part of the USA campus community adds tremendously to our student experience across disciplines and makes us part of an important regional and national conversation about history, literature and politics," said Dr. Ellen Burton Harrington, chair of the English department. "We're delighted that, by bringing them together at USA, our University has played a part in this collaboration, which powerfully considers how Southern racial history and its divisions continue to influence our nation today."
During the talk, Gaillard and Tucker, both journalists and natives of Alabama, reflected on how they took on this writing project as a suggestion by NewSouth's editor, Randall Williams. Tucker and Gaillard expressed how all three of them were admirers of the late Author John Egerton. He wrote a collection of essays, "The Americanization of Dixie: The Southernization of America," published in 1974. Out of that discussion, Tucker and Gaillard wrote a powerful series of essays created as a literary and historical publication.
"The key messages of this book are that the American democracy hangs in the balance," Gaillard noted, "threatened by deep divisions in the country that will not change. But, we believe our country can play a crucial role in this moment — a positive role if our better angels can rise to the surface. We need to redevelop the art of respectful disagreement. We live in a multicultural country, and that will not change. Honest dialogue and understanding are crucial."
As Gaillard decided to take on this writing project, he thought it would be important to include a different perspective, and Tucker became the second writing partner to collaborate on this timely work. They say the biggest goal is to share the truth.
"Writing this book was a way for me to process what is happening in the country. Clearly what we hope is that people read the book and think about these issues differently," Tucker said. "And, we know there are people who won't do that. Although there are challenging issues in the past and present, there's so much in our history to be proud of. You can only bear witness by sharing the truth as you see it."
Currently, there are two upcoming local book talks featuring Tucker and Gaillard: Tuesday, April 12, at 6 p.m. at Paige & Palette in Fairhope, and Wednesday, May 11, at noon at the History Museum of Mobile.
---