Honors Senior, Graduate Earn NSF Fellowships
---
Posted on April 3, 2017
Alice Jackson
---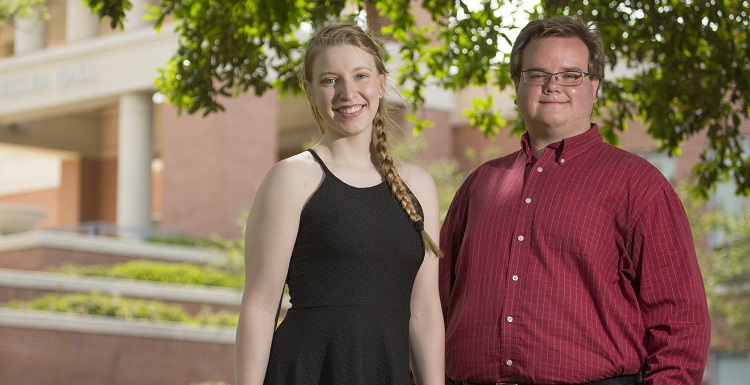 Senior Madison Tuttle and graduate student Robert "Bobby" Faulk each is the recipient of prestigious National Science Foundation Graduate Research Fellowship.
---
A South faculty member alerted both senior Madison Tuttle and graduate student Robert "Bobby" Faulk that each was the recipient of a prestigious National Science Foundation Graduate Research Fellowship before they read the official emails.
"I was sleeping in during the middle of spring break, and suddenly people were blowing up my phone, leaving voicemails and texting me," said Faulk. "I figured I'd better listen to Dr. (Michael) Doran's first, and I'm glad I did."
Doran, director of the USA Honors Program, said he wanted to be the first to congratulate them because "both of these students are so very talented, and both of them are also two of the nicest people you could ever want to meet."
Tuttle said Doran emailed her "as soon as he found out, and I opened it before I got to the official notification."
Tuttle and Faulk are among 2,000 recipients of the NSF's 2017 Graduate Research Fellowships, which selects finalists through a national competition that includes peer review. This year, more than 13,000 undergraduate and graduate students applied for the scholarships. Recipients will receive three years of financial support for graduate study that leads to a research-based master's or doctoral degree in science or engineering within a five-year fellowship period. Each student receives a $34,000 stipend while a $12,000 cost-of-education allowance goes to the graduate institution.
"This is really a game changer for our students because it puts them in an elite group of nationally recognized scholars that any top-tier graduate research program will fight to attract," Doran said.
Including Tuttle and Faulk, a total of eight South students have received the scholarship awards since 2011, putting the Honors Program, its students and South in a category of excellence "found at top research and educational programs anywhere in the nation," Doran said. He added that within the same time period several students, including Faulk, first received honorable mention in the competition, then went on to win the award in subsequent years.
Initially, the 23-year-old Faulk will use the fellowship to complete his studies for dual master's degrees in psychology and sociology from South in 2018. He's undecided about where he'll study for a doctoral degree in psychology, but he hopes to spend some time studying abroad while continuing his career in research.
"I grew up thinking I was going to be a medical doctor, but I came to be passionate about psychology when I was inspired by a psychologist," said Faulk, a graduate of B.C. Morgan High School in Mobile. "I did some soul searching and figured out I would likely be a better psychologist than a medical doctor.
"Dr. Doug Marshall (associate professor of sociology) and Dr. Chris Freed (associate professor of sociology) are the reason I added a master's degree in sociology," Faulk said. "I Dr. Marshall's took his honors intro to sociology course and Dr. Freed's course on social problems as an undergrad, and they still rank as two of the best classes I've ever taken. They were a great inspiration."
There's little spare time outside his studies and working as a graduate assistant in sociology, but Faulk does manage to practice tae-kwon-do and kickboxing for fun and stress relief. He also enjoys literature, video games and hiking. Occasionally, he manages "to enjoy the local trivia circuit with friends."
His joint psychology mentors are Dr. Laura Powell, assistant professor of psychology as well as his thesis chair; and Dr. Charles Brown, professor of psychology. He is working with them on his psychology thesis, which focuses on predicting retention rates among university students based on specific study habits and social factors.
An only child, Faulk said telling his parents about the NSF honor was a happy event for him, although his mother cried.
"Both she and my dad were at the dentist's office. She said she was proud of me and happy because it was a blessing we'd all been praying for," Faulk recalled. "My dad was happy and thankful too, but he didn't cry."
Tuttle, a graduate of St. Martin High School on the Mississippi Gulf Coast, will graduate in May with a bachelor of science in chemistry. Her minor is forensic science "because it was just a fun minor I decided to do," and she has enjoyed the exposure it gave her to the department of political science and criminal justice.
Learning about the anti-cancer research of Dr. Larry Yet, assistant professor of chemistry, determined her career path. Yet focuses primarily on drug discovery, medicinal chemistry and cross-coupling methodologies.
"I heard about his research from another student at the Honors Summer Retreat," Tuttle said. "When I joined the department and started research, I quickly realized what a unique environment it is. It has the facilities and research backbone of a much larger university, but it has a much more tight-knit feel. It sort of feels like we're all a little family because everyone works together and helps everyone else out."
Tuttle, an only child, picked South because "it was close to home, and it felt like everyone was really friendly when I got here, and that drew me in as well as the campus, which is really beautiful."
One of her best experiences at South has been the Honors Program. As a high school senior, she missed the deadline to apply, and that taught her a life lesson.
"I missed the fall deadline, and I wasn't interviewed before school started, so I applied to the program in fall semester of my freshman year, and I began in spring semester of my freshman year," Tuttle explained. "I really wanted to join the Honors Program for the opportunities it offers. For example, one of the coolest classes I've taken at South was the history of chemistry, and that was part of the Honors Program. And, I haven't missed any deadlines since I got in the program!"
She added, "The Honors Program has helped me because I was part of a community that helped everyone else. Everyone in the program is really friendly. The Bethel (the Honors Program headquarters) is like a home away from home. Plus, they push you to do research and to push yourself academically, and when opportunities arise, their motto is 'you should take them and sell yourself.'"
Outside the classroom and studying, Tuttle is "a really big outdoorsy person" who likes camping and rock climbing. Indoors, she enjoys Netflix, reading and the gym.
Tuttle is undecided about where she will study for her graduate degree, but she has applied at several universities. Eventually, she hopes to earn a doctorate in chemistry.
"I'm very busy right now. Even with graduation in May, I'm not letting go," Tuttle said. "I've completed my honors thesis research, and I'm doing some analysis and testing still."
She'll travel to San Francisco April 1-4 to present a poster before the American Cancer Society on testing inhibitors against enzymes that are overexpressed in cancer..
"Graduation will be kind of bittersweet," Tuttle said. "Yes, I'm looking forward to graduating and moving on to new experiences, but I know I'm going to miss South a lot and the people I've met here. It's been a great experience."
---