USA DIYers Innovate on PPE
---
Posted on May 8, 2020
Thomas Becnel
---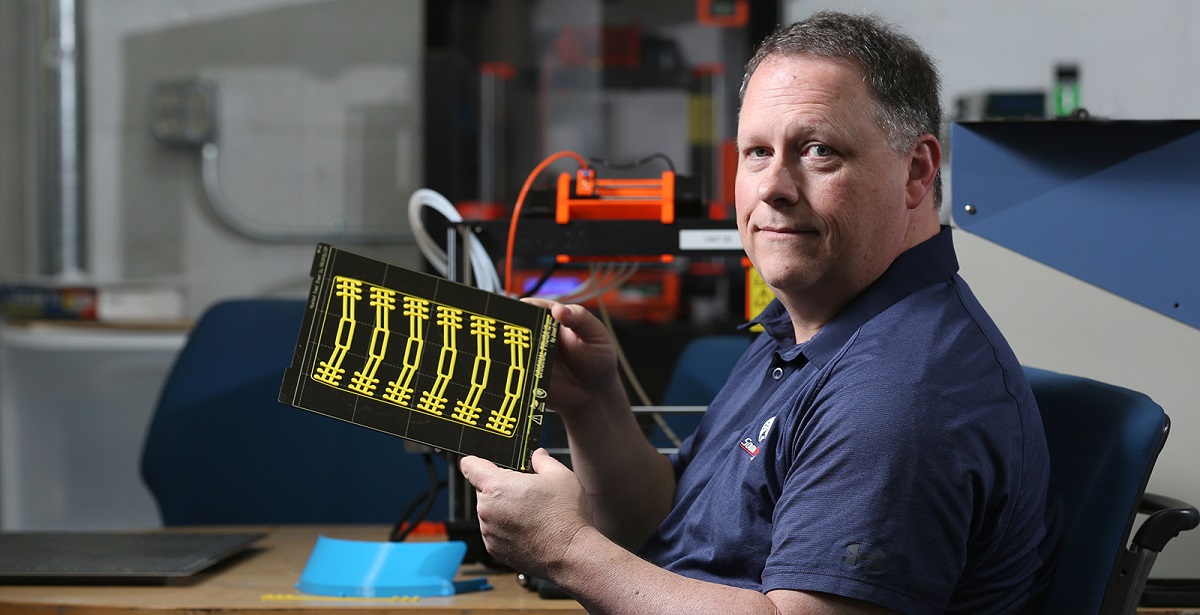 Ricky Green, an information technology instructor at the University of South Alabama, uses 3D printers to produce parts that will be put together to make face shields for healthcare workers.
---
In a cluttered workshop at Mobile Makerspace in downtown, Ricky Green babysits a trio of orange-and-black 3D printers.
The tabletop machines melt plastic filament into frames for the face shields worn by doctors and nurses battling the novel coronavirus pandemic. A nationwide shortage of face masks and shields has prompted a do-it-yourself movement of volunteers across the country.
At Mobile Makerspace, progress is slow, even with extra printers borrowed from the Mobile Public Library.
"We're doing what we can right now," said Green, an information technology instructor at the University of South Alabama's School of Computing. "Obviously, at 10 a day, we're not going to produce a great number. But we want to continue making them until the pandemic ends, or until somebody says they have enough."
Makerspace shops across the nation are following design specifications approved by the National Institutes of Health. The face shields can be worn, sterilized and reused.
Green, who founded the Mobile collaborative workshop in 2012, showed off a row of plastic frames in different colors. He tossed aside one that came off a printer with a frayed edge.
"Loose belts," he said. "I've got to tighten 'em up."
The need for personal protective equipment also has attracted the attention of Dr. Matthew Reichert, an associate professor of chemistry and assistant vice president for research and economic development at South. Reichert's research includes a focus on using ionic liquids in 3D printing. He has already toured Green's shop to talk about ways they can collaborate.
"South is coordinating with USA Health and providing them with models of what we can print for their PPE committee to discuss," he said. "We hope to build a collaboration by focusing our efforts to help our local healthcare system."
Green, who earned bachelor's and master's degrees at South, is teaching three classes this semester. He started the face shield project, working mostly in the evenings at Makerspace, after reading a March 26 post on the Facebook page for the School of Computing at South.
Karin Bryson, an academic records specialist, has a sister who works as an emergency room nurse in California, which faces shortages of personal protective equipment. When she saw a pattern for people using 3D printers to make face shields, she wondered if something could be done in Mobile. She thought of Green.
"He always has the best ideas," Bryson said in a Facebook video.
Green didn't need to be asked twice.
"I took off with it," he said. "I told her that not only can we do it, I can talk to the public library and borrow their printers, too. We can get people to donate items and help out."
He started recruiting friends and family.
"My mother-in-law, she's a seamstress, and she's got some elastic we'll use to sew the straps for the shield," he says. "The shields themselves are just plastic sheets you can buy at the store. You put 'em in a three-hole punch and clip them right to the frame."
At USA Health, Traci Jones, assistant vice president for medical affairs, said Mobile hospitals haven't yet had any shortages of personal protective equipment.
"We're good right now, but we haven't had a surge yet," Jones said. "First and foremost, we want people to know that we appreciate all of the offers and outpouring of support."
Jones said do-it-yourself volunteers also have been donating cloth masks to University Hospital and Children's & Women's Hospital. "We love the homemade masks," she said.
"We're definitely interested in the face shields. What the shields do is help us prevent any droplets from getting on the masks. And the beauty of the shield is that you can clean them and use them again."
---