New Degree Programs for New Graduates
---
Posted on May 1, 2017
Alice Jackson and Joy Washington
---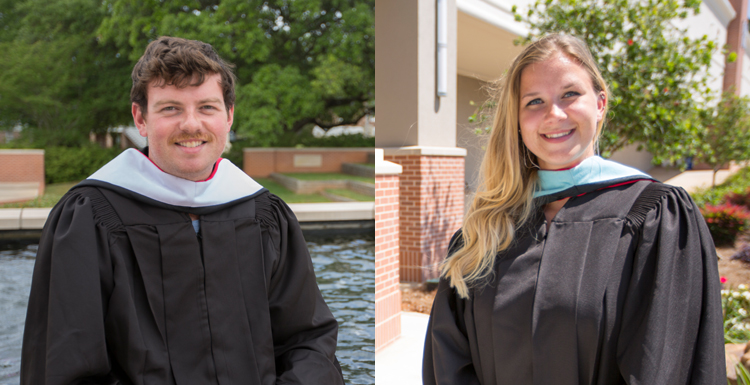 Jacob Blandford and Martha Marie Engeling will earn their master's degrees in two new programs, marine conservation and resource management, and sports management, respectively.
---
When Martha Marie Engeling and Jacob Blandford walk across the commencement stage this Saturday, they'll earn more than their diplomas. The two graduate students will make history, as they are among the first to receive degrees in two new master's programs at South.
Master of science degrees will be awarded for the first time for the University's programs in sport management, and marine conservation and resource management.
"It's an amazing accomplishment to be one of the first graduates of the sport management program," Engeling said of the online program. "It feels even better to have completed the program in three semesters rather than in two years or more."
Engeling chose sport management because she wanted to broaden her scope of knowledge and add a management background beyond the medical aspect of athletic training. She wants to have a hands-on role during surgical procedures as a member of the operating room team.
The awarding of new degrees marks the culmination of a process that begins at the University department level and ends with the Alabama Department of Education. Along the way, the University must provide data showing both a need and student interest exists for development of the new degree program. Dr. Christopher Keshock, program director and associate professor of health, kinesiology and sport, helped develop the idea for adding the online sport management graduate program about three years ago.
"It has been very rewarding to see all the hard work in developing courses, action plans, and getting the approval from the USA Graduate Council along with the Alabama Department of Education," Keshock said. "The dedicated efforts of sport management faculty, Dr. John Kovaleski, chair, and Dr. Andrea Kent, dean of the College of Education, helped establish the need for this type of program to meet the demands of the sport industry.
"I am most proud of the flexibility in which students can earn a master of science degree with the all-online program," Keshock added. "We also created the program to include rigorous coursework and assignments to allow our graduates to pursue future employment in a broad spectrum of sport industry segments from professional to amateur/scholastic environments."
Engeling, 23, a native of Collinsville, Ill., has stayed steadfast with a vision to earn her orthopedic technologist degree, with a surgical first-assistant certification.
"I have gained a great background here at South Alabama," Engeling noted. "My classmates and I have had a great experience throughout our studies in this program. And, we have proven that this program can be successful with the support of our professors. I feel confident as I continue to prepare for my career in this health profession."
Keshock said Engeling, a practitioner in athletic training, has the skill set to run events/programs and fully understand the encompassment of being a supervisor.
"Our graduates will be grounded in managerial functions and administrative decision-making," Keshock noted. "We have an eclectic group of students who will be using the degree in a number of capacities from intercollegiate athletics to fitness and recreational sport practices."
Blandford came to South for one reason – the new graduate program in marine conservation and resource management that began in fall 2015 – but his growing attachment to the area will keep him here.
"Mobile and the northern Gulf are unique, especially if you're into the marine environment," said the Perrysburg, Ohio, native. "I grew up close to Lake Erie, so fishing and hanging around the water was my thing."
Blandford and four other students in the department of marine sciences will be the first to earn the new master of science degree in marine conservation and resource management. The 27-year-old graduate hopes to continue working at the Mobile office of The Nature Conservancy, building on an internship he began in 2015 as part of the master's degree program.
"This program was exactly what I was looking for after I received my undergraduate degree in biology from the University of Toledo," said Blandford. "It's a different program that prepares you for actual hands-on experience for conservation management because it involves you in all sorts of things."
Dr. Sean Powers, chair of marine sciences, said disasters such as Hurricane Katrina and the Deepwater Horizon oil spill illustrated the need for scientists trained in conservation and restoration of marine resources, prompting South to launch the new degree program.
"Coastal areas and resources face many threats and professional scientists need to be trained across multiple disciplines to respond. These graduates can fill these crucial needs in local, state and federal agencies as well as non-governmental organizations and environmental consulting firms," Powers explained.
Blandford's Nature Conservancy internship focused on the living shoreline project being constructed along Fowl River and other local waterways as well as biological monitoring of oyster projects.
Blandford said: "People always advise you to pick a career doing something that you love, and I've been lucky to do just that."
---