Master of Science in Marine Conservation and Resource Management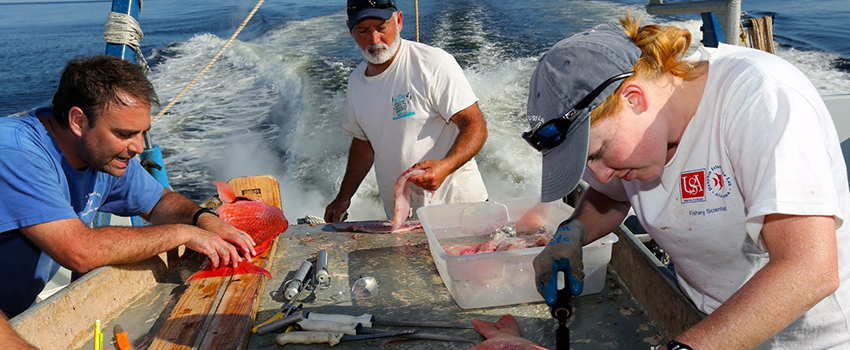 The Master of Science in Marine Conservation and Resource Management graduate program at the University of South Alabama is designed to provide a formal course of training and professional development in the marine sciences that will enable students to contribute to the sustainable management of marine resources.
The program does not rely on the completion of original thesis research but instead couples rigorous coursework with the development of interdisciplinary skills and techniques to address pressing environmental problems through professional internships with government agencies, NGOs and environmental consulting firms. The curriculum and other requirements can accommodate students currently in the workforce.
What is Marine Conservation and Resource Management?
Marine conservation and resource management is a science based, interdisciplinary graduate program. Proper stewardships of the extensive resources provided by marine ecosystems that our society and economy depend upon requires a well-trained scientific workforce. The program at South is designed to give students the advanced scientific knowledge and professional skills necessary to enter the workforce and make an immediate impact. Training focuses on the latest techniques in conservation planning, fisheries and wildlife management, restoration ecology, marine spatial planning as well as providing a foundational background in environmental statistics.
Careers in Marine Conservation and Resource Management
One of the many transformative opportunities offered at South is real-world experience in applying science to marine policy and management. Students in this graduate program participate in internships and professional development with partners in government, private business and non-profit organizations to solve marine environmental problems. Many students have moved on to full-time marine science positions and have fulfilled jobs with some of the program's partners, including the State of Alabama, The Nature Conservancy and the Dauphin Island Sea Lab. Many program alumni work for state and federal resource management agencies, non-governmental organizations, environmental consulting companies and industry across the nation in fields.
Paid internship sponsors include:
Government agencies such as Alabama Department of Conservation and Resource Management and the Alabama Department of Public Health
Private sector companies such as the Osprey Initiative and local environmental consulting firms
Non-profit groups such as The Nature Conservancy, Marine Mammal Stranding Network, and Alabama Coastal Foundation
Academic labs such as our faculty labs at the University of South Alabama and Dauphin Island Sea Lab
Academic certificates are offered to build skills and abilities sought after by employers. Students may earn certificates in Geographic Information Technology and Applied Statistics through coursework offered by affiliated Departments of Earth Sciences and Mathematics.
▼ Admission Requirements and Deadlines
Minimum Requirements For Admission
Applications for Fall admission are due by June 1 of each year. Enrollment normally begins in the fall semester; however spring admissions will be considered on a case by case situation. In addition to the general admissions requirements of the Graduate School, minimal requirements for admission in full standing to the MS Program in Marine Conservation and Resource Management are:
A baccalaureate degree in a discipline related to marine sciences (e.g., biology, chemistry, geology, physics, and engineering) or conservation biology (economics, sociology) from an accredited four year college or university.
An undergraduate minimum grade-point average of 3.0 overall (4.0 point system).
The GRE score is not required for admission. You may optionally submit your GRE scores if you wish for them to be considered as part of your application to any graduate program in the Stokes School of Marine and Environmental Sciences, but this is not required. Individual faculty members may consider available GRE scores as part of a holistic evaluation of the candidates."
The applicant will be required to submit:
A completed application including a statement indicating the student's interests and professional goals.
Official transcripts from all undergraduate institutions attended.
Official scores from the Graduate Record Exam (General Test).
Provisional admission may be granted upon recommendation of the departmental admissions committee. Full standing can be attained after conditional admission by satisfactorily completing (with a grade of no lower than "B") nine (9) semester hours of course work in marine sciences at USA.
▼ Degree Requirements
The Master of Science degree in Marine Conservation and Resource Management is awarded in recognition of the student's demonstrated ability to successfully complete a prescribed program of courses. Students are not required to undertake original scholarly research (thesis), but instead complete a capstone project (see below).
Required Credit
A minimum of thirty (30) semester hours of course credit beyond the baccalaureate degree is required for students pursuing an MS degree. Details about the curriculum are given as follows.
Transfer Credit
A maximum of twelve (12) semester hours of graduate courses taken at another accredited university in the same (or closely related) subject as that of the masters program may be considered as part of the MS degree requirements at USA. Only grades of "A" or "B" may be accepted as transfer credits. The Chair or Graduate Coordinator will evaluate transfer credit; the transfer credit is approved by the Dean of the Graduate School only after completion of a minimum of eight semester hours of graduate course work in the MS program in marine conservation and resource management at USA.
▼ Program Coursework
Recommended Schedule
Fall Semester Year 1
| Course Number | Course Name | Credit Hours |
| --- | --- | --- |
| GIS 501 | Research Integrity Seminar | (1 cr) |
| MAS 521 | Marine Conservation | (3 cr) |
| MAS 510 | Essentials of Oceanography | (3 cr) |
Spring Semester Year 1
| Course Number | Course Name | Credit Hours |
| --- | --- | --- |
| MAS 520 | Marine Resource Management | (3 cr) |
| MAS 592 | Marine Sciences Seminar | (1 cr) |
| Non-MAS | Graduate Level Elective† | (3-4 cr) |
Fall Semester Year 2
| Course Number | Course Name | Credit Hours |
| --- | --- | --- |
| MAS | Elective† | (3-4 cr) |
| MAS 594 | Directed Studies Part I | (2 cr) |
| ST 540 | Stats in Research I | (3 cr) |
Spring Semester Year 2
| Course Number | Course Name | Credit Hours |
| --- | --- | --- |
| MAS 594 | Directed Studies Part II (Project completion) | (2 cr) |
| MAS 586 | Marine Restoration Ecology | (3 cr) |
| ST 5XX | Stats elective† | (3 cr) |
† Elective of to be determined by students (see list below)
| MAS courses that may be used as electives | Credit Hours |
| --- | --- |
| MAS 551 Quantitative Methods in Fisheries in Ecology | (3 cr) |
| MAS 555 Fisheries Oceanography | (2 cr) |
| MAS 581 Advanced Marine Ecology | (2 cr) |
| MAS 583 Field Marine Sciences | (2 cr) |
| MAS 584 Oceanographic Experiences | (1-3 cr) |
| MAS 601 Physical Oceanography | (3 cr) |
| MAS 602 Chemical Oceanography | (4 cr) |
| MAS 603 Geological Oceanography | (4 cr) |
| MAS 604 Biological Oceanography | (4 cr) |
| Non-MAS Electives | Credit Hours |
| --- | --- |
| CH 514 Environmental Chemistry | (4 cr) |
| CE 579 Fundamentals of Environmental Engineering | (3 cr) |
| PHA 643 Molecular and Cellular Toxicology | (3 cr) |
| SY 567 Environmental Sociology | (3 cr) |
| Statistics Electives | Credit Hours |
| --- | --- |
| ST 550 Environmental Statistics | (3 cr) |
| ST 560 Design of Experiments | (3 cr) |