Elizabeth "Lizzie" Rodin, 19, to Earn Business Degree
---
Posted on May 1, 2018
Alice Jackson
---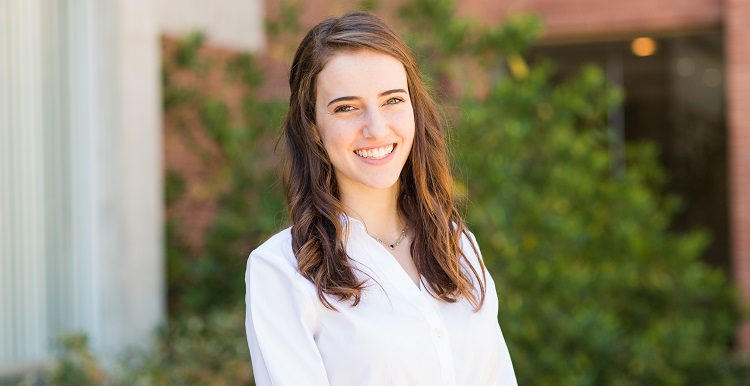 At 19 years old, Elizabeth "Lizzie" Rodin will be the youngest person ever to receive a degree from USA's Mitchell College of Business.
---
Elizabeth "Lizzie" Rodin, 19, will make history on Saturday, May 5, as the youngest person ever to receive a degree from the Mitchell College of Business at the University of South Alabama.
Rodin's undergraduate degree is in business administration with a focus on human resources.
It will be the latest in a string of accolades for the young woman who graduated from high school at age 17 with an associate's degree in business. Home schooled by her mother, she entered 10th grade in Pensacola with the Escambia Virtual Academy, where she was dual enrolled in college courses at a nearby college. And, she's not done yet.
"My mother did a fantastic job with home schooling me, and both my parents have always been supportive about what I wanted to do," Rodin said. "I knew for a long time I wanted to study business because I've always wanted to make a difference in making things happen no matter what field I entered."
Rodin, a native of Maryland who also holds dual citizenship in Israel, lived and traveled extensively overseas, along with her parents and her 10-year-old sister, before the family settled in Pensacola.
"I never dreamed I would go to college in 'the South,' but I learned about USA at a career fair, and then I came and toured the campus. One of the things that really stood out to me was how personal the classroom settings are. My professors know me by name. USA has a family feel about it. And, here, I knew I could get a private school education at a public price," Rodin explained. "South has really gone beyond my expectations, and I know it was where I was supposed to be."
"USA has a family feel about it. South has really gone beyond my expectations, and I know it was where I was supposed to be."
She is a Mitchell Scholar, a competitive program that offers extraordinary opportunities for elite business students to pursue a challenging program of scholarly activities at the Mitchell College of Business. Established by Mobile businessman and philanthropist Abraham Mitchell, it is the University's largest single privately funded scholarship program to date. Through faculty mentorship and a four-year, $50,000 scholarship that includes a laptop computer, scholars pursue challenging programs while developing stewardship and civic responsibility.
Mitchell Scholars have the opportunity to participate in faculty research projects, culminating in an honors research thesis and creation of a peer-reviewed publication or creative work. To apply, students must major in business, have a minimum 29 ACT Composite or comparable SAT scores, and a minimum 3.5 GPA in high school. Preference is given to residents of Mobile and Baldwin counties and the state of Alabama.
"When I got a chance to interview for a Mitchell scholarship, going to South was a no-brainer after that," Rodin confided.
As part of MCOB's Professional Readiness Engagement Program, or PREP, she interned at World Omni, a Fortune 500 company where she worked in the training services department to develop a new instructional program and digital curriculum for new hires.
During her time on campus, she's also served as a Mitchell Ambassador. These outstanding MCOB undergraduates excel in academics as well as being leaders in extracurricular activities. The volunteers serve at functions of the MCOB as well as across the campus.
"With that, I had the privilege of serving on the MCOB Strategic Planning Committee, and I was also a member of the Executive Advisory Council.," Rodin said.
Additionally, she was a member of Phi Kappa Phi, Beta Gamma Sigma and the student chapter of the Society for Human Resource Management.
Outside of her studies, the rock climbing wall in the Student Recreation Center has been one of her favorite pursuits.
"There really isn't much spare time, but when there is, I enjoy the rock wall, reading and tutoring," she shared. "There's something about that moment where I can help somebody have an idea or when a concept clicks with them."
Once Commencement is behind her, she'll be looking for more studies and more degrees.
"I'm still exploring some options. I definitely do want to do grad school for my MBA, and I'll start that in the fall," she said before adding. "South and MCOB is definitely in the running for that."
---