Teaching English as a Second or Foreign Language
---
Posted on May 2, 2022
Lance Crawford
---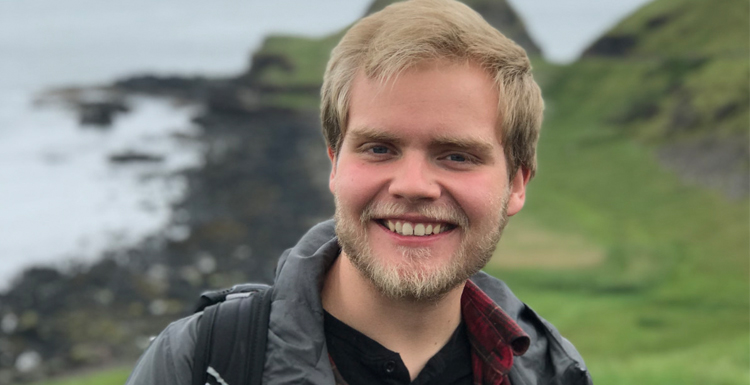 Jonah Smith, a senior English major from Foley, Alabama is the first graduate of the University of South Alabama's TESL/TEFL certificate program. He hopes to eventually teach English in Japan. The program allows students in any major an opportunity to expand their marketability and find work globally.
---
Dr. Laureen Fregeau got her first taste of teaching English while she serves as a Peace Corps volunteer in Guatemala during the early 1980s. Since then, she has taught English both in the U.S. and internationally at almost every level.
The idea for a certificate program at South that would allow students to teach English abroad or to immigrants and visitors in the United States had been on her mind for years.
"I heard one of my students talking about getting a certificate from one of the commercial companies that offers them," said Fregeau, an associate professor in the College of Education and Professional Studies. "These students were willing to spend thousands of dollars to pursue this opportunity. At that point I realized that South needed to offer its own certificate program so that our students could earn this credential as part of their undergraduate or graduate studies with no or little extra expense."
When an educator is teaching students in their native country, it is referred to as "Teaching English as a Foreign Language." When the person is teaching English in the United States to someone from another country, it is known as "Teaching English as a Second Language." The credential is commonly known as a TEFL/TESL certificate.
In 2018, Fregeau began designing the program. In 2019, English Language Teaching Program Coordinator Dr. Susan Ferguson became involved, and they began to develop and seek approval for the program's courses. They received final approval in March 2021, and the graduate and undergraduate programs opened for registrations that same month. The first official courses were offered in fall 2021.
Fregeau wanted to develop a certificate program rather than a degreed program to offer students flexibility.
"Students with degrees in English, modern languages, business, communication, etc., can add to their career options with this certificate," she said.
The TEFL/TESL certificate program is delivered through a combination of online and face-to-face coursework.
Basic requirements for working internationally are a bachelor's degree and a TEFL/TESL certificate. Those with a master's degree and a TEFL/TESL certificate can earn higher pay.
Senior Jonah Smith, an English major from Foley, Alabama, will be the first graduate of the program and hopes to eventually teach English in Japan.
"I want to go there because, in addition to their art and amazing culture, I have a personal interest in Zen, and I want to learn more about it," Smith said. "I stumbled onto this program by chance. I was searching for a TEFL certificate program and discovered that South Alabama offered one, only to realize later that I had found their program just a few days after it was created."
The undergraduate TEFL/TESL certificate requires that candidates take one semester of another language, but since that is required for most majors, it typically doesn't add additional work.
"While knowing another language is helpful in understanding the process of language learning, it is not necessary or required for teaching English as a foreign or second language," she said. "In fact, most TEFL professionals teach in several countries over their career and could not possibly know all the languages of their students."
The certificate program offers South students a career opportunity that might not ordinarily been available to them.
"I feel it is exciting for South to be able to offer students a career opportunity that allows them to expand their horizons, become globally aware and work internationally," Fregeau said. "Young people with a desire to see the world can do so with this career."
---