First, Indonesia; then, United States Ambassadorship
---
Posted on May 15, 2019
Alice Jackson
---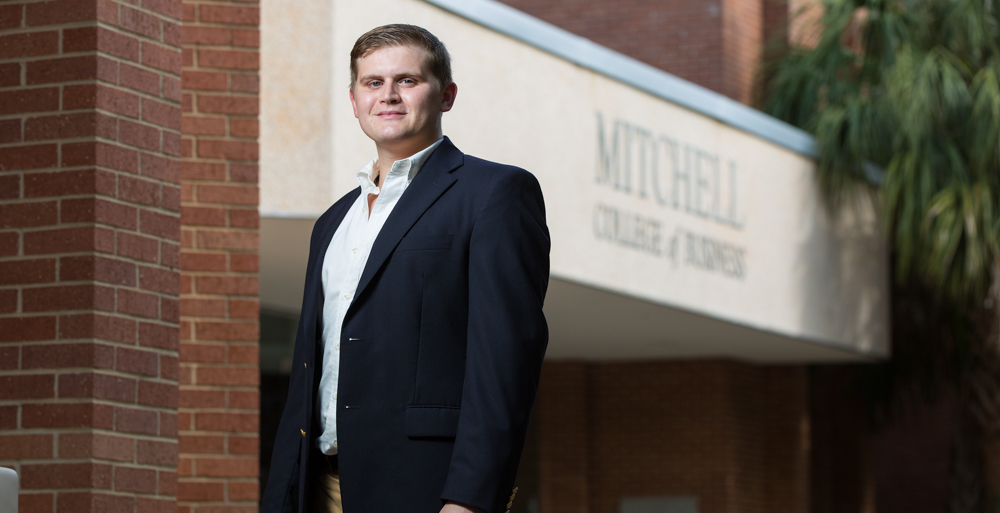 Mitchell College of Business junior Jack Stover will spend 10 weeks in a summer program in Indonesia. "I'm sure it will be a great, eye-opening experience for me."
---
University of South Alabama junior Jack Stover is the first college student from Alabama to receive a prestigious scholarship from the United States-Indonesia Society to live, study and work in Indonesia for 10 weeks this summer.
He and 13 other U.S. students will arrive in Indonesia on May 23 as part of USINDO's efforts to enhance educational exchanges between the two countries. Since the program began in 1996, 226 Americans have participated.
"Dean (Robert) Wood is the one who told me about this scholarship and encouraged me to apply back in January," Stover said. "The main point of this program is that it creates allies between Indonesia and the United States."
Stover, a junior majoring in both international business, and foreign language and literature with a focus in Spanish, is also a Mitchell Scholar in USA's Mitchell College of Business. The 21-year-old native of Rainbow City, Ala., has served as a Mitchell Ambassador and a senatorial representative for MCOB in the Student Government Association. He is a member of Beta Gamma Sigma, the international business honor society; Phi Sigma Iota, the foreign language honor society; and Phi Eta Sigma National Honor Society. He has also served as president and vice president of his fraternity, Kappa Sigma.
After arriving in Indonesia, Stover will take intensive classes to learn about the language, culture and country. While there, he will live with an Indonesian family. And there will be field trips so he can learn more about Indonesia, its people and their culture.
"They craft each participant's program around what they are studying. I will also work with a volunteer company — Cokelat nDalem — a chocolate manufacturer," Stover explained. "I will essentially be helping them with some marketing ideas on the business side. The point of this is to work alongside their business people. It's likely the company will have someone who speaks English. I'm sure it will be a great, eye-opening experience for me."
He hopes that his experience of studying abroad in Spain for a semester in 2017 will help him to easily adapt to Indonesia.
"I lived in a Spanish home, and although I'd studied Spanish for five years, I learned more in eight weeks than I had before," Stover said.
He has added to both his business and international skills through two internship jobs in Mobile; one with Airbus Americas, where he worked in the finance department, and the other with Austal USA, where he worked in the business development department.
Stover said he made the right decision when he chose South, a place he liked immediately because of the nearby beaches and because "Mobile is a fun city."
"I had been thinking about going to another place, but after my interview with the Mitchell College of Business, I reversed my decision and decided South was the place for me," Stover said. "Being a Mitchell Scholar has been wonderful, and the Mitchell College of Business has provided me countless opportunities I cannot imagine receiving elsewhere; from the relationships I've built with professors since my freshman year to the constant guidance and mentorship from Dean Wood. MCOB has allowed me to meet incredibly successful alumni, the best local business leaders and even diplomats from foreign nations."
The Indonesian trip will be a dream come true for Stover because he eventually hopes to use his dual degrees to land a job in international business, since the two careers he's most interested in are "international corporate strategy and international business management." Then, he admits he would love to work for the United States Department of State.
"My complete dream job would be to become a U.S. ambassador, living and working in another country," Stover said, adding, "But first, I have Indonesia to look forward to. I will be back Aug. 1 for two and one-half weeks off before coming back to class. Then, it will be full speed ahead to my graduation next May."
---