South Graduate Named 2019 Photojournalist of the Year
---
Posted on June 13, 2019
Joy Washington
---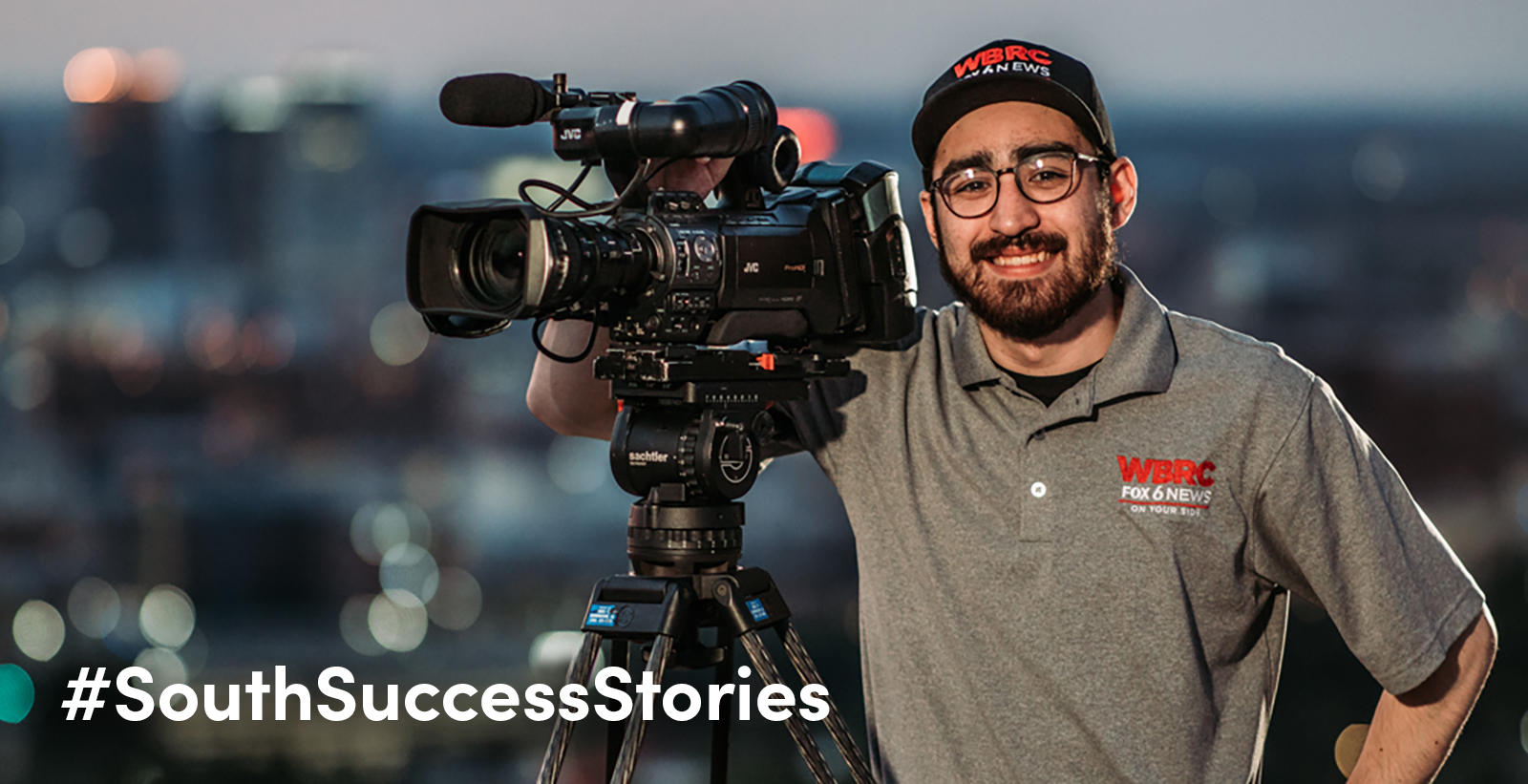 Andrew Conniff, who earned a strategic communication degree from the University of South Alabama in 2017, was named 2019 Photojournalist of the Year by the Alabama Broadcasters Association. Photo by Jake Cannon.
---
#SouthSuccessStories is an ongoing series featuring University of South Alabama alumni who are life-savers, innovators, game-changers, music-makers and creative-thinkers, successful in their careers and supportive of their communities.
Andrew Conniff instinctively knew while attending the University of South Alabama that he wanted to gain real-world experience while pursuing his bachelor's degree in strategic communication.
He was able to graduate May of 2017 and start his first job in October of the same year as a photographer at WKRG-TV in Mobile. Thanks to a former co-worker, about six months ago Conniff made his second career move, to Birmingham, Ala., where he's working at WBRC-TV as a photojournalist. He was recently named 2019 Photojournalist of the Year by the Alabama Broadcasters Association.
Conniff thanks South Alabama for giving him a great start, where he received support as a student video editor, a student in the classroom and as a member of the Jaguar Marching Band. During his junior year, he decided to change his major from professional health sciences to strategic communication.
"I walked into my first communication class and Dr. Richard Ward, professor of strategic communication, was talking about movie budgeting and writing scripts. I had no idea what he was talking about at that time," he explained. "After class, I introduced myself and shared that I was new to the class. I asked him to help me better understand the details of his lecture. I also learned quickly that professors want to help you do well but, you must have the courage to ask for help when you need it."
Conniff remembers sitting in Ward's class and learning the basics and fundamentals of visual storytelling and finally understanding his role as a future photojournalist. Conniff also remembers Dr. Jim Glover, now-deceased professor of communication, for his encouragement.
"Dr. Glover never made you feel bad if you messed up a project," Conniff said. "He would say, 'You can do this better, so try again.' Dr. Glover was very nice to me."
Shortly after Conniff changed his major, he saw a job announcement in South's Daily Digest, which is the University's internal email system. The job announcement was for a student video editor position in the department of New Student Recruitment in the Division of Enrollment Services at South Alabama.
"I quickly learned that I had to be highly adaptable in addition to studying hard and earning a great education," Conniff said. "I applied for the position in New Student Recruitment, and I was hired to work with Kristin Odom, who is now director of New Student Recruitment. I also learned a great deal about video shooting and editing from James Palomo, who is now assistant director of video services in Marketing and Communications. I was able to create numerous promotional videos for USA Day and other programs."
Since Conniff was working, going to class and attending band practice four to six hours per day, he was exhausted. He decided to bring his hammock to campus and nap in between classes and work. He would hang his hammock between the trees near Meisler Hall almost daily during the week. This routine helped Conniff endure his rigorous schedule.
Prior to Conniff graduating, he reached out to a friend who had contacts at WKRG and served as a reference.
"Jake Cannon, a 2017 South graduate, who is one of my friends, recommended me for my first job as a photojournalist with WKRG-TV 5 in Mobile, and I had a former co-worker to give me a great reference for my most recent position with WBRC-Fox 6 News in Birmingham. It was a tough decision to leave WKRG. The staff had been wonderful to work with, and I received a great deal of experience and support from the reporters and other photojournalists. I learned that connecting and building relationships is so important."
When he was still working at WKRG, he decided to submit some of his best work for the Alabama Broadcasting Association Awards. Conniff submitted stories he had done during the 2018 news cycle year. One of the stories he included was about Hurricane Nate. It was one of his first major assignments.
"I was hesitant about applying for the state awards, but I am so glad I did," he said. "When they called my name. I was very excited. I had proven that I could present outstanding creative work. There's always room for improvement, but I am so happy that my work was recognized. When I accepted my award, I thanked the WKRG reporters, photojournalists and staff for giving me the opportunity to start my career as a photojournalist."
Ward said Conniff is a gifted and hard-working individual. He is proud of Conniff's accomplishment and remembers him as a conscientious student. His award-winning work can be seen on his YouTube channel.
"Most people in our field work a lifetime without winning one of the top video awards in the state, and here he is doing it at the very beginning of his career," Ward said. "I feel quite certain there are more great things to come from Andrew. We are all very proud of his accomplishment."
Conniff is goal-oriented and hopes to win an Emmy and an Academy Award one day. He's inspired by his mother Katsue Conniff's drive and determination. She came to the United States at the age of 19 from Okinawa, Japan, as a single mother with two young boys. She could not speak English. Her first job was at a fast-food restaurant, but she eventually became a registered nurse. Conniff's mom left Japan 20 years ago and had not returned until recently.
"My mom, my brother, Sean, and I just recently traveled in December to visit my grandparents, aunts and uncles, which was a total of about 13 relatives we had never met before," he said. "This was the first time my mom had been home since she left to move to the United States. When we met our family, it was difficult at first because of the language barrier, but in time we connected. We picked up on phrases and words of the language. We toured the area and my mom helped us communicate. Our Japanese family showed us love and welcomed us with food and conversation. As a photojournalist, it was a joy to document our trip by video. It was a wonderful reunion. My life is good right now."
Conniff has shared his video of the reunion with his Japanese family on his YouTube channel.
---