Teacher Training Focuses on Alabama History
---
Posted on June 27, 2017
Joy Washington
---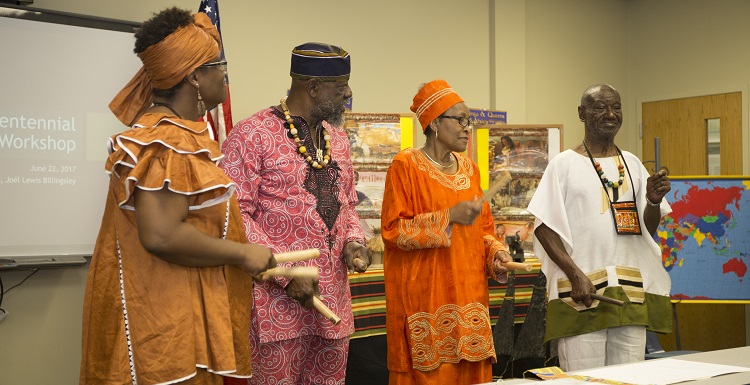 Dr. Joel Lewis Billingsley, a faculty member in the College of Education and Professional Studies, presented along with her family a personal historic perspective about the last survivor of the last slave ship that docked in Mobile Bay, as part of a workshop for elementary school teachers. From left, Lewis Billingsley; her father, Robert Lewis; her mother, Paulette Lewis; and her great uncle, Israel Lewis III.
---
In recognition of Alabama's 200th year as a state, elementary school teachers throughout the state are exploring new ways to connect young students with the history of Alabama. The effort is called the Alabama Bicentennial Summer Institute and the University of South Alabama recently hosted one of the workshops.
"We were one of 12 sites in the state," said Dr. Susan Santoli, professor and chair of leadership and teacher education in USA's College of Education and Professional Studies. "I am so excited about the wonderful and knowledgeable people we have had for this training who shared information with us to help teachers learn more about Alabama. We also videotaped the presentations and shared it with the larger educational community."
One of the presentations was from Dr. Joel' Lewis Billingsley, associate professor of counseling and instructional sciences at USA and a sixth-generation descendant of Cudjo Lewis, the last known survivor of the slave ship Clotilda that brought him from West Africa to Mobile Bay. Her ancestor and others founded Africatown, also known as Plateau, the historic Mobile community that became home for the displaced slaves following the Civil War
Lewis Billingsley, along with her great uncle, Israel Lewis III, father, Robert Lewis and mother, Paulette Lewis, were invited to give a presentation at the workshop session on "Oral History and Story Telling: The Clotilda and Cudjo Lewis Story."
"I learned through my family stories that my history didn't start from slavery," she shared with the teachers. "I learned I came from kings and queens. My family shared this great history, and this has been a source of inspiration for me as I journey through life. I have a photo of Cudjo on my screen saver, and I think about what he went though, and it has given me strength to endure during challenging times. Children need to know that they are important, and sharing the good and challenging parts of history can be extremely meaningful for them."
Lewis Billingsley's uncle, Israel, who has spent many years learning and sharing the family history, told teachers during the presentation that they must work and secure a student's trust before learning can take place.
"If you want to teach a child successfully, a child must trust you," he said. "The teacher must make the child feel valued and important before the learning process can take place. You must be patient and creative in the ways that you teach. I always encourage teachers to make it exciting and students will learn."
Lewis Billingsley and her family brought a display of art and other artifacts to showcase the culture of the Ashanti people from central Ghana. In addition, they did several exercises about the natural designs that led to creating art work, the meaning of the Ashanti colors, and names based on the day of the week a person would be born. They also shared the history of Kente cloth, a colored textile used for clothing.
There were several other presentations on Native American history and colonial Mobile to help the teachers better teach history to their students.
Santoli, a "master teacher" chosen to plan the South event, said the workshop sessions included 30, third-through fifth-grade teachers from four area Alabama counties. The sessions were held June 20-23.
---