Critical to STEM Success – the Arts
---
Posted on July 11, 2016
Joy Washington
---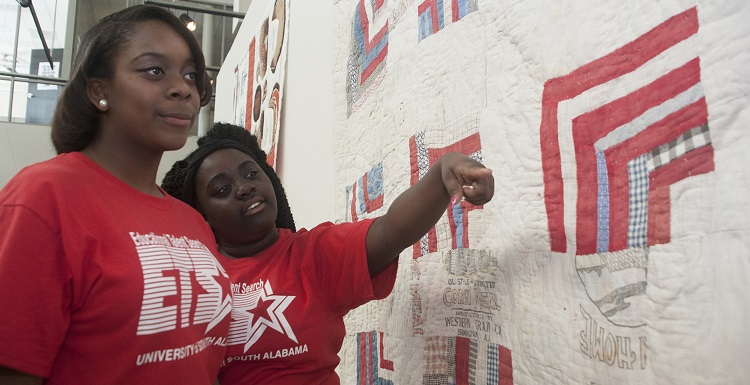 The College of Education and Educational Talent Search at the University of South Alabama recently partnered to introduce the arts into a math and science summer program for middle and high school students. Danielle Johnson, Mary G. Montgomery High School, left, and Yekina Adams, Pillans Middle School, view the Gees Bend quilt exhibit at the Alabama Contemporary Arts Center.
---
"There's evidence that kids get better at math when they take classes that make the connection between STEM and the arts," U.S. Secretary of Education John B. King Jr. said in an April speech in Las Vegas. "And when they've had certain courses in the arts, kids can grow in self-confidence and in linguistic skills, as well as creativity,"
In support of that approach, the University of South Alabama's College of Education and South's Educational Talent Search recently concluded a program for middle and high school students that incorporated the arts into the traditional science, technology, engineering and math disciplines. It paralleled the University's inclusion of the arts in teacher training so their students can compete in a global, innovation-driven economy.
Dr. Paige Vitulli, associate professor of leadership and teacher education at South, was the principal investigator of a $10,872 grant from the Community Foundation of South Alabama to host the summer program. Vitulli was an art education teacher back in the '80's, and she has seen first-hand how a well-rounded education makes school more relevant to life and future careers for pre K-12th-grade students.
"We have created this program where students are excited about learning," she said. "When students ask 'why do I need to know this,' we have the resources to show them the relevance of combining arts and the sciences. For example, one of their first projects was to make ice cream, and they had to journal about it as a science project."
Dr. Susan Martin, associate professor of leadership and teacher education, who is also a former elementary science teacher, assisted Vitulli with writing the grant and was co-principal investigator.
"We had 30 students participate in the program," Martin said. "They wrote in their journals and understood math and science concepts. Everything was cross-curriculum, showing the connection. The students benefited from the experience."
The University's Robert Noyce Scholars program participants and art teachers also worked with the students to help them have a well-rounded experience. Noyce Scholars are students or professionals in STEM fields who are being trained to become educators.
One of the most exciting opportunities was the weekly educational and fun excursions held during the four-day, three-week program. The trips included visits to the GulfQuest National Maritime Museum, Alabama Contemporary Art Center, Gulf Coast Exploreum and Science Center, and Dauphin Island Sea Lab. The participants also heard from speakers who shared topics on life skills.
"The arts are not in many of the schools as they used to be," Martin noted. "The excursions gave the students a different learning environment. They got to tour the African-American Contemporary Art exhibit at the Alabama Contemporary Art Center. They also participated in solving a mini-mystery at the Sherlock Holmes exhibit at the Exploreum in downtown Mobile."
"With the arts, it's about creativity and problem solving," Vitulli explained. "Those in the arts have so many decisions to make as artists, musicians, actors and those who work behind the scenes. We wanted to write this grant to offer artistic and cultural opportunities along with the other disciplines for 7th-12th graders."
This particular grant focused on supporting the middle and high school students in South's Educational Talent Search program. Many of these students have limited access to artistic and cultural experiences.
Educational Talent Search is a federally funded program designed to provide personalized services for educational success beyond high school. The intent of the program is to encourage low-income and first-generation college students to consider college opportunities while they are in secondary schools and to assist them in completing college and financial aid applications. The services offered are counseling, tutoring, study skills training, college preparation for two- and four-year institutions, financial aid counseling, mentoring, and educational and cultural trips.
"STEM is a great opportunity to infuse the disciplines with content-based arts experiences for the summer participants," said Harriett Montgomery, coordinator of Educational Talent Search program at South. The Educational Talent Search "participants are enhancing their math and science skills during the summer session. I was elated to know that the arts component would be included with the support of the University's College of Education."
During the closing of the program, participants received a certificate of participation and headphones from Educational Talent Search. Also, ETS recognized a participant with the Recognition of Growth Award, Recognition of Superior Effort Award, Most Enthusiastic Participant Award, Perfect Attendance Award, and the Coordinator's Award. The accolades were presented during the awards program and luncheon.
---