Physical Therapist Focuses on Residency, Neurological Care
---
Posted on July 28, 2023
Thomas Becnel
---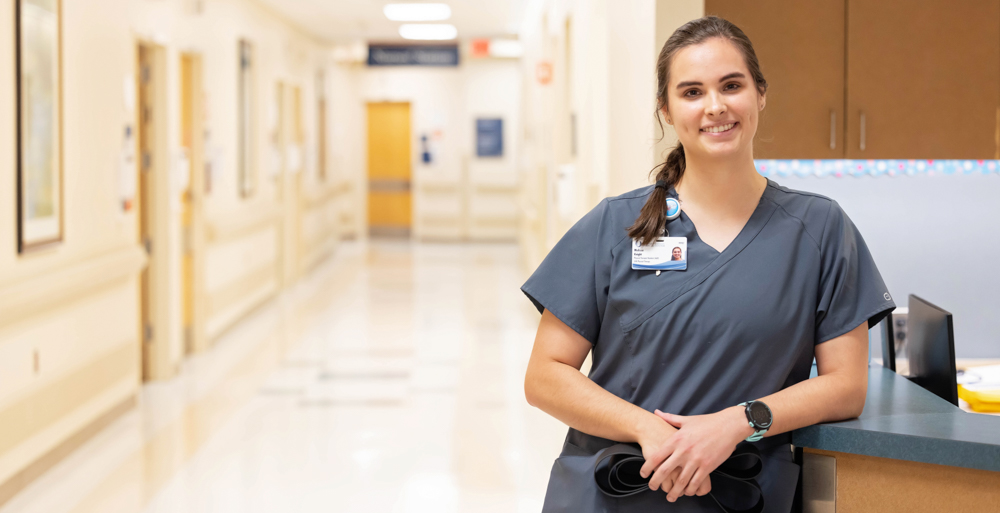 After graduating from the University of South Alabama, Melissa Knight began a year-long residency in neurological physical therapy at the University of Mississippi Medical Center in Jackson, Mississippi.
---
#MyFirstJob is a series focused on recent graduates of the University of South Alabama.
Melissa Knight grew up playing competitive softball. She was a catcher. She loved facing the field, working the pitcher, managing the game.
"That was my No. 1 thing," she said. "I liked being a leader. I liked being in control behind the plate. I enjoyed the mental part of the game."
Then Knight started having shoulder injuries. "Multiple dislocations," she said. Surgeries on both shoulders and months of physical therapy.
"I was young, I was dumb, I wanted to keep playing," she said. "But it got to the point where my shoulder was coming out in my sleep sometimes, so I needed to have it addressed."
Knight's time in rehabilitation helped lead to her own education, training and work as a physical therapist. She thought about doing sports medicine, but wound up in the more daunting field of neurological physical therapy. Many of her patients have had strokes, spinal cord injuries or traumatic brain injuries.
This spring, she earned a Doctorate in Physical Therapy from the University of South Alabama. After graduation, she accepted a residency at the University of Mississippi Medical Center in Jackson, Mississippi.
"I was actually very hesitant about doing neurologic physical therapy, because it can be very complex, intense, and intimidating," she said. "Then I got into my neuro clinical training and it was amazing. I absolutely loved what I was doing.
"You never know what you're going to find or how people respond to your interventions. Just to see the brain recover from different insults and injuries. It's absolutely incredible."
At South, Knight worked with Dr. Tara Andrews, assistant professor of physical therapy in the Pat Capps Covey College of Allied Health Professions. She remembers her student reconsidering neurological physical therapy, then making it her professional focus.
"Learning about it in a classroom setting is a lot different from getting hands-on experience in a clinic or a hospital," Andrews said. "She was always fabulous student. She always tried to learn more about everything we were doing."
Most physical therapists go straight to practice after clinical training, but South faculty encouraged Knight to choose a residency program in neurologic physical therapy.
"When you do a residency, you get that extra push, you get to see things you wouldn't see if you started at a clinic," Andrews said. "It will definitely make her more marketable. She's going to do big things."
Moving with a Military Family
Knight's father was a pilot in the Air Force. Her family moved a lot when she was growing up. She spent her middle school years in Japan.
"We lived on base, but we got to visit a lot of the country and learn some Japanese," she said. "The festivals were the coolest things, with the food and music, and the art. We got to see the winter festival in Sapporo, Japan, with the massive ice sculptures, and everything lit up at night."
She and her siblings – they're triplets – also got to visit China. They were home-schooled by their mother. Knight's brother is now an airline pilot, while her sister is working on a Ph.D. in nutrition.
When the family returned to the United States, Knight studied kinesiology. She was active in the Baptist Student Union and led freshmen Bible study groups.
"It was a good leadership opportunity," she said. "I like to see people grow."
When it came time to choose a graduate school for physical therapy, Knight picked South over much larger programs. That was no coincidence.
"The biggest thing about South Alabama is that it's a smaller program with a smaller faculty," she said. "It had a family feeling that I liked."
At South, she joined two of her professors in a research study of physical therapy students and their attitudes toward patients with dementia.
In her spare time, Knight worked out on the climbing wall at the Student Recreation Center. One semester, she completed an Everest Challenge for students who do 324 wall climbs to represent 11,000 feet from base camp to summit.
Her favorite part of the Doctorate in Physical Therapy program was the final year of clinical practice.
"You get out of your books," she said, "and into using all that you've learned."
This summer, she moved to Jackson and started work at the University of Mississippi Medical Center. Some things are different, and some are the same. She wears blue and gray scrubs, along with her favorite running shoes to cushion her feet.
Knight treats people of all ages and backgrounds. She often sees patients with strokes who have weakness in half their bodies and other difficulties with memory, balance and language processing.
"Our goal is to maximize the functional independence of everyone we treat," she said. "We want them to be able to live their lives, do what they love, with as little help from others as possible."
Knight enjoyed seeing her first patients and writing her first notes as a licensed physical therapist. There's still a lot to learn. She looks forward to going to work each day.
"I love patient care and problem solving, figuring things out," she said. "Being in an environment where you're doing what you want to be doing, you can't beat it."
---