#MyFirstJob: Hong Nguyen
---
Posted on August 6, 2019
Alice Jackson
---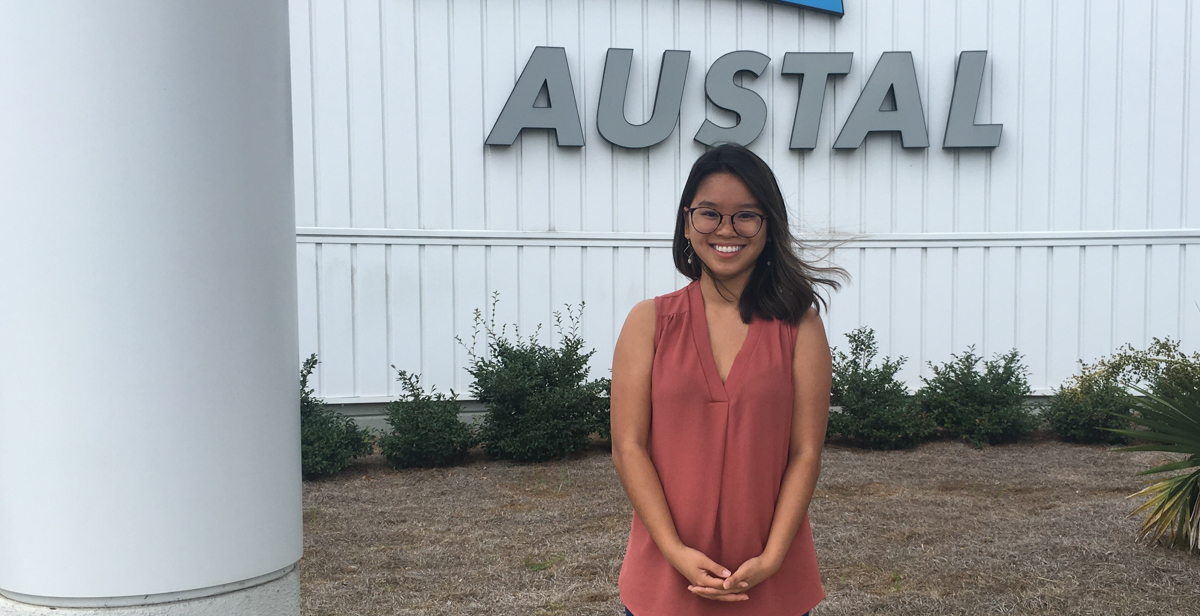 Hong Nguyen majored in finance and accounting to earn her degree in business administration at USA Mitchell College of Business. She completed three internships while at South, one at Austal USA where she now works.
---
#MyFirstJob is a series focused on University of South Alabama Class of 2019 graduates who are beginning their careers.
Hong Nguyen made a seamless transition from her University of South Alabama 2019 spring commencement to full-time employee at shipbuilder Austal USA in Mobile.
That's because while pursuing her bachelor of science degree in business administration, which includes a double major in accounting and finance, the 2015 graduate of Mobile's Murphy High School also completed three different internships. During each internship – at the Mobile Airport Authority, the Newport Group and Austal USA – she "gained invaluable skills" that gave her varied insights into different financial jobs and how the workplace worked.
"My only real surprise at each new internship was that I had so much to learn because there is always something new at each job, and work experience is incredibly different from academic studies," Nguyen said. "The internship experience definitely helped me to land the job at Austal."
Her job involves financial analysis, which is compatible with her educational track at USA's Mitchell College of Business.
"I didn't know what I wanted to major in when I started USA, but I knew that the Mitchell College of Business was accredited by the AACSB (Association to Advance Collegiate Schools of Business) and a degree from there would be well thought of. When I did choose to major in accounting and finance, I knew that it would help me both professionally and personally," Nguyen said. "Also, having been awarded the Mitchell scholarship was a key factor in my choice for South as it provided me with immense financial relief, for which I am incredibly grateful."
The Mitchell Scholars Program was launched with funds provided by Mobile philanthropist Abraham Mitchell. These competitive scholarships offer extraordinary opportunities for students to pursue a challenging program of scholarly activities at MCOB. It is the University's largest single privately funded scholarship program to date.
"I actually met Mr. Mitchell soon after I started at South, and it was a wonderful experience. He's very sharp and such a personable individual," Nguyen said.
She admits to enjoying intellectual challenges, and she discovered that one of her favorite high school courses was calculus, something that explains why she decided on a business degree. "I wanted to choose a degree that was very practical and useful, and a business degree checked all those boxes," she said.
During her freshman year, Nguyen lived at home with her family in Mobile. For her sophomore and junior years, she lived in residence halls on South's campus.
"During my senior year, I lived with friends in a home that was nearby South's campus, so my living experiences during college were wide-ranging because I gained a different experience in each of those settings," she said.
As a student, Nguyen was involved in Beta Sigma Gamma, the business honor society; served as president of the Financial Management Association; participated in the Jaguar Investment Fund and tutored students at the Math Lab Center. Outside of the classroom, she learned how to swim and ride a bike.
Today, the 22-year-old has high praise for both South and the Mitchell College of Business, adding that MCOB "holds numerous events for students, including leadership seminars and networking opportunities. Additionally, MCOB's Professional Readiness Engagement Program, or PREP, serves as another avenue for students to gain professional experience, including preparation for job interviews and reviews of resumes." She especially recalls enjoying the annual Financial Leaders Conference, hosted most recently in New York City, where students could meet industry experts and visit local financial institutions, such as the New York Stock Exchange, Nasdaq and Bloomberg.
Other than work, Nguyen enjoys reading, mostly nonfiction, going to the park, visiting nearby coastal cities and beaches.
Occasionally, she thinks that one day she may want to live on the East Coast in North or South Carolina or even in Texas. And, one day, she plans on getting a master's degree as well as a Ph.D.
"I did tutoring both in high school and at South, so I really do enjoy the academic side of things, and I could see myself teaching at the collegiate level sometime in the future," she said.
---