'Do Research and You Can't Go Wrong'
---
Posted on August 11, 2016
Bob Lowry
---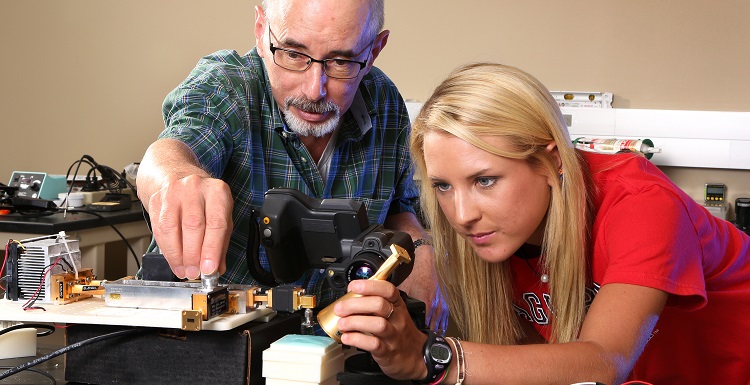 Dr. David Nelson, chair of mechanical engineering, said there were no undergraduates doing research in his department 10 years ago. "Now, we have 25 to 30 each year," including students like Kelly Welsh.
Download larger image
---
For Kelly Welsh, her entire life changed last summer, just two-and-a-half weeks before school started. She was in her hometown of Jonesboro, Ark., preparing to start college at her local state university, when she realized she couldn't ignore her heart any longer.
Welsh had represented her state in the national Distinguished Young Women scholarship event held in Mobile that June. When she went back to Arkansas afterward, she kept thinking about the University of South Alabama.
"So I finally told my mom I wanted to go to South Alabama," she said. "Mom said, 'It'll be up to you to make it happen.'" So she called her DYW host family to see if she could stay with them again (they said yes) and she called Kristin Odom, USA's assistant director of enrollment services, to see if it was too late to enroll for the 2015 fall semester (it wasn't). Odom got her a class schedule and she was off and running. But to where?
"Math and science were my favorite subjects in high school, so I started as a math/stats major," Welsh said. And while she enjoyed it, it was exposure to other options at South that opened her eyes to other possibilities, especially mechanical engineering.
"Boni Yraguen (DYW alumna from Oregon and recently graduated mechanical engineering student at South), who was in the Honors Program, convinced me to give mechanical a try," Welsh said. Yraguen arranged a meeting for Welsh with department chair Dr. David Nelson. Emails and more meetings between Nelson and Welsh followed. She also went to a University Committee on Undergraduate Research symposium, and realized, "This is what I want to do."
What followed really surprised her.
"Dr. Doran (Michael Doran, director of the University Honors Program) always says, 'Do research and you can't go wrong,'" Welsh said. So she asked Nelson about research and found out that she could start. Immediately.
"My friends back in college in Arkansas were like, "How can you be in a research lab? You just started college!" But Welsh found out that research at South is for everyone.
"Ten years ago, there were no undergraduate students doing mechanical engineering research at USA," Nelson said. "Now, we have 25 to 30 each year."
Welsh's career interest is biomedical engineering ("I want to make machines for peoples' bodies"). So this summer, in her freshman year at South, she spent every day in one of the Shelby Hall engineering labs, developing the hardware and software to read and record skin surface temperature measurements. In her research, she uses a small device that uses radio waves to heat special tissue-equivalent material that has properties similar to human skin.
Her work is part of the effort to develop a device that measures blood flow in the skin. This can be very important to patients with diabetes, according to Nelson, who is supervising Welsh's research. Other USA faculty involved in the project include Dr. James Downey in physiology and cell biology, Dr. Saeed Latif in electrical and computer engineering, and Dr. Silas Leavesley in chemical and biomolecular engineering.
"Kelly works on the interfacing," Nelson said. "Take the signal, amplify it, convert it to digital, test the accuracy, and figure out where and how to hold it on the skin."
"I found something I really like, and the research has confirmed that," Welsh said. And what if she didn't like it? "That's one reason why it's important to start your research early. If you like it, great. If you don't, you have time to try something else. I didn't want to start late and find out I didn't like it."
Regardless of where her research leads, Nelson says it's the starting of it that will give Welsh and other student researchers at South an advantage down the road. "It's a tremendous advantage for students who apply for graduate school or fellowships," Nelson said. "By the time Kelly's a senior, she will have accomplished a lot. She will have published her work in a scientific journal and have presented it at one or more conferences."
"And it's also great for me," Nelson laughed. "These students who start their research as freshmen will be teaching me before they graduate! Student research is a natural outgrowth of our research mission at South. It's important for our reputation, and it's also fun and rewarding for our faculty."
Welsh added, "Research is something you just don't learn in the classroom. It's cool that we can do it as freshmen."
---