Falling For South
---
Posted on August 25, 2023
Thomas Becnel
---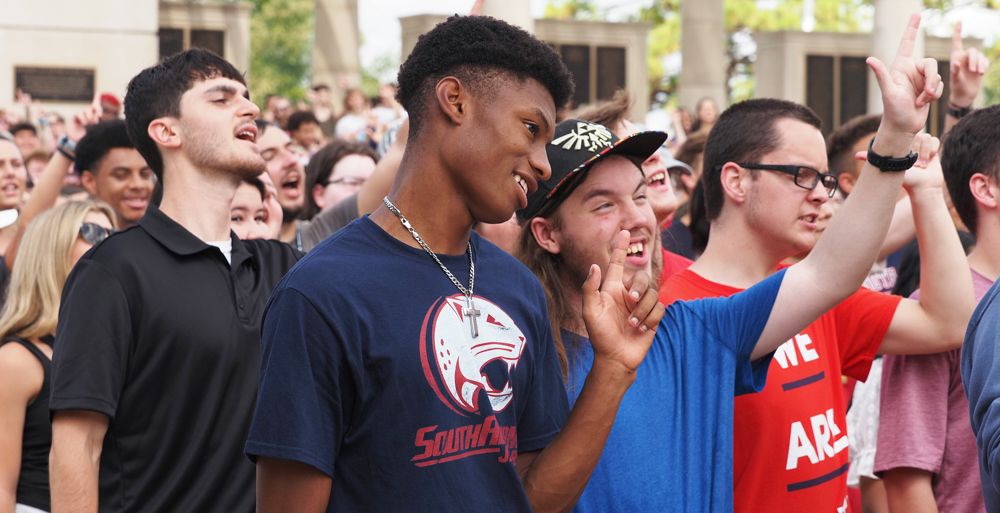 Jordan Morrison, center, showed up early for the Class of 2027 photo at the Moulton Bell Tower. A student-athlete, Morrison plans to major in computer science.
---
First-year students begin fall semester by meeting and greeting classmates during Week of Welcome events.
For Move-In Day at the University of South Alabama, Baleigh Byrd wore shorts and a tank top, while Alania Brown played it cool in a white Def Leppard T-shirt.
Their parents, though, sported souvenir gear in South red, white and blue. "Jag Mom" and "Jag Dad." Proud mommas and poppas of first-year students beginning the fall semester.
"I made 'em wear those shirts," Baleigh said, laughing. "I took a picture."
By the time the Byrds reached a fourth-floor room in the Azalea Residence Hall, the Browns had already unpacked clothes, blankets and small appliances.
"We were the first ones here, the first ones in the parking lot this morning," Brown said. "It was so embarrassing. And I lost my ID card, so I need a new one, but they said right now I could use my regular ID, my driver's license."
She and Byrd both graduated this spring from Baldwin County High School. They both plan to study nursing. They both joke that their moms gave them first names that are impossible for people to spell.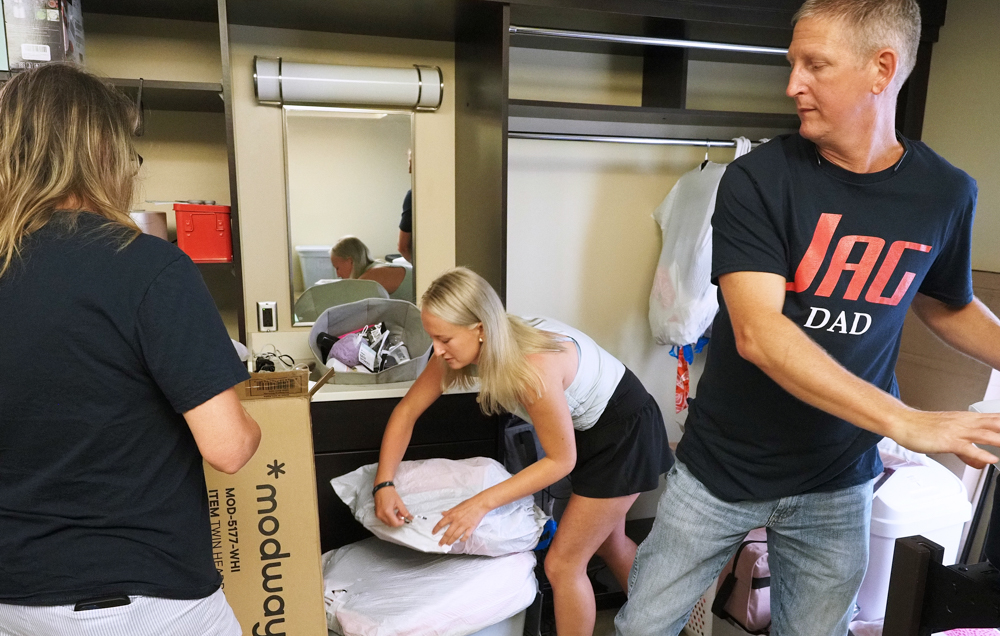 Baleigh Byrd, center, unpacks at the Azalea Residence Hall with some help from her parents.
As soon they found out they were both going to South, they decided to room together. Familiar faces from home. They shared an online checklist for everything they'd need in their room. They had fun with it.
"Here's our matching robes," Byrd said, emptying one of her bins. "Did you bring our matching pajamas, too?"
"I did!" Brown replied, as they both laughed.
Byrd unpacked a new teddy bear wearing a South T-shirt. Brown brought along Hippo the hippopotamus. Though the Azalea roommates just moved in, they looked ready to finish the fall semester.
They have a Halloween doormat that says "Hey, Boo," along with a bag of Christmas decorations.
Brown is from Bay Minette, while Byrd is from the even smaller town of Stapleton. This makes Mobile a bit of an adjustment.
"I'm actually a little nervous, afraid I'm going to get lost," Byrd said. "I know it's not a super big campus, but …"
In the days after move-in, the roommates attended residence hall meetings and looked around campus. They tried a Mexican restaurant. They went to the First Night glow party sponsored by Jaguar Productions.
On Monday, they attended Convocation — Brown wore a black Def Leppard T-shirt — a highlight event during Week of Welcome. They also joined a Class of 2027 photo in front of the Moulton Bell Tower.
Breakdown on Move-In Day
Jordan Morrison showed up early for the Bell Tower photo and stood in the front row of the picture, right next to the C in "Class of 2027."
He made a J symbol with his left hand, like he'd been taught, but didn't manage much of a grin. Afterward, he shrugged and offered a much bigger smile. He says it takes a while before he gets comfortable in a crowd of people he doesn't know.
His introduction to Mobile was heated — make that overheated.
Morrison and his parents drove down from Huntsville, Alabama, where he attended Bob Jones High School. No problems along the way. Then his 2003 Honda Accord broke down just a few blocks from campus.
"We had to get out and push it across the street," he said. "I was mad the whole day – and that was my move-in day."
He plans to major in computer science and has been busy with the Math Bridge Program for incoming freshmen. His father was a member of the Omega Psi Phi fraternity, back when he was in college, but he isn't sure he'll follow in those footsteps.
Morrison, who runs 400- and 800-meter races, earned an athletic scholarship to South. He's been lifting weights at the Student Rec Center. He's been hanging around with a freshman long jumper from Atlanta.
"His car is actually working," Morrison said. "Thank God."
Early Start with Honors College
At Moulton Bell Tower, Morrison passed Alijah Miller, who posed with hundreds of other members in the Class of 2027.
The Davidson High School graduate lives at home in Mobile and commutes to South. He doesn't think that hurt his chances at networking during the Week of Welcome.
"Not at all," he said. "I just come in for all the events. I've already met a ton of people."
Before the semester began, Miller attended the Honors College retreat. Lots of engineers and pre-med students. Also free spirits and students who aren't sure where their interests will lead.
"It's a good mix of people," he said.
Miller is interested in joining a fraternity, but doesn't have much free time. He often works 30 hours a week at a burger restaurant on Airport Boulevard. He might try intramural soccer.
On Convocation day, he went to an afternoon barbecue sponsored by Campus Outreach, a ministry group he's interested in. It was hot, and there was a 30-foot-tall inflatable water slide, but Miller didn't go for a ride. He didn't have a towel or a change of clothes.
"I found out about this event an hour ago," Miller joked. "I'm a college student — I came for the free food."
Roommates from Birmingham
The next day, Atorria Cephus and KaNeseay Turner showed up early for Movie Night at Hancock Whitney Stadium so they could be in a group photo that spelled out U-S-A.
They found a place on the S at midfield.
"I didn't have a lot of school spirit in high school, but I do now that I'm at a college that I chose to attend," Cephus said. "I wanted to be in the photo. And I wanted the free T-shirt. If you go early to events, you get a lot of merch."
She pulled a tie-dyed souvenir from her backpack. On the front, it said "Week of Welcome." On the back, "Good Vibes Only."
Cephus and Turner both graduated this spring from Hueytown High School outside Birmingham. When they found out they were both going to South, they decided to room together. Familiar faces from home.
Both plan to study biology. During move-in, they settled into a fourth-floor room in the Azalea Residence Hall.
Cephus grabbed the bed by the window.
"She got there first, so I didn't have a chance," Turner said. "Hopefully, next year I get the window."
Back home, Cephus worked part-time at a supermarket. She hopes to do weekend shifts in Mobile. She plans to attend South football games at Hancock Whitney Stadium.
It's part of her Jaguar spirit plan.
"I know I want to go to Homecoming and the Troy game," she said. "I don't feel the rivalry yet, but I know there is one. It sounds serious."
---