Jaguar Trifecta: Mom, Son and Daughter Enroll at South
---
Posted on September 13, 2021
Thomas Becnel
---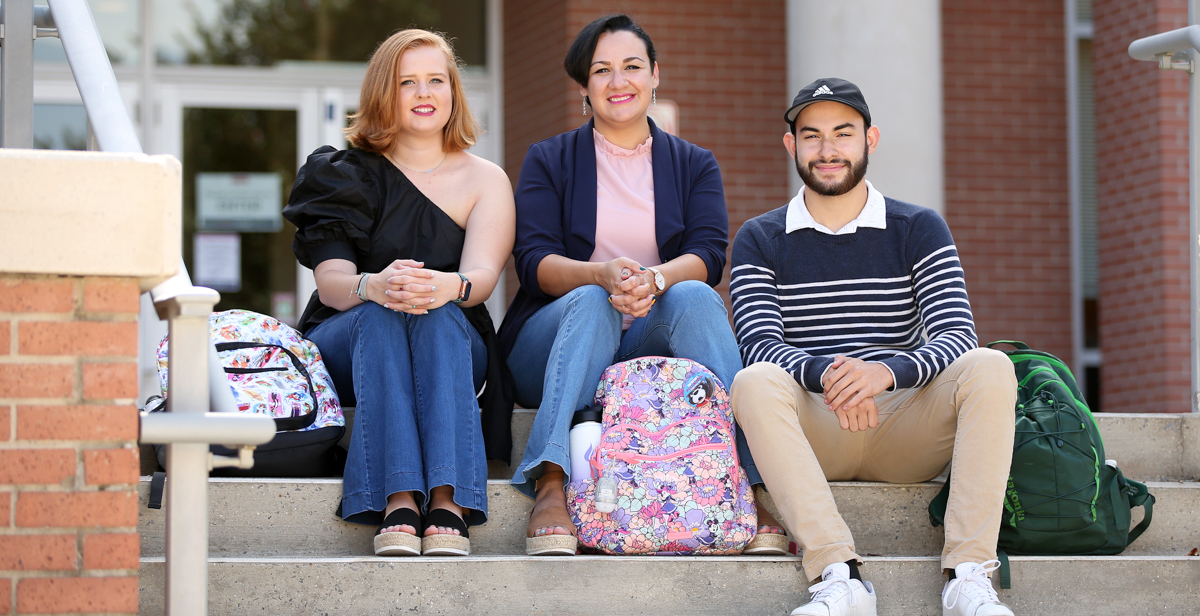 Zuleima Russell, a senior majoring in biology, attends the University of South Alabama with her daughter, Erica Howell, and son, Randall Russell.
---
Zuleima Russell enjoys seeing her son and daughter at South, where they are all students, so long as they follow one rule.
"They're not allowed to call me mom on campus," she said, laughing. "I'm Zuly to everyone. Sometimes they slip. They find it very funny."
Russell is a senior studying biology at the University of South Alabama. She and her husband, a Navy contractor, have five children. Everyone follows a hectic family schedule on Google Calendar.
At South, the Jaguar mom fits right in at the Student Center.
Russell, 36, carries a pink Minnie Mouse backpack with an insulated coffee cup jammed into one pocket. Her fingernails are painted green and gold – her favorite colors. She hasn't done many extracurricular activities on campus, but she has worked as a mentor in Student Academic Success. She practices what she preaches to younger students.
"Time management – that's always the No.1 priority," she said. "It's your best friend. If you manage your time, you have time for everything. If you take it day-by-day, one thing at a time, you can reach your goal."
Her son, Randall, is a computer science major starting his first semester at South. In the evening, he has a part-time job washing cars at a Honda dealership. Time management is his priority, too.
"I'm a convert from high school – I'm not a procrastinator anymore," Randall said. "I'm trying to be more like my mom. We were planning on taking a class together, but it didn't work out."
He calls her Zuly when they're on campus. She calls him Tico when she complains about the beard beneath his mask.
"I always tell him that he needs to shave," she said. "I need my baby back."
Her daughter, Erica Howell, is a junior at South. She started out in nursing, but changed her major to mechanical engineering.
"My mom was always the one I went to for advice," Erica said. "She said to pray about it and do what feels right."
Family Support and Friends
Russell grew up in Puerto Cumarebo, a small town on the coast of Venezuela. She met her husband and moved to Mobile, what felt like a big city on the Gulf Coast of Alabama.
She thought about going to college then, but decided to start a family instead.
The Russells live in a big house near South in West Mobile. The older kids went to Davidson High School. Their youngest sister is a 9-year-old in fourth grade.
Three years ago, with all of the political unrest in Venezuela, Russell's parents came to America and moved in with the family. There's more Spanish spoken in the house. Her father likes to cook.
"He's always asking, 'You hungry?'" she said. "''You want something to eat?'"
Several years ago, Russell was working part-time in a Mobile medical office. Co-workers saw her potential. They said she should go back to school.
She finally enrolled at South. She wanted to stay in the medical field. She majored in biology.
"It was extremely hard," she said. "It's still hard. You cry, you stress out, and you cry some more. I'm lucky that I have a very good support system, with my husband and my family."
She's gotten used to being older than most of her classmates. It's not an issue, though she does enjoy meeting students her own age.
"I actually made a friend when we took some of the same biology classes together," she said. "She's 45 and came back to do biomedical studies. We've become very good friends, actually. We go out to dinner, go out for drinks, go to the beach."
Russell plans to graduate in the spring. After that, she's not sure. She's thought about getting a job or going to graduate school.
For now, Russell enjoys her family in Mobile and her son and daughter at South. They're all Jaguars. Randall jokes that his friends like her better than him.
Support for her college education includes encouragement from Sofia, her 9-year-old.
"She thinks it's cool," Russell said. "She actually thinks it's cool."
---