National Down Syndrome Society Honors USA Student
---
Posted on September 14, 2018
Joy Washington
---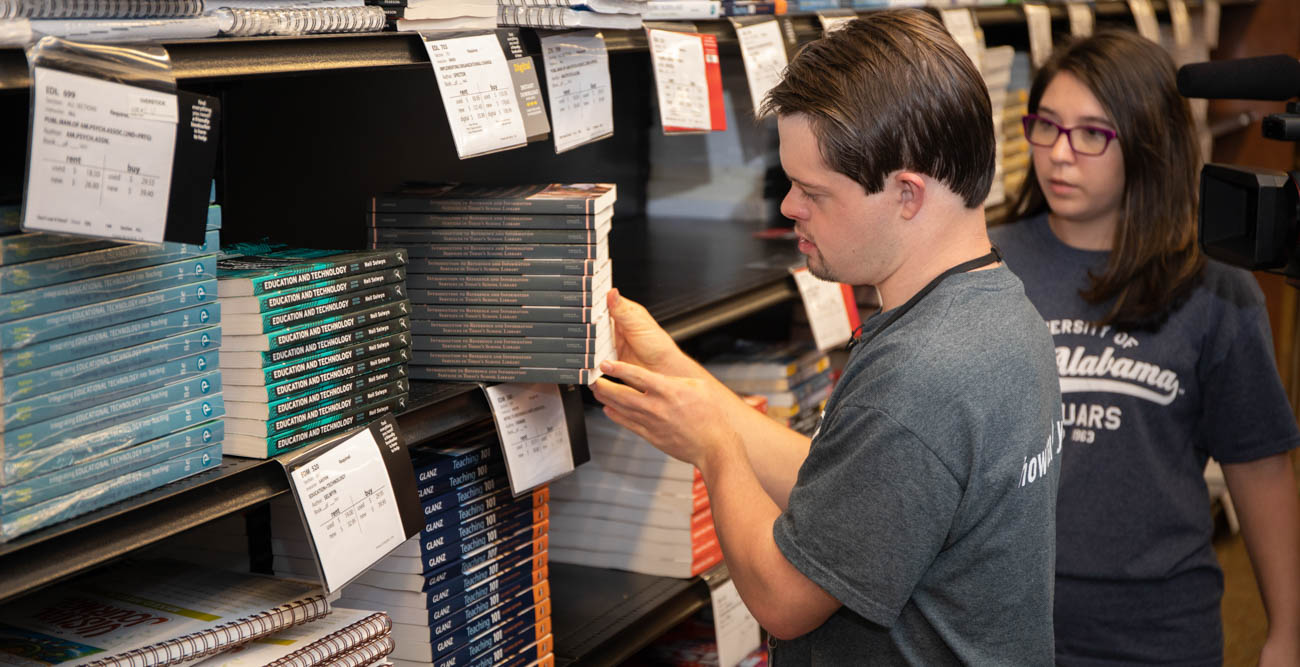 Benjamin Pelham, the recipient of the 2018 Dan Piper award by the National Down Syndrome Society, is the first student admitted to the PASSAGE USA program at South, where he also works at the campus bookstore. Here he is with Carol Hudak, his peer mentor and a junior elementary education major.
---
Benjamin Pelham of Mobile, the first student to be admitted into the PASSAGE USA program at the University of South Alabama, has been named the National Down Syndrome Society's 2018 Dan Piper Award recipient. The award honors a person who, through everyday activities, brings about a greater public awareness and understanding of people with Down syndrome in his or her community.
"I feel happy and wonderful," Pelham said. "I am excited about traveling to New York. My brother said I deserved this honor, and he will be on stage with me."
Pelham will participate in the national Buddy Walk event in New York City on Saturday, Sept. 15. This event honors and celebrates individuals with Down syndrome and raises awareness, advocacy and funds for programs that benefit people with Down syndrome and their families.
Pelham, 23, was nominated for this award by his younger brother, Joseph, for his impact and success in the PASSAGE USA program at South and when he attended McGill-Toolen High School in Mobile. PASSAGE USA, which stands for Preparing All Students Socially and Academically for Gainful Employment, is a two-year, non-degree, certificate program designed for students who need extra supports to be successful in our community.
Pelham has advocated on Capitol Hill for legislation that impacts individuals with disabilities at the NDSS' Annual Buddy Walk on Washington Advocacy Conference.
"Benjamin's attitude of gratitude made him a great choice to receive this prestigious honor," said Josh Harlow, media contact for NDSS. "The Dan Piper Award was established to commemorate self-advocate Dan Piper's life by celebrating an individual with Down syndrome ages 18 or older."
PASSAGE USA is the only program in Alabama where students with an intellectual disability can attend college. An IQ of 70 and below can indicate this type of disability. Dr. Abigail Baxter, professor of leadership and teacher education, manages the program at South's College of Education and Professional Studies.
"It is fitting that Benjamin received the Dan Piper Award," said Baxter. "Benjamin has spent his life improving public awareness of individuals with Down syndrome. He had an inclusive education where he learned alongside students without disabilities. He was part of the University's Empowering Change initiative, and he participated as a mascot spotter at football and basketball games. He has held multiple jobs on campus and in Mobile. Benjamin provides the people he comes in contact with a different view of individuals with Down syndrome."
Pelham's parents, Marc and Lisa Pelham, are very proud he's being recognized for his academic, advocacy and community work.
"Benjamin is fearless," his parents said. "Knowing at an early age that he was different, and despite challenges including other people's low expectations, he has made our community broader and better. He cracked the door open in private school for those with Down syndrome and other special needs. We are grateful he's our son."
PASSAGE USA is now accepting applications for the fall 2019 semester.
---