Breaking Through the Language Barrier
---
Posted on September 15, 2021
Amber Day
---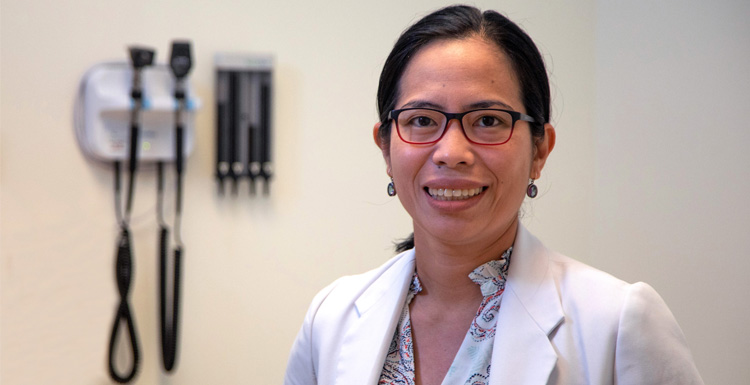 Dr. Haidee Custodio, an infectious disease pediatrician and associate professor of pediatrics at USA Health, is enrolled in the University of South Alabama Spanish for Healthcare Professionals Graduate Certificate Program, hoping to become proficient in Spanish to better serve her non-English speaking patients.
---
Dr. Haidee Custodio, an infectious disease pediatrician and associate professor of pediatrics at USA Health, is one of the first students in the University of South Alabama Spanish for Healthcare Professionals Graduate Certificate Program. Custodio joined USA Health in 2011 and also serves as the Associate Director of the USA College of Medicine Pediatric Residency Program. She completed medical school in the Philippines before moving to New York to complete her pediatric residency and Florida for her pediatric infectious diseases fellowship.
"As a pediatrician, I take care of Spanish-speaking patients and families," Custodio said. "Whenever I try to speak poquito Spanish, I see their eyes light up and they all have a big smile. While using a translator is helpful, it doesn't have the same spontaneity that you get when speaking directly with them. I would like to connect more with my patients and their families, gain their trust and know that they know we're working together as a team."
The fully online graduate certificate program, offered in the USA College of Arts and Sciences, prepares current and future healthcare professionals to serve the growing monolingual Spanish-speaking and limited English proficiency populations in the U.S. In this four-course program, students develop spoken and written competency in Spanish while also engaging with social and cultural issues that may impact the overall well-being of Hispanic patients and their response to treatment protocols.
In the health industry, communication is key when it comes to taking care of patients and families.
"Healthcare visits are always intimidating and anxiety-provoking," Custodio said. "When a healthcare professional speaks in Spanish, it just makes the experience a little bit easier and more reassuring for the patient."
Custodio was motivated to enroll for the program for several reasons.
"I am also fortunate to have friends and co-workers from Spanish-speaking countries," Custodio said. "The more I learn about them, their language and their culture, the more learning language becomes fun and makes me more determined to finish the course. Even though the course is oriented for healthcare, I feel that the course helps me connect with Spanish speaking individuals. In other words, learning to speak Spanish helps bridge the gap with others in and out of medicine."
In the past, Custodio has taken a couple of Spanish courses, but because of scheduling and other responsibilities at that time in her life, she never became completely conversational. Last year, when the pandemic began, she had the opportunity to enroll in the new online program.
"When the opportunity to join the certificate program presented itself, I thought to myself, 'if I'm going to be stuck at home or not be able to travel or go out as I used to, I might as well learn Spanish and make lemonade out of lemons.' I would like to remember the pandemic not just for the horrible reality that it did to us, but also how societal and individual resilience prevailed. I suppose this is my personal way of prevailing over the pandemic."
So far, Custodio's favorite part of the course has not just been learning the language, but also learning about the history of each country in the context of healthcare. "For example, I learned about the outbreak of optic neuropathy in Cuba in the 1990's. Despite the socioeconomic and political environment at the time, there was cooperation among healthcare workers in and out of the country."
Dr. Zoya Khan is an associate professor and serves as the Spanish section head in the Department of Modern and Classical Languages and Literature in the College of Arts and Sciences. Khan is the director of the new graduate program. Kristy Britt, Chase Krebs and Chassidy Simmons also teach classes for the new program.
"Dr. Khan has been very passionate about teaching us Spanish," Custodio said. "I appreciate the energy that she puts into this program. Working with different students with different schedules is not easy, but she makes it happen. In my class, there are several medical students, pharmacists and nurses from all over the country. I have nothing but admiration for them for pursuing this class despite their busy schedules and being full-time professionals and parents."
Khan said the Spanish-speaking population is the second-largest ethnic group in the U.S., after non-Hispanic whites. According to the 2020 Census, Hispanics are driving the growth of the country's population increase, and by 2050, this demographic will account for almost 30 percent of the U.S. population. Despite this significant Hispanic presence, there is a critical shortage of Spanish-speaking healthcare providers.
"This certificate program seeks to equip healthcare providers with intermediate proficiency in oral and written Spanish communication," Khan said. "It also aims to equip them with cultural competency skills. Having this additional cultural knowledge will better enable the healthcare professionals to treat this important segment of the American population. Cultural competency includes insights into health and wellness issues that impact the U.S.-Hispanic populations as well as global health topics that impact Spanish-speaking countries. It also includes an understanding of cultural topics relevant to Hispanic societies, such as family structures, beliefs, myths, folk remedies and laws and policies and their impact on Hispanic health both within the U.S. and in Spanish-speaking countries."
The certificate consists of 12 credit hours earned by taking three fully online courses and completing a practicum at a University of South Alabama-approved healthcare facility either within the United States or in a Spanish-speaking country. Applicants must have an undergraduate degree. Spring 2022 registration is currently open. Spots are limited. Click here to apply now. Questions? Contact Dr. Zoya Khan at zkhan@southalabama.edu or (251) 461-1360.
---