Academic Coaching, Mentoring Part of Second Year Experience
---
Posted on September 16, 2022
Thomas Becnel
---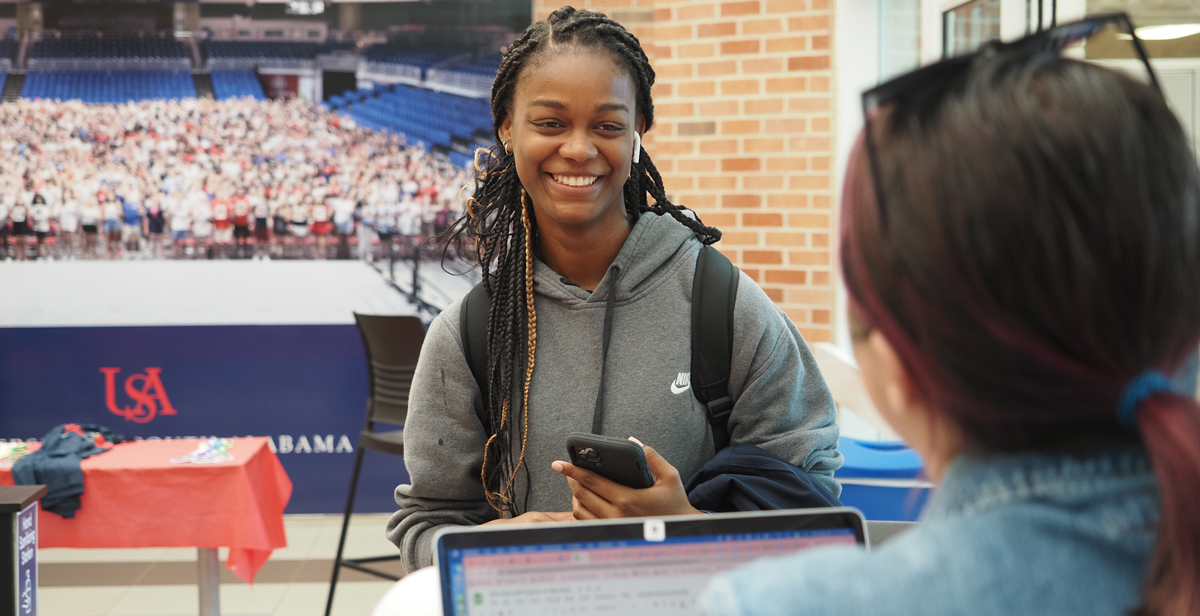 Xha'Nae Morris, a nursing sophomore from Mobile, attends a Second Year Experience event early this semester. Morris also works with first-year students for the Office of Student Academic Success. She's a ComPAL – Composition Pal – who offers English tutoring.
---
When students turn to the Second Year Experience program for tutoring or advice, Donnie Lindsey knows just what to say.
He's been in their shoes. He knows what it's like to change majors, or transfer to the University of South Alabama, and feel overwhelmed. He wants to tell them that lots of students need help navigating their academic careers.
"I had a bit of a sophomore slump when I was student at South," said Lindsey, coordinator of the Second Year Experience. "I started out in nursing, but I was struggling, so I was just trying to find a major where I could use some of my credits. I was in a panic, but I remember talking with Dr. Jason Brooks in the EMS department. 'Just breathe,' he told me in an e-mail. 'Come to my office. We'll have a meeting and figure this out.'"
Lindsey wound up earning a bachelor's degree in emergency medical services and then a master's degree in mental health counseling from South. He began working for Student Academic Success and became the first coordinator of the Second Year Experience.
The five-year program is funded by a $2.25 million grant from the U.S. Department of Education. The investment includes stipends for faculty mentors and redesigned tutoring spaces on the second floor of the Marx Library. The goal is to improve student retention with academic coaching and experiential learning.
South has had a First Year Experience program since 1998. It helps students, especially first-generation college students, adjust to University life and learning.
Xha'Nae Morris, now a second-year student, took advantage of that program when she worked with an English tutor her freshman year.
"We met every week during the semester," said Morris, a nursing major from Mobile. "She was really helpful."
The Second Year Experience offers the next step.
"There's a lot of research that shows the second year is when students need a lot of support," said Kristi Clayton, assistant director of Student Academic Success. "They don't really belong in their academic department yet, and that's where they begin to struggle. They have a hard time finding their place on campus. And we know that a feeling of community and belonging is a big part of academic success."
Some students fall behind in their studies before seeking assistance. Others find it easier to ask for help, which is one of the ideas behind the Second Year Experience.
Garrett Epps, a Mitchell Scholar from the Mitchell College of Business, stopped by the kickoff party for the Second Year Experience at the beginning of the fall semester. The sophomore told Clayton that he needed an algebra tutor for help in his calculus class. She tapped a few keys on her laptop and got him an afternoon appointment in the library.
The whole transaction took five minutes. Epps seemed aware of his problem and upbeat about his prospects.
"I don't have a math brain," he said with a shrug. "I've got a brain for science and English – and business."
It's still early in the first semester of the Second Year Experience. Students are settling into classes and life on campus. Mid-terms are when many students begin to realize they're having problems.
Faculty fellows in the program already have begun reaching out to sophomores.
"We're going by majors as much as possible," Lindsey said. "Some of the research shows that if students have a connection with faculty, it helps them."
Labor of Love
Clayton, a native of Mobile and graduate of South, also knows what it's like to work through the early years of college.
She was the first member of her family to go to college. She remembers struggling with doubt and a feeling that she didn't belong, especially when she changed majors as an undergraduate. She finally started to explore South and find her way.
Clayton calls this time the "murky middle" of a college career, before students find ready-made mentors and community in the discipline they choose to study.
"They could go either way," she said. "They could drop out or push on. They have a hard time finding their place on campus"
Clayton finally earned her degree in communications and began working as an admission officer for South. In 2019, she began working in Student Academic Success. In 2020, she earned a master's degree in education.
Programs such as the Second Year Experience are a way to give back to the University.
"This is really a labor of love," said Clayton. "When I teach First Year Experience classes, I describe South as the place where I grew up."
The ultimate goal for the Second Year Experience is to prepare students to work toward internships and jobs after graduation. The program includes field trips to regional employers.
"The career piece, especially for first-generation college students, is really important," Clayton said. "The career piece is the pot of gold at the end of the rainbow."
Putting on Lab Coats
Dr. Nicole Carr, associate vice president of Student Academic Success, is the principal investigator for Second Year Experience, but she gives Clayton credit for landing the grant.
"Kristi was the will behind this project," Carr said. "She brought the drive, the energy and lots of writing to the application."
Clayton and Carr have studied colleges with successful second-year programs. These include the University of Cincinnati, the University of South Carolina and the University of Central Florida.
When the Second Year Experience began at South, 25 professors were selected as faculty fellows. There were another four strong applicants, so Student Academic Success collaborated with the Office of Academic Affairs to fund those positions.
This semester, mentors and advisors will begin working with students at South.
"The metaphor we're using is that now we've got our lab coats on," Lindsey said. "We've checked the literature and now we're experimenting, using the best practices that have worked in other places."
---