Jackson to Present at 19th Annual Hamner Lecture
---
Posted on October 8, 2021
Amber Day
---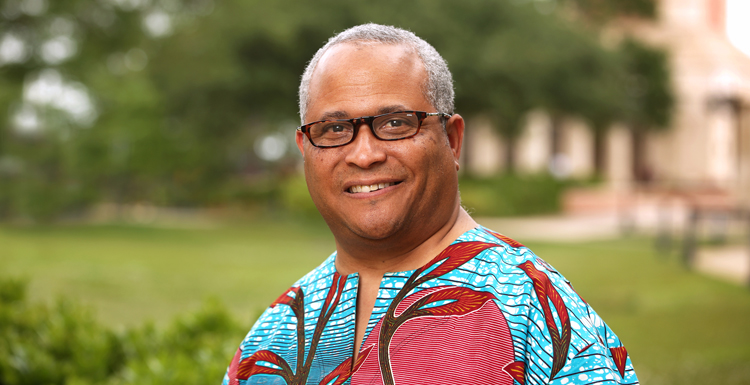 Dr. Kern Jackson specializes in African American and Southeastern United States folklore and oral narrative. He is currently working on a book project titled "Masters, Servants and Mardi Gras: Listening to the Wise Ones' Personal Narratives."
---
Dr. Kern Jackson, director of the African American Studies Program and a faculty member in the Department of English at the University of South Alabama, will present at the 19th annual Hamner Lecture to be held Wednesday, October 13, 2021 at 4:00 p.m., in the Marx Library Auditorium. Frye Gaillard, writer in residence, will interview Jackson at the event titled "Listening to the Wise Ones: Oral Narrative as Praxis, a Conversation with Dr. Kern Jackson."
The lecture is free and open to the public. For those that cannot attend in person, a livestream will be available via Zoom. Email english@southalabama.edu to receive the link.
"The Hamner Lecture was inaugurated in honor of Eugenie Hamner, a retired, much beloved professor in the Department of English," said Dr. John Halbrooks, associate professor and graduate coordinator in English. "Each year, a faculty member delivers a public lecture sponsored by South's graduate program in English. We are excited to feature Dr. Kern Jackson at this year's event."
Jackson specializes in African American and Southeastern United States folklore and oral narrative. He is currently working on a book project titled "Masters, Servants and Mardi Gras: Listening to the Wise Ones' Personal Narratives." Jackson, a distinguished tenured faculty member, is well known for his teaching methodology, where he allows students to experience and live history in a manner that bridges classroom study and first-hand field experience.
In addition to his academic contributions, Jackson is involved in the community as well. He is the former curator of minority history for the Museum of Mobile and a preeminent expert on Gulf Coast rituals, carnival and Mardi Gras. He served as historian for the seminal documentary Order of Myths in 2008 and appeared in multiple episodes of an Alabama Public Television Series, Alabama Journey Proud. In 2020, Jackson was part of "Alabama Black Belt Blues," a one-hour documentary about Alabama's blues music tradition, centered in its fertile Black Belt region.
Jackson is also involved in other local projects, including the current social fieldwork and oral history that he is conducting in the Africatown and 'Down the Bay' neighborhoods in Mobile. A new Africatown Heritage House facility is being planned to house artifacts from the Clotilda, the recently rediscovered last ship to bring captive Africans into slavery in the United States just before the Civil War began. Jackson and many other researchers at the University of South Alabama are involved in ongoing projects related to the Clotilda. In addition, Jackson and Dr. Charlene Dadzie, assistant professor of marketing and quantitative methods in the Mitchell College of Business, recently won a Social Justice Initiative grant for their proposal titled "Ethnography of Seeing: Transformative Photography for Social Justice in Africatown, U.S.A."
Most recently, the University of South Alabama received its largest grant ever in the humanities – $453,000 from the National Endowment for the Humanities. The funds will be used to support the Doy Leale McCall Rare Book and Manuscript Library, the Alfred and Lucille Delchamps Archeology Museum and the Honors College. Jackson serves as one of the primary ethnographers on the grant. At the Hamner Lecture, Frye will discuss with Jackson 30 years worth of Alabama and Gulf Coast oral history data collection, folkloric preservation and ethnographic investigation.
Jackson earned a Bachelor of Arts in English and African American Studies from the University of Virginia, Masters of Arts in African American Studies from the University of Wisconsin and Ph.D. in Folkloristics and Ethnomusicology from Indiana University.
---