Author Writing His Next Chapter, Book
---
Posted on December 5, 2016
Alice Jackson
---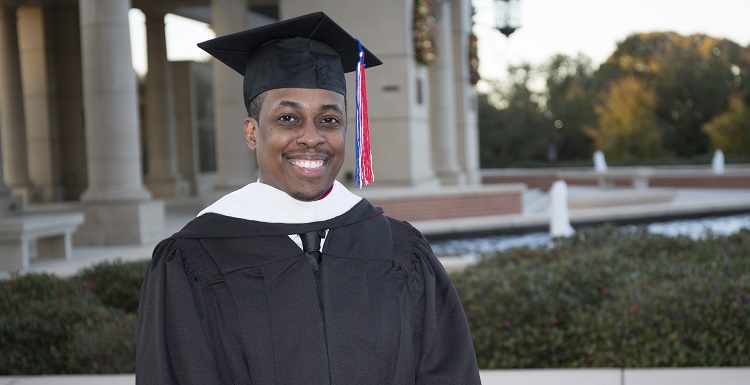 While searching for a teaching job after graduating, Robert Bennie Warren said he will continue to work on his fourth book. Titled "Archetype," it centers around a female child soldier in Africa with super powers.
---
Robert Bennie Warren, who will receive a master's of English degree from the University of South Alabama during Fall Commencement on Dec. 10, is racking up in the goals category. He is already the author of three published books.
Now, he is looking for a higher education job, hopefully where he can teach creative writing and, perhaps, work on a doctorate in creative writing.
"I've been in school for most of my life, so I figure I may as well get a career working in education," Warren said. "And, if I can help other people develop as writers and get published, then that's all the better."
The lifelong reader found his career direction as a youngster after he read "The Hobbit," the children's fantasy novel by English author J.R.R. Tolkien.
"That book is a really good starting point for learning about writing fantasy because it gives you the basics of fantasy plot, structure and character," Warren said.
He was 15 years old when he completed his first full-length manuscript, a major milestone for an aspiring writer of any age.
"It was a crime thriller, and it was terrible, but I wrote it relatively fast, although I was in school most of the day. It seemed like I was dreaming for the impossible, but I did it," Warren recalled.
After earning a bachelor of science degree, Warren worked as a stocker at a pet shop in Alpharetta, Ga., where he wrote his first published book, "Murder on Olympus." It was published by Dragonfairy Press, a small, independent publishing company specializing in fantasy, science fiction and their sub-genres, including urban fantasy, supernatural horror, paranormal romance, cyberpunk, dystopian and others.
Warren said the publishing of his first book gave him the courage to return to school for a master's degree.
Warren followed with the sequel, "Olympus Confidential." His third, and most recent book, was a standalone thriller, "Delete," from Plenary Publishing.
To date, Warren is pleased with his publishing experiences, describing them as "actually making some royalties, some nice returns, and to realize I actually had fans was a little surreal."
The 34-year-old, who calls Tuscaloosa home, said he came to South for his master's "because the creating writing program here has a very impressive staff, to say the least."
Higher education was always in Warren's future because his parents, who attended college but didn't finish, "were always supportive of me and my sisters going to college and getting our degrees."
"Actually, my family has always been very supportive of everything I've done in my life, whether it was martial arts, painting, comic book art or my aspirations to become a writer," Warren said. "My sister in Tuscaloosa was always encouraging me to do better. If I got a 'B,' she told me I should have gotten an 'A.' With my family's support, I was able to do what I wanted to do. And, it really wasn't an option in our family to not go to college."
Warren said his family plans to be in the Mitchell Center audience on Dec. 10 to see him receive his master's degree.
"If I get a Ph.D., that would put my parents on Cloud Nine because one of my sisters has a Ph.D. in psychology, so there would be two in the immediate family," Warren said. He said he's also considering applying to several MFA programs in creative writing.
While searching for a teaching job, Warren is continuing his daily schedule of writing.
"I write whenever I can because I'm working on a novel that I've been writing for two years. It started off as a novel to submit to publishers, but then I turned it into my thesis, and now I'm writing a variation of it that's separate from the thesis so my thesis can remain its own unique thing," Warren said.
Titled "Archetype," it centers around a female child soldier in Africa with super powers.
Warren continued, "She has super powers, and she uses them to try to stop a warlord who is trying to overthrow her country's government. It's unlike anything I've done before."
The writer said he'll miss South's department of English "where it's like a big family and everybody makes you feel welcome."
Warren added, "It makes the prospect of leaving really tough, but I know all the faculty and the staff want the students to go on and be successful wherever that success may take them, and I appreciate everything they've done for me."
---