Playing the Role of Trailblazer
---
Posted on December 8, 2020
Lance Crawford
---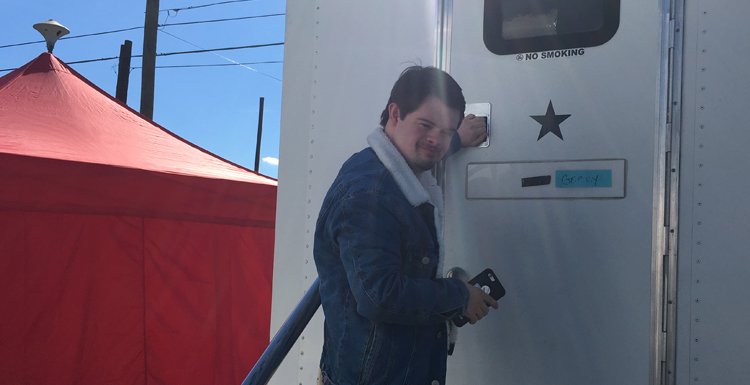 PASSAGE USA graduate Benjamin Pelham outside of his trailer on the set of the film "Embattled."
---
At age 25, Benjamin Pelham has been breaking through perceived barriers for most of his life. Born with Down syndrome, a genetic disorder that causes developmental and intellectual delays, Benjamin found happiness at an early age by singing and dancing.
"As early as 5 years old, he would copy or re-enact what he saw in Disney movies," said Lisa Pelham, Benjamin's mother. "He is happiest singing and dancing and talking about theatre and movies."
Pelham took performing seriously and was involved in numerous productions, a challenge for any child. It took plenty of work and dedication to master his roles, but he relished the opportunities.
As for any stage fright …
"Never! It was fun to be on stage and I feel like I am home," he said.
Pelham was also fearless in the classroom. According to his mom, he was the first child with Down syndrome to attend and graduate from St. Pius X Catholic school as well as the first to attend McGill-Toolen high school.
After high school, he was ready for more, but options were limited. His parents approached the University of South Alabama about a program for young adults with developmental disabilities, and South was interested.
"My colleagues and I had been talking about such programs at about the same time," said Dr. Abigail Baxter, professor in the department of leadership and teacher education.
A grant opportunity was announced in the spring of 2015 and South submitted a proposal. U.S. Rep. Bradley Byrne and Sens. Richard Shelby and Jeff Sessions recommended the program to the Department of Education and PASSAGE USA was born.
"I really think the grant proposal opportunity is what moved this from collegial conversations to the beginnings of sketching out a program," Baxter said.
PASSAGE is an acronym for Preparing All Students Socially and Academically for Gainful Employment. A two-year, non-degree certification program, it was just the opportunity Pelham needed as he once again played the role of trailblazer.
"Benjamin was our first student, so he grew along with us and the program," Baxter said. "He took advantage of all that the program had to offer."
During his two years at South, he worked multiple on-campus and community-based jobs, was a spotter for the school mascot, SouthPaw, joined the College Civitan Club and took classes.
"It was exciting, I liked all the fun events and the sports," Pelham said. "I met my girlfriend there. I liked my new friends and teachers."
He was also able to pursue his first love – theatre. One of his courses was Acting for Non-Majors where he was able to hone his skills even further. His passion and relentless work ethic paid off.
Pelham's agent – he has two, one in Mobile, the other in Los Angeles – secured an opportunity for him to tape an audition for a feature-length film. It was sent to the casting directors in Hollywood and he landed a role in the movie "Embattled," about a mixed martial arts star and his strained relationship with his son. It was filmed in Birmingham, Ala.
"Seeing Benjamin on the set and acting was as natural as seeing him sing and dance at home," Lisa Pelham said. "It was thrilling for him to have the opportunity but knowing this is where he should be."
Benjamin's experience was full-blown Hollywood, complete with his own trailer, makeup and costume people. A long way from his community theatre days.
"It was very different, but a lot of fun. You have to be very quiet on the set; plays have more noise," he said.
Pelham was quiet on the set, but his performance spoke loudly.
"It was essential we had actors who truly represent what it's like to have special needs and remove any stigmas," said Nick Sarkisov, the film's director. "These actors did a phenomenal job with their roles and really grounded the film. Our movie would not have been the same without them."
Of course, Pelham would love to act in more movies and that possibility exists, but what is certain is that he will continue to carve out his own path forward in life.
"People with Down syndrome have the same dreams as all kids and adults. Get a job, go to college, get married and have a real life," Lisa Pelham said. "If we never see someone with Down syndrome working in a bookstore or hotel or coffee shop it isn't real.
"Realize each person with Down syndrome is an individual not a clone of another person," she continued. "If you really want to help them, provide opportunities to be included just like you."
"Embattled" can be seen on iTunes, Google Play, Amazon Prime, Vudu, DirecTV and other outlets.
---