'This Is Just the Beginning'
---
Posted on December 11, 2021
Thomas Becnel
---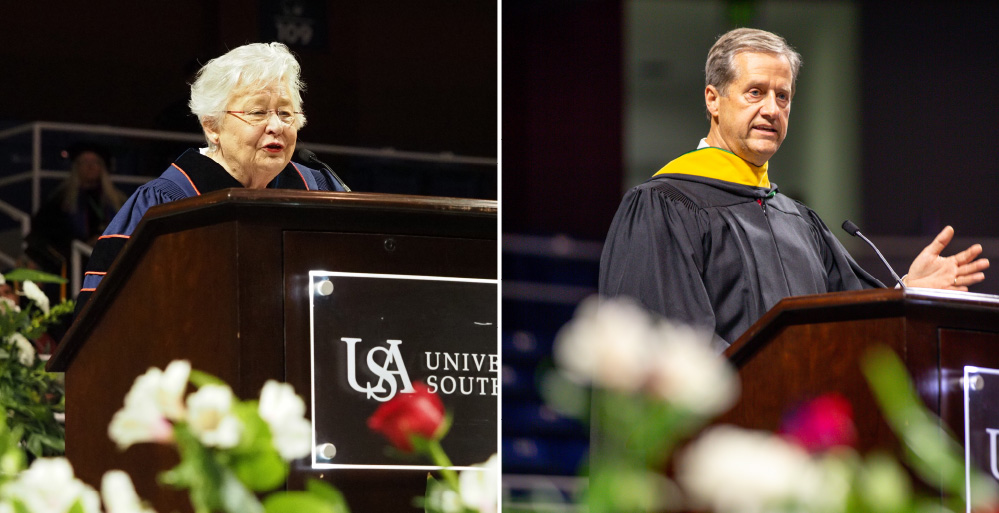 Alabama Gov. Kay Ivey and USA Health CEO Owen Bailey spoke to University of South Alabama graduates during Friday and Saturday Commencement ceremonies. Bailey spoke of USA healthcare workers who are making a difference in the lives of patients, while Ivey urged graduates to "use your talents to make Alabama and our world a better place."
---
During Fall Commencement weekend at the University of South Alabama, Gov. Kay Ivey told graduates to always be proud of their journey and promised them that their best is still to come.
"While commencement marks the end of a chapter — and in many cases, marks the end of the chapter that is school — take it from me, this is just the beginning," Ivey said Saturday at the USA Mitchell Center. "Your best and your most exciting days are still ahead."
On Friday and Saturday, there were 1,388 candidates for graduation, along with 16 summer doctoral graduates. There were 59 cum laude graduates, 49 magna cum laude graduates and 41 summa cum laude graduates.
Thousands of families and friends crowded into the Mitchell Center, cheering the names of their graduates. Dozens of students decorated their ceremonial caps with personalized messages.
"Done!" "Mastered It." "Teach the Change You Wish to See." Also, "Case Closed" and "If You're Reading This, I Graduated."
Sheryn Negre, a nursing degree candidate from Daphne, wore a cap with a twist on a Harry Potter reference: "Mischief Managed — and Bandaged."
"It was a tough journey," Negre said. "I was in the accelerated program, just 12 months, and it was so stressful. So now I'm celebrating."
For David Campbell, a 58-year-old who completed the Emergency Medical Services program in the Pat Capps Covey College of Allied Health Professions, his first trip across the stage may not be his last.
"I've worked in EMS for more than 30 years, but I wanted to finally get my degree," Campbell said. "Now I want to work on my master's."
The speaker at Friday afternoon's commencement program was Owen Bailey, CEO of USA Health, who drew several laughs from the Mitchell Center crowd. Friday's ceremony honored graduates in nursing and allied health.
"You know, when I think back on all the many commencement speeches that I've heard in my life, do you know what message has really stuck with me after all this time?" he said. "Nothing. I mainly remember that the speakers talked too long. So I'll keep it short today."
Bailey went on to describe, briefly, USA healthcare workers who are alumni who saw the need for change and made a difference for patients and families.
"The people who change lives and make lasting impacts are the people who never say 'that's not my job' or 'that's the way we've always done it,'" he said. "They have a spirit of gratitude and serving others."
Parents in the Mitchell Center included George and Jean Dunigan, who came to support their daughter Mercedes, an elementary education major, who is the first member of the family to graduate from college. The couple drove down from Grove Hill, Alabama, and showed up early.
"We left at 7 this morning — it was raining and storming, and traffic on I-65 was terrible," George said. "But we wouldn't miss it. She's our baby. The last one."
On Saturday morning, Gov. Ivey accepted an honorary degree from South. She said students should be proud of the dramatic growth and change at the University.
"You've seen wonderful new facilities constructed, including a new alumni center that will be your home when you return to campus," she said. "You've also seen an array of new state-of-the-art health facilities. And last, but certainly not least, you've seen an awesome new football stadium."
The governor encouraged graduates to remain in "Sweet Home Alabama," and make a difference in their home state.
"Every single one of you are walking away from today with incredible achievement," Ivey said. "Now, I challenge each of you to ask yourself how you individually can use your talents to make Alabama and our world a better place."
---
Follow South on Facebook and Instagram to view Commencement photos.
---