South Alumna, Accounting Student Briana Morris Readies to Take the Field in Denmark
---
Posted on December 18, 2020
Lance Crawford
---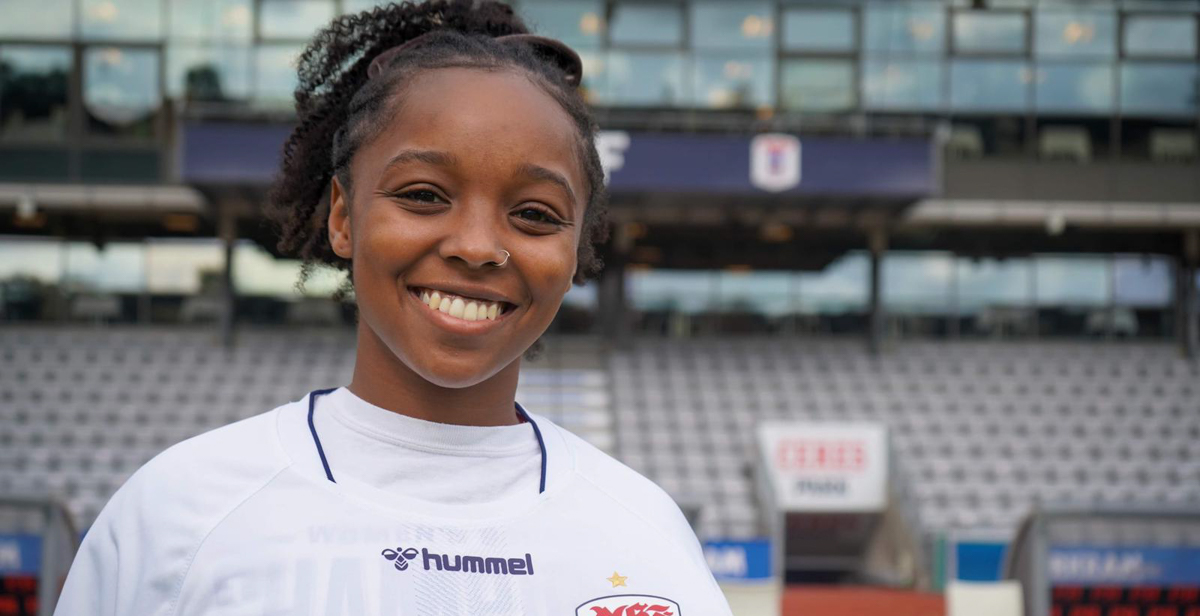 Briana Morris, the Sun Belt Conference's 2019-20 Female Student-Athlete of the Year, is scheduled to play in the spring 2021 season for Danish soccer team Aarhus Gymnastikforening Kvindefodbold, more commonly known as AGF. Photo courtesy of Briana Morris.
---
Some college graduates make plans to see Europe after earning a degree. That wasn't Briana Morris' plan, but she wound up there anyway. One of the most successful and decorated soccer players in University of South Alabama history, Morris was invited by a Danish professional soccer team to join them in September. One week later she was on a plane bound for Denmark.
"I don't know why I left so soon and at first I questioned if I should give it some more thought. Now that I look back, I appreciate the opportunity that God has presented me," Morris said.
Unfortunately, Morris hasn't been able to get on the field for a match. Foreign players are required to obtain their Danish citizenship and by the time she was cleared to play, spiking COVID-19 infections in that country forced the league to postpone its season until spring 2021.
"The experience of living and playing overseas is a lot of mixed emotions. I was excited to be playing soccer again, but because of the coronavirus it has been put on pause for almost a year," she said.
The Sun Belt Conference named her the league's 2019-20 Female Student-Athlete of the Year — the first Jaguar to win the award. During her time with the Jags she was also named the Sun Belt Conference player of the year, the Most Outstanding player in the Sun Belt Conference tournament and part of three conference championship teams, but none of those accomplishments are what she remembers most about her college career.
"My best memories were the days that no one was watching," she said. "The days I spent perfecting my craft on the soccer ball after practice and the days where I never wanted to settle to where I was at that point in my sport."
That obsession for perfection is what led to her greatness on the soccer pitch.
"She continued to develop over the four years, a true testament to her hard work and dedication," said Richard Moodie, South's head soccer coach. "In the end, she became a leader, a captain, a goal scorer and a go-to player."
Morris was also an all-star in the classroom, graduating in May with her bachelor's degree in accounting and a 3.65 cumulative grade-point average.
"Accounting is not for the weak," she joked.
Not one to shy away from a difficult challenge, Morris is now enrolled in the Mitchell College of Business's online Master of Accounting program.
"I am not sure if I want to be a full-time accountant right away or a full-time athlete. I feel comfortable doing both right now because I do not like my life to be consumed by just one thing or it would be boring," she said.
Living outside of the United States has given Morris new perspectives and responsibilities but she believes her time at South prepared her for the challenges.
"I have had to adapt and learn more about myself and the things that worked for me," she said. "It's similar to going away to college, but now you're an adult and don't have the same convenient resources around you that your college may have had."
A passion for learning and self-improvement has served Morris well to this point, but she knows her journey is just beginning.
"I have embraced my own path where I am still learning to grow and be the best person that I can be, as a player and a student," she said. "I want to continue that and impact the next person wanting to create their own story."
---