South Couple Delivers Sustainable Aid in Haiti
---
Posted on November 5, 2015
Jeb Schrenk
---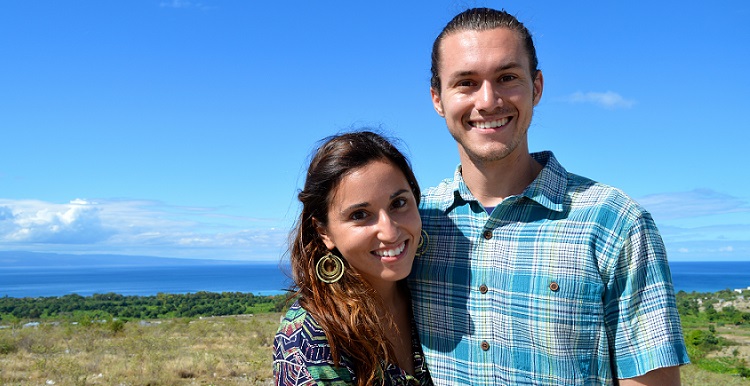 Stephanie and Ryan Robinson, photographed here in Haiti, said helping communities do for themselves is critical for long-term success. Bottom photo: The top of a rain catchment tank the Robinsons helped build in Hinche, Haiti.
---
After years of successfully helping Haitians establish clean drinking water in their communities, USA alumni Stephanie and Ryan Robinson were approached by a local pastor they had come to know.
The pastor, Stephanie Robinson recalled, said he had two options: "I can ask you to adopt my child, or I can ask you to help me start a business."
The request presented a challenge, and an opportunity, in the Robinson's work: their efforts with Justice Water had gone far, and at the same time, not far enough.
Clean water is a basic step to development, and with that fulfilled, other needs would arise. The Robinsons gave the man a loan, and Ryan Robinson passed along knowledge he got in the classrooms of the Mitchell College of Business.
The aid is the extension of work the Robinsons have been doing on the island of Hispaniola since 2010, following Ryan Robinson's graduation that year and Stephanie Robinson's in 2008. Both have used their education; Ryan, as a business management major, and Stephanie, who spent most of her time as an education major before switching to interdisciplinary studies.
The couple recently was selected by the University of South Alabama National Alumni Association to receive the Lisa Bethea Kavanagh Outstanding Young Alumni Award.
"Our goal is working with locals to show them how to transform their environment," Ryan Robinson said. "Most people want to go (to a developing country) with the idea of bringing change. That's not what most of the developing world wants. It's certainly not what the developing world needs."
A sustainable approach means asking, "How do we raise up local leaders and help them do what they want to do when it comes to development in their communities," Stephanie Robinson said.
The couple first arrived within months of the 2010 earthquake, and just as a cholera outbreak set in.
They spent three months in Haiti before returning the next summer, and with others helped begin Justice Water, which operates in Haiti and the Dominican Republic, Togo in West Africa and Cambodia. The effort, a ministry of Youth With A Mission, is focused on building sustainable and affordable water technologies.
The Hispaniola group's primary focus has been construction of rain catchment tanks that capture runoff from buildings for drinking water; nearly 30 have been built, each with the support and buy-in from local communities, the Robinsons said.
Each catchment tank generally holds between 1,500 and 2,500 gallons and costs between $500 and $1,000 to build.
Helping communities do for themselves, the Robinsons believe, is critical for long-term success. By finding key leaders and involving them in projects, it gives the community ownership and responsibility. If there needs to be maintenance or a fix on a rain catchment tank, there is someone there to do it.
The Robinsons recall going back to one remote village, and not only had the catchment tank been maintained but others had been built.
Recently, the Robinsons trained five field directors to continue and expand work with Justice Water. That will also free the Robinsons to tackle their next project, Konbit Haiti.
Konbit Haiti, translated from Haitian Creole to mean "working together to empower Haiti," will focus on three areas of development: business, family and the environment. The Robinsons will raise money to fund Konbit programs and have filed an IRS application for non-profit status for the organization.
The step from catchment tanks to business and family development may not be that big of one for the Robinsons. They've already been active beyond Justice Water.
Stephanie Robinson, using her experience as an education student, created a curriculum to teach children about hygiene as a way to prevent the spread of disease. Meanwhile, the Robinsons have hosted visiting nurses who held clinics and workshops to empower community members about women's health issues.
One of those nurses was Savannah Swindle, a USA graduate who is an ER nurse at USA Medical Center. She has taken two trips to Haiti, most recently in June. Like the Robinsons, Swindle's motivation for her work in Haiti is rooted in her faith.
"I know how driven they are," Swindle said. "Anything they say they're going to do, they're going to get it done."
Swindle said the Haitians were extremely receptive to the visiting nurses. "They opened their homes to us, fed us delicious meals, let us spend time with their families and became interested in our lives," she said. "I also enjoyed watching the women use what they learned. We gave them something that can't be taken away. They can pass on the information they learned to their community and begin to prevent illnesses or problems, rather than getting a quick fix that would soon be gone while the problem remains."
As for the local pastor who needed the Robinsons to adopt his child or help him start a business, the man started a business growing, harvesting and selling the leaf of the moringa tree – a "one-stop malnutrition fix," as Ryan Robinson referred to it.
Within six months, the loan was repaid and the business is turning a profit, the Robinsons said. The business, not just the product, is sustainable.
When the Robinsons first arrived in Haiti, they had no intention on still being there five years later. But they're seeing progress and, currently renters, the Robinsons are looking for property to purchase as a base of operations for their mission work.
Also, there's this: the Robinsons landed in Haiti with the intention of helping Haitians. Now they see it as helping friends.
"What would you do if your friend didn't have access to drinking water? What would you do if your friend didn't have food?" Stephanie Robinson said. "That's what it's morphed into."
For more information about Konbit Haiti, go to: konbithaiti.org.
---
"Most people want to go with the idea of bringing change. That's not what most of the developing world wants." – Ryan Robinson
---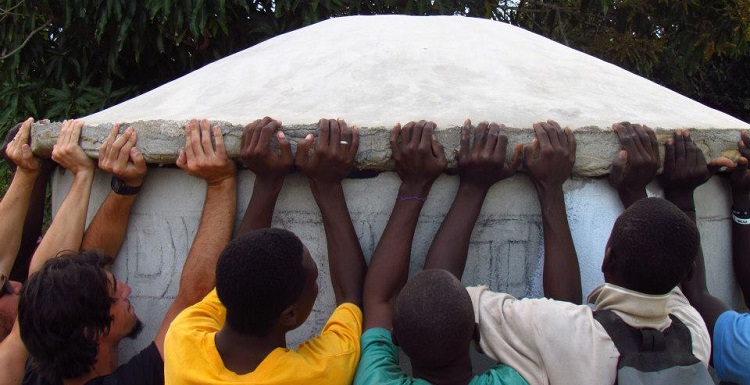 ---