South Launches "Next in Ed" Podcast
---
Posted on August 14, 2020
Joy Washington
---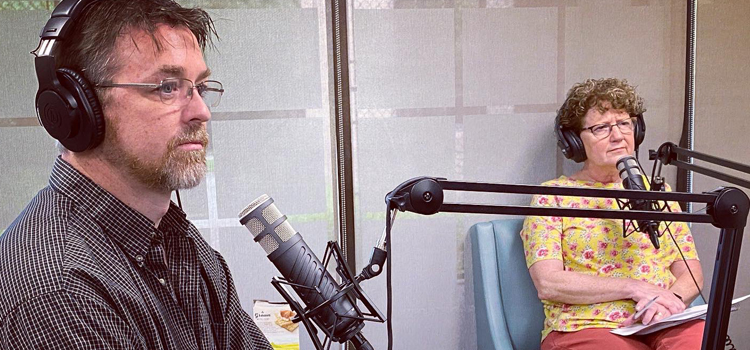 Dr. Joe Gaston, assistant professor in USA's department of counseling and instructional sciences and Julie Neidhardt, second grade science teacher at Hutchens elementary school co-host the "Next in Ed" podcast.
---
The University of South Alabama is collaborating with the Mobile County Public School System to present the new "Next in Ed" podcast (https://anchor.fm/nextined), which features teachers, administrators, policymakers and members of the business community discussing current issues in education.
The co-hosts of the podcast are Dr. Joe Gaston, assistant professor in the department of counseling and instructional sciences in the USA College of Education and Professional Studies, and Julie Neidhardt, a second-grade science lab teacher at Hutchens Elementary School. Marcie McNeal, a digital media supervisor for MCPSS, is the executive producer.
The most recent Next in Ed episode featured a conversation with Mary Keeling, president of the American Association of School Librarians. Other recent episodes include a conversation about STEM education with Jeff Reminington, the Varkey Foundation's Global Teacher Finalist, and a discussion of education funding with Jodi Peterson, assistant executive director of the National Science Teaching Association. The podcast has been produced weekly since April.
"This has been a great opportunity based on education where we can talk to teachers, people in administrative positions and others who are outside of the district who are policymakers, business leaders and supporters," said Dr. Gaston.
Gaston met McNeal while he was employed in the MCPSS Information Technology department before joining South Alabama. When the podcast idea came up, they built the team and invited Neidhardt, a 1983 graduate of South Alabama, to join as co-host. Another South Alabama faculty member, Dr. Pamela Moore, serves as a producer. The team brainstormed and created the name for the podcast.
"I talked with Joe and the team about planning and launching the podcast for this summer," McNeal said. "But with the COVID-19 pandemic, we knew back in April that it was the best time to launch. Once we were able to secure the commitment of Pamela and Julie to join us, we planned and launched the first podcast."
"The program we use is Anchor, an all-in-one program that is one of the best," McNeal added. "We can receive analytics through the program, and we have more than 1,200 plays of our episodes."
Neidhardt said, she is pleased to be serving as co-host. For her, it is a platform for advocacy and information.
"We have a broad scope of people who have been on the Next in Ed Podcast," Neidhardt noted. "We are sharing important information while having an informative discussion. I love that our programs are timely, yet we have the flexibility to change if we have breaking news that needs to be shared. We have built flexibility into our plan, and it is working."
The Next in Ed Podcast is available to subscribers through major podcast apps, including Anchor, Apple Podcasts, Google Podcasts, Spotify, Breaker, and RadioPublic.
---