Adult Learners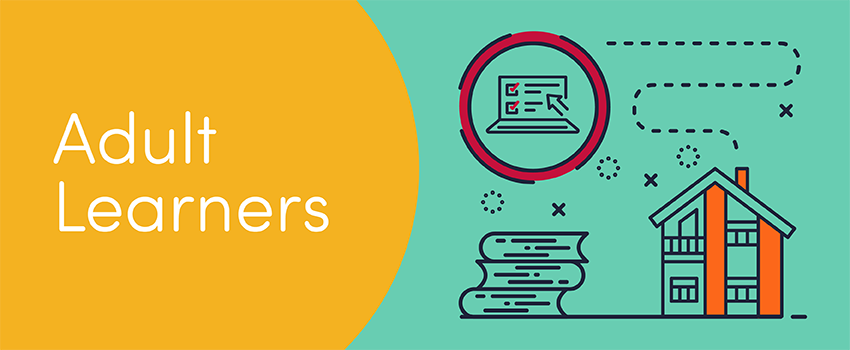 Thinking of returning to campus? You are not alone! According to the National Center for Education Statistics, nearly 3 million college students that enrolled in 2018 were 35 years of age or older. In today's environment lifelong learning has become a fact of life. With the changes in the economy, returning to college in order to complete a degree is the best way to secure earning potential. But the process of returning to college, for adult learners, is very different from the traditional undergraduate student path. And often finances, or the fear of college costs, can keep students from even exploring their options.
At South, cost should never be a barrier to success and our offices are here to help! In addition to the below, please schedule a time to meet with our student aid advocates, one-on-one, to explore your options.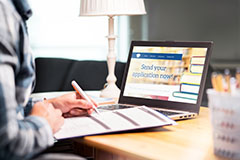 Where to Begin
For many adult learners federal student loans are an excellent resource to assist in the cost of college.
Worried you are too old to qualify for federal aid? Don't be! There's no age limit for financial aid, and part-time students are also eligible.
Worried you don't have perfect credit? Don't be! Your credit score is not considered when determining most federal aid offers.
The federal aid formulas for income don't take into account home equity or often times retirement accounts.
The amount a student qualifies for depends on factors such as your financial need, tuition costs, prior student aid balances, and whether you'll be a full-time or part-time student.
---
FAFSA

The first step in exploring your federal aid options is to fill out the Free Application for Federal Student Aid or FAFSA. The FAFSA opens on October 1st of each year. Complete this early to give yourself time to understand and review your aid package. Keep in mind – just because you complete the FAFSA does not mean you have to accept the loans or other aid opportunities provided.
Grants
Grants are most commonly awarded by the government and are funds provided for educational purposes that do not have to be paid back. Common grants include:
Federal Pell Grant: Awarded to undergraduate students seeking their first Bachelor's degree, by the federal government. The amount you are awarded depends on your financial need, as outlined by your FAFSA.
Federal Supplemental Educational Opportunity Grant: awarded to students with financial need that are eligible for the Pell grant and have not yet obtained a Bachelor's degree.
Teacher Education Assistance for College & Higher Education (TEACH) Grant: For students who plan on becoming teachers and are willing to work in high-need areas for a specific time after graduation.
Federal Loans
Federal Direct Subsidized, Unsubsidized and PLUS Loans are low interest loans that undergraduates and parents of dependent undergraduates may obtain from the federal government.
For a more comprehensive list of all federal aid options, and specific aid policies, please visit the USA Office of Financial Aid website.
---
Things to consider!
As long as you are at least 24 years of age or older, you are considered an independent student from a federal aid perspective. This means more access to need-based aid and greater borrowing potential.
---
Because the financial aid history, profile and eligibility vary by student, we recommend setting up a one-on-one with a financial aid advocate to explore your options!
Scholarships
Institutional Scholarship

South offers scholarships to transfer, returning and new students (typically by major), through the JagSPOT system. Visit the Office of Scholarship Services website to explore scholarship options by Department, and get setup in the JagSPOT system.
---
External Scholarships
There are many scholarship resources beyond what you will find here at USA. External Scholarships are awarded by employers, individuals, companies, high schools, religious groups, and professional associations. Don't be afraid to ask your community organizations or employers for information!
USA tracks a number of external scholarship search engines and opportunities on its Scholarship Services website. Please visit for more information.
---
Employer-Provided Tuition Benefit Programs
Many companies and employers understand the benefits of continuous learning. Because of the mutual benefits of having educated employees, many companies and employers offer tuition assistance as part of their employee benefit programs.
Roughly half of employers offer tuition assistance to employees, according to the Society for Human Resource Management. Employers may offer up to $5,250 per year in tuition reimbursement for college tuition. IRS tax code allows the employer to deduct these expenses, making the benefit itself not taxable to you (up to the maximum amount allowable under IRS code).
Three common employer benefit programs include:
Tuition Reimbursement - employees pay the up-front cost of the tuition and employers reimburse them upon completion.
Tuition Assistance - employers provide tuition assistance up-front, typically directly to the school.
Employer-Sponsored Scholarships - while this benefit does not typically fall under the umbrella of the employee benefit programs, many employers provide scholarships to employees and sometimes even family members. Because these may not be available to all employees, be sure to check with your employer or your HR department to explore all options available.
---
Our team is happy to meet with you now, or at any time during your experience here at South, to help ensure you are maximizing your scholarship potential.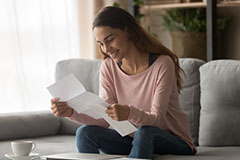 Payment Plan

As an alternative to student loans, and lump sum payments at the start of a term, USA now offers an installment payment plan. Designed to help you manage the expenses of tuition, without breaking your bank, the payment plan can help you stay within your budget and avoid costly interest rates.
Students may enroll in the payment plan, through their online student account, in accordance with each semester's payment deadlines.
Things to consider!
Payment by payment plan requires the student to sign up each term and features three or four monthly payments based on actual charges and plan enrollment date.
For more information about the USA Payment Plan, please visit the website for the Office of Student Accounting or contact the USA One Stop.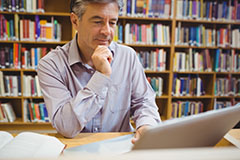 Alternate Funding
Military Benefits
If you are a member of the U.S. Armed Forces or have a family member in the service, go to StudentAid.gov/military
to find out more about grants and loan repayment options for military personnel.
---
Private Loans
If borrowing becomes a necessity for returning to campus, students with a lengthy credit history may benefit from private loans, over federal. Banks, credit unions, and other lenders may offer a lower, more flexible interest rate options and repayment terms.
A variety of factors differentiate private student loans. The main ones to focus on are interest rates and fees. Be sure to talk with your personal banking institution first, as often the relationship you have built may provide you with leverage.
Things to consider!
Different lenders serve students attending certain types of schools, for example, or pursuing specialized degrees. Be sure to do your research and shop around for the best fit for you!
---
Investments
Many 401(k) plans allow participants to borrow up to half the vested balance, or $50,000, whichever is less. Your specific investment company will determine the interest rate assigned to these loans. Similar rules apply to 403(b) and 457 plans.
Things to consider!
Funds from a 401(k) will normally need to be repaid when the employee leaves.