News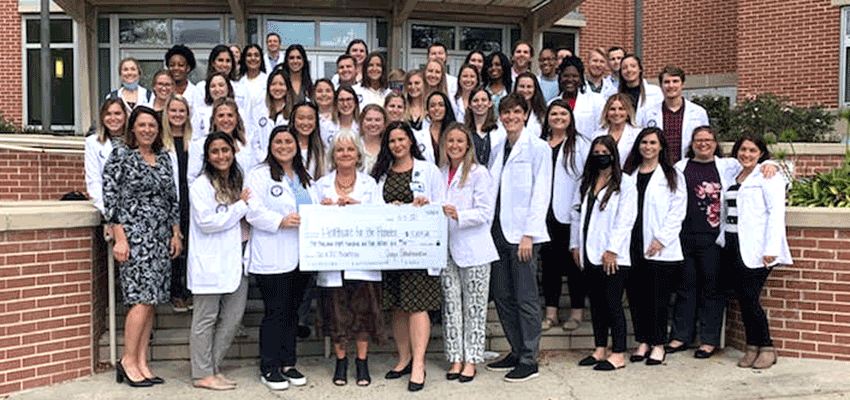 Alumnus of USA PA Program Receives National Recognition
Tom Myer, Psy.D., PA-C, a 2000 graduate of the PA program at the University of South Alabama, has been nationally recognized for earning a specialty credential called a Certificate of Added Qualifications (CAQ) from the National Commission on Certification of Physician Assistants (NCCPA).

Myer was recognized for earning a CAQ in Psychiatry, a distinction earned by meeting licensure, experience, and substantial continuing medical education requirements and then passing a national exam in the specialty.

Myer is employed by West Florida Behavioral Health and West Florida Memory Disorder Clinic in Pensacola, Florida. He is only one of 15 Certified PAs in Florida to earn a CAQ in Psychiatry since the program's inception in 2011.

"Certified PAs are prepared and proven providers who contribute real value to the healthcare of this nation," says Dawn Morton-Rias, Ed.D, PA-C, president and CEO of NCCPA. "They graduate from demanding masters-level programs, pass a rigorous certification exam, and maintain certification at the highest level through continuing medical education programs and retesting throughout their careers. Certified PAs increase access to care for patients in every specialty and clinical setting, including those that are historically underserved."

CAQs are offered to certified PAs in seven specialties: cardiovascular and thoracic surgery, emergency medicine, hospital medicine, orthopedic surgery, nephrology, pediatrics and psychiatry.
PA Alumnus Receives National Recognition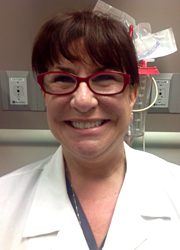 Kim Hanson, PA-C, a certified physician assistant at Cedar Park Regional Medical Center in Cedar Park, Texas was recently awarded a specialty credential called a Certificate of Added Qualifications (CAQ) from the National Commission on Certification of Physician Assistants (NCCPA). Hanson is a 2001 graduate of the Physician Assistant Studies Program at the University of South Alabama.
SAAHEC "Student" Spotlight"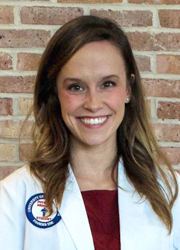 Kayla Travis is a Physician Assistant student at the University of South Alabama. She was featured in the March 2016 edition of the SAAHEC Newsletter.
I'm Finally Living My Dream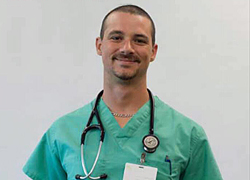 I worked full-time in the ER at Ochsner Medical Center main campus for 18 months after passing the PANCE. I then decided to take a job in the local parish I live in Plaquemines Parish.

The Plaquemines Medical Center is located in a rural town that was hit with the eye of Hurricane Katrina and destroyed. The new medical center was just completed in August 2014. I am the only Physician Assistant registered in the parish and serving my local community means a lot for me. My patients are mainly born and raised on the bayou and make a living off of the fishing industry. They are very resilient and in dire need of medical care. Plaquemines Medical Center is the only medical care in the region. The closest hospital is more than 45 minutes away doing 75 mph.

After 18 months at a large institution I decided that I wanted something more out of practicing medicine. I have taken on a role as the Primary Care Lead. Before my arrival, services offered since hurricane Katrina were emergency medicine and family practice one day a week. I now run the family practice five days a week with one LPN and the office manager. My supervising physician runs the ER, although she is not always at the clinic. I practice very autonomously and have learned a lot from it. My experience here is the most rewarding job and I look forward to making this my career.
Jason Poyadou, Class of 2013
Student Accepted Into Center for Advanced Practice (CAP) Program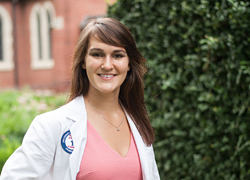 Clinical student Anna McKoy was recently notified of her acceptance into a behavioral health fellowship program with the Center for Advanced Practice (CAP). Anna will graduate with the PA Class of 2015 on July 24 and begin the 12 month fellowship on October 5, 2015.

The PA Studies Department is extremely proud of Anna and we wish her well. However you may be wondering what led Anna to this opportunity? Read her captivating story.
USA Physician Assistant Students Host Free Clinic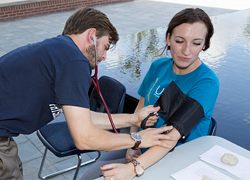 The 2016 Physician Assistant class at the University of South Alabama offered free health screenings and other health-related services this week in front of the Student Recreation Center and in the Stanky Field parking lot.

"This outreach effort was beneficial for our students and the community," said Elizabeth Eisenbeis, part-time physician assistant instructor in the Pat Capps Covey College of Allied Health Professions. "It's important that our students plan and participate in community health outreach and have a real world and out of the classroom experience."

Students, faculty, staff and the community took advantage of the screenings and services on Thursday that included the following:
Diabetes Education and Glucose Checks
Breast Exams done by the Mobile County Health Department
Blood Pressure Checks
Drugs, Alcohol and Smoking Cessation Information
STD Awareness and Safe Sex Education
Skin Cancer Checks and Awareness
Vaccine Education
Diet and Exercise Education
The mission of the USA physician assistant program is to educate compassionate and competent individuals from diverse backgrounds to become highly qualified physician assistants. This is done in accordance with the highest professional standards to provide a broad spectrum of preventative and curative healthcare to patients in various communities and clinical settings with physician supervision. This includes underserved populations in Alabama, both rural and urban. The emphasis of the program is one of primary care, including a broad foundation in the medical and surgical specialties.
Student Awarded Veterans Caucus Scholarship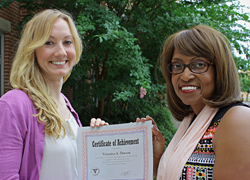 Veronica Dawson, Class of 2016 was recently
awarded a $2,000 scholarship from the Veterans Caucus, Inc. – A Caucus of the American Academy of Physician Assistants. This scholarship is provided by the members of the Society of Air Force Physician Assistants and Veterans Caucus to honor a veteran PA student who served with distinction in the U.S. Air Force. It is in memory of Jerry Reed, Tony DiTomasso and David Gwinn.

We congratulate Veronica on a job well done!
Wound Warrior Project 5k Freedom Run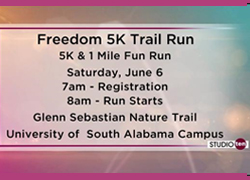 We are so very proud of our Class of 2016. On Tuesday, May 26 they were invited to promote their upcoming event, Wound Warrior Project 5k Freedom Run on Fox 10 News (Studio 10 program). Class Community Outreach Chair, Caitlin Mosley did a wonderful job representing her class.

You can view the entire news segment on the News 10 website. Type in website search box "Freedom 5k, Wounded Warrior Project Benefit".
Health Occupations Career Fair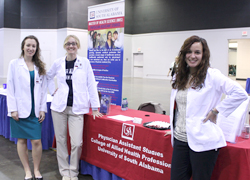 The Health Occupations Career Fair is a project of the Bay Area Health Coalition with the Mobile Chamber of Commerce. More than 600 10th grade students from Mobile and Baldwin counties attend the fair each year and participate in entirely interactive experiences with practicing healthcare professionals and healthcare students.

Faced with unprecedented growth and expanding modern health services, our region is in need of healthcare professionals like never before. The Bay Area Healthcare Coalition is a group of leading hospitals, clinics, healthcare providers, community colleges, private training providers and universities in the region who have partnered with the Mobile Area Chamber of Commerce for the last seven years to address this growing workforce need.
Dept. of Physician Assistant Studies Participate in National Wear Red Day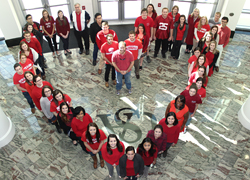 The faculty and staff of the Dept. of Physician Assistant Studies supported the 2015 Go Red for Women initiative sponsored by the American Heart Association by wearing red on Feb. 6, 2015, for National Wear Red Day. This event was developed by the American Heart Association to call attention to heart disease as the No. 1 killer of women. Heart disease kills more than all forms of cancer combined. For more than a decade, wearing red has been the symbol of women and men joining together to end heart disease. When you wear red, you are raising your voice to save the lives of women.
Faculty Forum on Engaged Scholarship Poster Presentation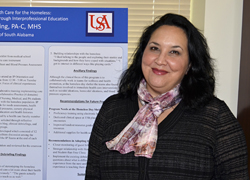 Assistant Professor Robin Risling-de Jong recently presided over a poster presentation on breaking down barriers to healthcare for the homeless population during the 2015 Faculty Forum on Engaged Scholarship - ENCOURAGING AND SUPPORTING COMMUNITY ENGAGED RESEARCH & SCHOLARSHIP AT USA. Her findings were a result of a collaborative effort among her colleagues engaged in interprofessional education at USA. The Forum was held in January 23 at the USA Faculty Club. The Forum was well attended by more than 60 persons and included those from the Social Work Program and the Colleges of Medicine, Allied Health and Nursing.
PA Class of 2016 Create Video in Celebration of National PA Week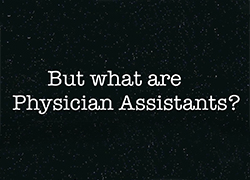 In honor of National Physician Assistant week being held every year from October 6-12, the University of South Alabama's Physician Assistant program produced an educational video to spread awareness about the Physician Assistant profession and the importance of this rapidly expanding profession. The video features USA's PA class of 2015 & 2016; thus, allowing an inside view point from Physician Assistant students.


New AAPA Survey Conducted by Harris Poll Shows PAs are Trusted Healthcare Providers Who Improve Access
Article taken from American Academy of Physician Assistants (AAPA).

93 Percent of Respondents Who Have Seen a PA Agree PAs Provide Excellent Patient Service
ALEXANDRIA, Va. — A new nationwide study confirms that patients believe PAs add value to healthcare teams and provide excellent patient service. The study, conducted by Harris Poll on behalf of AAPA, surveyed more than 1,500 U.S. adults. Among an oversample of 680 Americans who have interacted with a PA in the last year (meaning either they personally saw a PA or were present for the visit of someone they care for), the survey revealed strong support for the care PAs deliver:
93 percent agree PAs are going to be part of the solution to address the shortage of healthcare providers.
93 percent agree PAs are trusted healthcare providers.
92 percent agree having a PA at a practice makes it easier for a patient to get an appointment.
91 percent agree PAs improve health outcomes for patients.
91 percent agree PAs improve the quality of healthcare.
In an era when only 24 percent of U.S. adults say they have found a primary healthcare provider whom they like and trust, the findings show that PAs get high marks for the way they interact with patients. Ninety-three percent of those who have interacted with a PA say that PAs explain health or treatment matters in ways that are easily understandable and 91 percent agree that they or their loved one have a good relationship with the PA they see.
"The survey results prove what we have known to be true for years: PAs are an essential element in the healthcare equation and America needs PAs now more than ever," said AAPA President John McGinnity, MS, PA-C, DFAAPA. "When PAs are on the healthcare team, patients know they can count on receiving high-quality care, which is particularly important as the system moves toward a fee-for-value structure."
PAs scored highly when it came to value, with 93 percent of those who have interacted with a PA agreeing that PAs add value to healthcare teams. More than 8 in 10 (83 percent) say that PAs increase their or their loved one's satisfaction with healthcare. Similarly, 82 percent indicated that PAs have educated them about how to stay well and prevent illness.
"These results tell us that PAs are not only good for patients, but also good for business," continues McGinnity. "Patients want providers they can get to know and trust, and these results show PAs win over their patients with stellar care and excellent communication."
The online survey was conducted September 15–22, 2014, among 1,544 adults age 18 and older living in the U.S., including an oversample of 680 adults who have seen a PA and/or have accompanied a loved one to see a PA in the past 12 months. For a complete methodology, including weighting variables, please contact AAPA.
More than 100,000 certified PAs practice medicine throughout the U.S. and American military bases around the world. PAs practice in all medical settings, including hospitals, clinics, or physician's offices, and they practice in every medical specialty, including primary care, emergency medicine, surgery, oncology, orthopaedics, psychiatry, radiology, pediatrics and more. The average PA will practice in two or three different specialties throughout his or her career, making the PA profession one of the most versatile in the healthcare industry today.
A typical PA will treat 3,500 patients in a year. PAs conduct physical exams, diagnose and treat illnesses, order and interpret tests, prescribe medication, and assist in surgery. A PA's role may also include education, research and administrative services.

About AAPA
Founded in 1968, the American Academy of Physician Assistants is the national professional society for PAs. It represents a profession of more than 100,000 certified PAs across all medical and surgical specialties in all 50 states, the District of Columbia, and the U.S. territories with the exception of Puerto Rico. Since the profession's inception, PAs have also practiced within the uniformed services. AAPA advocates and educates on behalf of the profession and the patients PAs serve. It works to ensure the professional growth, personal excellence and recognition of PAs and to enhance their ability to improve the quality, accessibility and cost-effectiveness of patient-centered healthcare. Visit American Academy of Physician Assistants to learn more.

About The Harris Poll
Over the last five decades, Harris Polls have become media staples. With comprehensive experience and precise technique in public opinion polling, along with a proven track record of uncovering consumers' motivations and behaviors, The Harris Poll has gained strong brand recognition around the world. The Harris Poll offers a diverse portfolio of proprietary client solutions to transform relevant insights into actionable foresight for a wide range of industries including healthcare, technology, public affairs, energy, telecommunications, financial services, insurance, media, retail, restaurant, and consumer packaged goods. Contact Harris for more information.
2014 National Health Service Corps Scholarship Recipient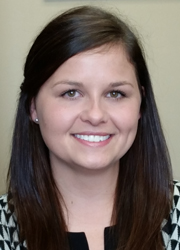 Chasity Gibson, Class of 2015, recently became the recipient of the 2014 National Health Service Corps (NHSC) Scholarship. The scholarship pays tuition, fees, other educational costs, and provides a living stipend in return for a commitment to work at least two years at an approved outpatient facility in a medically underserved community. Service begins upon graduation. The NHSC helps scholars find a practice site that's right for them among the hundreds of NHSC-approved sites in medically underserved urban, rural and frontier communities across the U.S. When in service, scholars earn a market-rate salary, paid by the employing facility.

"Being awarded this scholarship is going to be of tremendous help to me," Chasity says. "I've always had to work my way through school but I knew coming into the program that PA school doesn't really allow much time, if any, for working secularly but I needed the money. I was thinking about becoming a waitress on the weekends because I needed the money, but now I don't have to. For the first time in my life I can just concentrate on my school work and study without having to worry about money."

Chasity was selected for the scholarship due to her intense desire and passion for working in primary care. "I didn't really have to do anything different or special when I applied," Chasity said. "I am already planning to work in primary care in a rural area."

Chasity hales from a somewhat rural area of Alabama, Phenix City but says it doesn't matter where she lands after graduation as long as it's a primary care site in a rural area.

"I've always had a passion for helping those less fortunate and want to be able to give back," Chasity says. "I grew up in a single parent household and my mom, who was disabled, really had to struggle to take care of us. When the struggle became too much my grandparents often had to step in and intervene," Chasity said. Many of her family members were without medical insurance so she witnessed firsthand the struggles they faced.

She has taken her desire to help others and already begun parlaying it into her plans for the future. Chasity began taking church-sponsored medical mission trips to Rwanda in 2011 and saw firsthand the lack of adequate healthcare. She has traveled to Rwanda each year since 2011 and is working with a nurse from her hometown and a pastor in Rwanda who are interested in opening health clinic in the area.

"I am anxious to finish my PA training a get a few years of experience under my belt so that I can return to Rwanda bring some relief to those who truly need it."
Class of 2015 Help Bring Awareness to Childhood Cancer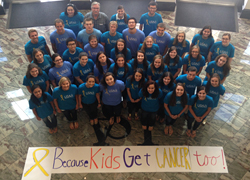 The Class of 2015 recently worked through aTeam Ministries in Birmingham, AL to raise awareness of childhood cancer during Childhood Cancer Awareness Month in September. By wearing the shirts, they reminded people that kids are diagnosed with cancer too, and it is not as rare as most people think.
aTeam provides emotional, financial, and spiritual support for pediatric oncology patients and their families.
Childhood cancer gets the least amount of funding. There are 12 different types of childhood cancer with numerous subtypes. All 12 types combined only get 4% of funding.
According to an article in the
Atlantic
(January 2013) in 2007, about 10,400 children were diagnosed with childhood cancer, according to the NCI, and about 12,060 diagnoses were expected this year. About $122 million was spent on non-Hodgkin's lymphoma (just one form of childhood cancer) in 2010, according to the NCI. But that is low compared to other forms of cancer, like breast cancer, which received $631 million. Since 2010, the budget has continued to decrease.
"When October comes around you will see all the pink ribbons (for breast cancer), but you don't see many gold ribbons in September Childhood Cancer Awareness Month," said Joe McDonough, who founded the
B+ Foundation
, which provides financial support to families, after his son passed away.
Funding Disparities
Despite these facts, childhood cancer research is vastly and consistently underfunded.
In 20 years the FDA has initially approved only two drugs for any childhood cancer – 1/2 of all chemotherapies used for children's cancers are over 25 years old
Research and development for new drugs from pharmaceutical companies comprises 60% of funding for adult cancer drugs and close to zero for childhood cancers.
However, the NCI spends 96% of its budget on adult cancers and only 4% of its budget on children's cancers.
In dollar terms, NCI's funding for pediatric clinical trials is $26.4 million while funding for AIDS research is $254 million, and breast cancer is $584 million.
Pharmaceutical companies don't commit resources to childhood cancer research because the adult cancer drug business is viewed as more profitable and less risky to them.
Accordingly, there is an estimated $30 million a year gap in childhood cancer research funding.
(I Care I Cure Childhood Cancer Foundation)
Childhood Cancer Awareness Month is designed to increase the knowledge of childhood cancer. Why? If we increase awareness, we will increase funding. If we increase funding, we will increase research. If we increase research, we will be closer to finding a cure. Who more deserves a cure than these relentless kids who continue to laugh, smile, and inspire throughout their treatment?