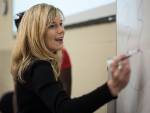 Ms. C. Leigh Delaney-Tucker
Senior Instructor Biology Depatment

---
Education
MS, 1997 – Biology, University of South Alabama
BS, 1992 – Cellular and Molecular Biology, University of West Florida
---
Research Interests
My interest lies in curriculum development and teaching. I teach Life Science I, Life Science II and Introduction to Environmental Science. Both Life Science courses are designed with the non-major in mind. My Life Science courses meet on campus three times a week during the Fall and Spring semesters. Introduction to Environmental Science is offered in the summers as a fully online course.
My hope is that every student that leaves my course is able to recognize and apply the concepts that we have discussed throughout the semester to their everyday lives. I hope to encourage students to openly discuss and learn about science in a way that sparks larger scale conversations about the world we live in.
All of my courses take full advantage of the learning platforms that are delivered through USA and the textbook publishers. The learning platforms have been specifically designed to enhance the discussions that we will have in class. I am available via email and I typically respond to emails within 24 hours during normal business hours, Monday through Friday.
---
Courses
BLY 101 - Life Science I
BLY 102 - Life Science II
BLY 205 - Introduction to Environmental Science