Undergraduate Research Opportunities in Biology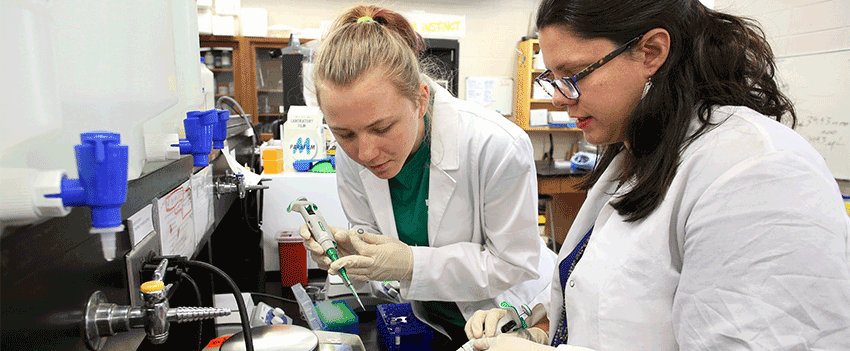 Faculty in the Department of Biology have active research programs that involve students in mentored, original research projects in the summer and during the academic year. This page contains information to help students get involved in Biology research at the University of South Alabama.
Choose a Mentor
While the Department of Biology offers undergraduate research opportunities, students need to be proactive in this endeavor. The first step is to look at the research interests of faculty members in our department. Click here to go to our Faculty Research page. Once you find a faculty member with overlapping interests, don't hesitate to reach out to them via email. You can simply introduce yourself and inquire about any research opportunities that may be available in their program. You could also describe how your biological interests align with theirs. Here are two things you should think about before meeting with a prospective research mentor: 1) where in your schedule you'd have time for research activities and 2) what areas of their research you find most appealing. Be aware that it is common and often preferred by faculty that students are initially limited to volunteer research hours while they learn the ropes and make sure the project is a good fit for them.
Directed Studies and Undergraduate Research in Biology
Once a student has gained footing in a faculty member's research group, they may enroll in BLY494 (Directed Studies) with approval from the research faculty. Students and mentors will need to fill out the Authorization Form and submit it to our office. The Directed Studies course is specifically designed for undergraduate students to receive credit (1-3 hours) for conducting research with faculty in Biology. The Directed Studies course is graded using the standard letter grading scale. You and your research mentor should decide how many credit hours you will take and the expectations for the research you'll be conducting.
Students may also earn transcript recognition for research by enrolling in non-credit Undergraduate Research (UGR) courses. Click here to go to the Undergraduate Research course description. These courses officially record students' research experiences and mentorship in their academic records. This acknowledges the scholarly research project as part of the educational experience and professional preparation. UGR courses will appear on the student transcript as zero-credit-hour, pass/fail classes. The mentorship effort will also be recorded in the faculty teaching record. As with Directed Studies, you'll need to contact a potential faculty mentor and ultimately set the expectations for the research you'll be conducting.
Office of Undergraduate Research
USA's Office of Undergraduate Research has other resources to help you find an undergraduate resource mentor (Shadow Pass) and summer funding for your undergraduate research project (SURF). You should discuss opportunities for SURF funding with your research mentor well in advance of the application deadline.
Senior Thesis Program
The Biology Senior Thesis Program also offers academically motivated undergraduate students the opportunity to develop research and communication skills in preparation for a graduate or professional career. For students interested in pursuing a senior thesis in biology, check out the guidelines. Please contact our Undergraduate Program Coordinator, Dr. Kelly Major, if you would like more information on this program.
For students in the Biology Honors program, progress updates must be submitted at the end of each semester.
Questions?
As the number of available research positions in the Biology Department is limited, we also encourage students to look for other research opportunities here on campus. You can use the same approach to locating undergraduate research opportunities in other departments. We hope the information provided on this page will guide you in your journey to conducting research in academia. Please don't hesitate to contact our department Chair (Dr. Kelly Major, kmajor@southalabama.edu) if you have any questions.
A number of upper level biology courses follow the Course-Based Undergraduate Research Experience model whereby enrolled students conduct guided research as part of the course curriculum. Contact our Chair or the professor of record for more information regarding use of the research experience model in specific courses.
Click here to find links to websites that can help you locate undergraduate research opportunities available at other institutions.