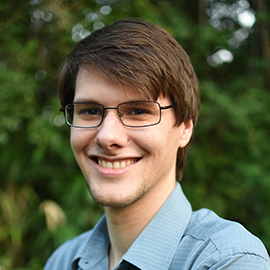 Dakota Lindsey, Ph. D.
Assistant Professor of Psychology Cognitive Psychology

---
Research Interests
Working Memory

Serial Order

Individual Differences
---
Ph.D. Vanderbilt University, 2019, Cognitive Psychology
B.S. Georgia Institute of Technology, 2014, Psychology
My research broadly investigates working memory, using multiple perspectives (differential and experimental) and multiple computational approaches (the general linear model, cognitive models, structural equation models, and meta-analysis). Working memory is a complex cognitive system that allows people to store, manipulate, and eventually act on information that is currently relevant to them. In my research, I seek understanding of the nature of working memory, its operations (such as keeping thoughts and actions in order), and its relationship with other higher-order cognition (such attention and novel reasoning ability).
---
---
List of Published Research
Lindsey, D. R. B., & Logan, G. D. (2019). Item-to-item associations in typing: Evidence from spin list sequence learning. Journal of Experimental Psychology: Learning, Memory, & Cognition, 45, 397-416.

Lindsey, D. R. B., Bundesen, C., Kyllingsbæk, S., Petersen, A., & Logan, G. D. (2017). Out with the old? The role of selective attention in retaining targets in partial report. Attention, Perception, & Psychophysics, 79, 117-137.
See More