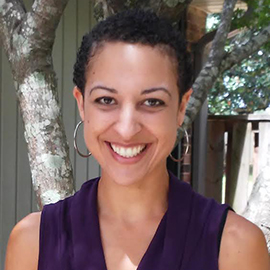 Krista Mehari, Ph.D.
Assistant Professor Developmental Psychology, Clinical Psychology

---
Education
Ph.D. Virginia Commonwealth University 2015
Clinical Psychology
M.S. Virginia Commonwealth University 2011
Clinical Psychology
B.A. Hope College 2009
Psychology
English
---
Dr. Mehari will be reviewing graduate student applications for the 2021-2022 academic year. Apply
here.
---
Research Interest
Youth violence prevention
Adverse childhood experience and promoting resilience
My clinical and research interests are focused on promoting positive youth development. My research focuses on violence prevention and addressing the effects that contextual risk factors have on children's and adolescents' development and functioning. Specifically, I am interested in the dynamic interaction between a child and his or her environment, and how that relates to the development of problem behaviors. I prioritize using community-based participatory research that integrates the goals and perspectives of the community so that interventions are culturally appropriate, effective, and sustainable.
---
Publications
Journal Articles
Mehari, K. R., Farrell, A. D. (2016). Where does cyberbullying fit?: A comparison of competing models of adolescent aggression. Psychology of Violence. Advance online publication. doi: 10.1037/vio0000081
Mehari, K. R., Farrell, A. D., Le, A. (2014). Cyberbullying: Measures in search of a construct. Psychology of Violence, 4(4), 399-415.doi: 10.1037/a0037521
Mehari, K. R., Farrell, A. D. (2013). The relation between peer victimization and adolescents' well-being: The moderating role of ethnicity within context. Journal of Research on Adolescence 25(1), 118-134. doi: 10.1111/jora.12095
See More