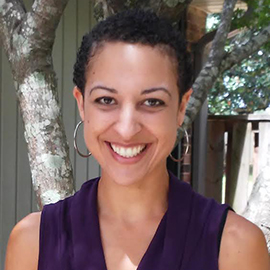 Krista Mehari, Ph.D.
Assistant Professor Department of Psychology

---
Education
Ph.D. Virginia Commonwealth University 2015: Clinical Psychology
M.S. Virginia Commonwealth University 2011: Clinical Psychology
B.A. Hope College 2009: Psychology,
English
---
---
Research Interests

Youth violence prevention
Adverse childhood experience and promoting resilience
My clinical and research interests are focused on promoting positive youth development. My research focuses on violence prevention and addressing the effects that contextual risk factors have on children's and adolescents' development and functioning. Specifically, I am interested in the dynamic interaction between a child and his or her environment, and how that relates to the development of problem behaviors. I prioritize using community-based participatory research that integrates the goals and perspectives of the community so that interventions are culturally appropriate, effective, and sustainable.
---
Current Grants

Select Grant-Funded Projects
1R01CE003298-01-00: Participatory Action Research to Inform a Social-Ecological Model of Gun-Related Attitudes, Behaviors, and Practices. Funded by the Centers for Disease Control and Prevention.
Role: Principal Investigator.
Development of Virtue-Promotive Interventions for Adolescents Through Participatory Action Research. Funded the The John Templeton Foundation, subaward from Baylor University.
Role: Principal Investigator.
Building Capacity to Prevent Cyberbullying in India and the U.S.: A Cross-Cultural Collaboration. Funded by the Government of India, Scheme for Promotion of Academic and Research Collaboration.
Role: Co-Principal Investigator.
Law Enforcement-Based Victim Advocate Grant. Funded by the U.S. Department of Justice, awarded to the City of Mobile.
Role: Subcontract Recipient.
---
Selected Publications

Mehari, K. R., Iyengar, S., Berg, K. L., Gonzales, J. M., & Bennett, A. (2020). Adverse childhood experiences and obesity among young children with developmental delays. Maternal and Child Health Journal. Advance online publication. https://doi.org/10.1007/s10995-020-02940-4

Sharma, D., Mehari, K. R., Kishore, J., Sharma, N., & Duggal, M. (2020). Pilot evaluation of Setu: A brief, school-based violence prevention program among Indian adolescents. Journal of Early Adolescence. https://doi.org/10.1177/0272431619899480

Waasdorp, T. E., & Mehari, K. R. (2019). Cyberbullying: Building the research in context. Journal of Adolescent Health, 65(5), P575-576. https://doi.org/10.1016/j.jadohealth.2019.08.006

Mehari, K. R., Thompson, E. L., & Farrell, A. D. (2019). Differential outcomes of cyber and in-person victimization. Psychology of Violence, 10, 367-378. https://doi.org/10.1037/vio0000250

Thompson, E., Mehari, K. R., Farrell, A. D. (2019). Deviant peer factors during early adolescence: Cause or consequence of physical aggression? Child Development. Advance online publication. https://doi.org/10.1111/cdev.13242

Mehari, K. R., Waasdorp, T. E., & Leff, S. S. (2019). Measuring relational and overt aggression by peer report: A comparison of peer nominations and peer ratings. Journal of School Violence, 18, 362-374. doi: 10.1080/15388220.2018.1504684
See More