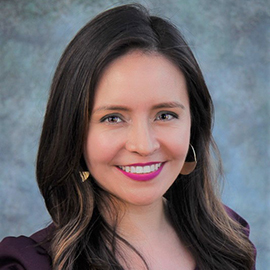 Linda E. Sanchez, Ph.D.
---
Research Interests
Undocumented immigration
Undocumented youth
1.5 generation
Deferred Action for Childhood Arrivals (DACA)
Immigration policy
Unaccompanied minors
Identity
---
Biography
Cultural Anthropologist Dr. Linda E. Sanchez is an Assistant Professor of Anthropology in the Department of Sociology, Anthropology, & Social Work at the University of South Alabama. She received her B.A. and M.A. in Anthropology from San Diego State University and holds and M.A. and Ph.D. in Anthropology from the University of California, Irvine. Her work focuses on better understanding undocumented communities in the United States and their response to government immigration policy in the past two and a half decades.
Dr. Sanchez's most recent project explores the reasons why certain undocumented Mexican individuals who grew up in the U.S. (1.5 generation) chose not to apply (or could not apply) for Deferred Action for Childhood Arrivals (DACA). DACA is a 2012 executive order that gave some undocumented individuals in the 1.5 generation relief from deportation and a 2-year renewable work permit provided they met certain criteria. The program did not include all of the 1.5 generation since many were excluded through qualification requirements. In addition, of the estimated 1.9 million individuals who were eligible for DACA, 40 percent did not apply for a variety of reasons like the program being too expensive, not having the necessary paperwork, being skeptical of the program since some individuals were afraid of turning their information over to the government, and much more. Dr. Sanchez's research also investigates how immigration status (or lack of it) influences how individuals experience their world and informs their decisions concerning family, work, education, and future goals and plans.
Dr. Sanchez uses an interdisciplinary approach in her work and a variety of ethnographic methodologies such as participant observation, interviews, autoethnography, and decolonial approaches. A long-term expected outcome of Dr. Sanchez's research is to positively impact future policy and outreach programs aimed at vulnerable populations through public scholarship.
---
Selected Publications
Forthcoming. "What's my name?: Cultural Politics of Name Change Through DACA." In To Be Named: How We Colonize or Decolonize Through the Process of Naming.
2023 "Exclusion by Design: The Undocumented 1.5 Generation in the U.S." In Bodies at Borders: Analyzing the Objectification and Containment of Migrants at Border Crossing. Special Issue. In Frontiers in Sociology.
2020 "Facing COVID-19 as an Undocumented Essential Worker." In SAPIENS.
2020 Sanchez, Linda and Susan Coutin. "Insurgent Collaboration: Sanctuary as Research Practice." 9(1): 106-110. Critical Interventions forum. In Departures in Critical Qualitative Research. University of California Press.
2018 "When I got DACA, I was forced to revert to a name I had left behind." In The Conversation.
2013 "In Search of the American Dream: Undocumented Youth and the Journey North." Montezuma Press.