USA Health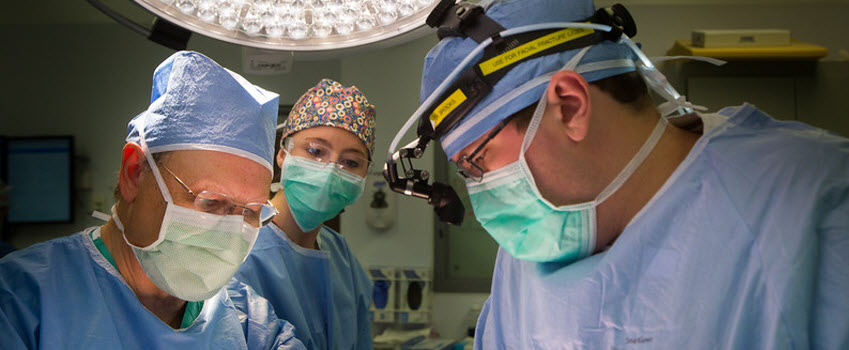 The University of South Alabama encompasses a comprehensive health system composed of two hospitals — USA Health University Hospital and USA Health Children's & Women's Hospital — along with the USA Health Mitchell Cancer Institute and the USA Health physician practices. This combination of advanced healthcare services has improved the lives of countless residents throughout the Gulf Coast region.
As an academic health system, USA Health provides advanced and innovative patient care through its University hospitals and clinics, as well as first-class training experiences for the next generation of healthcare providers and scientists.
---
USA Health University Hospital
USA Health University Hospital is on the front line in delivering nationally recognized quality care to the area's most critically ill patients, with the region's only Level I trauma center and a burn center that provides care from injury to recovery. The life-saving care that stroke and heart patients receive has been recognized year after year by the American Heart Association. University Hospital also plays a key role in the education of tomorrow's healthcare providers, each year training hundreds of future professionals from the colleges of Medicine, Nursing and Allied Health Professions.
---
USA Health Children's & Women's Hospital
USA Health Children's & Women's Hospital, among a handful of freestanding hospitals in the United States devoted exclusively to the care of children and women, offers the region's most advanced neonatal intensive care and pediatric intensive care units. The hospital delivers nearly 3,000 babies each year and specializes in high-risk OB/GYN patients. Hospital staff offer a variety of innovative programs for hospitalized children, teens and their families to meet their developmental, educational, social and emotional needs.
---
USA Health Mitchell Cancer Institute
Combining cutting-edge research with advanced care, the USA Health Mitchell Cancer Institute fights cancer from the laboratory bench to the patient's bedside. With more than 40 clinical trials and 50,000 annual patient visits, MCI is the only academic cancer research and treatment facility on the upper Gulf Coast. MCI has expanded with the opening of the MCI Fairhope, Alabama, and the new MCI Springhill location in Mobile.
---
USA Health Physician Practices
USA Health physician practices include nearly 200 physicians and provides more than 190,000 patient visits each year. It is the region's largest multispecialty practice and the only academic physicians group on the Gulf Coast. Physicians are on faculty at the USA College of Medicine, and the majority of USA Health clinics are now located in the Strada Patient Care Center, which contains 153 patient exam rooms, 16 nurses stations and seven educational conference rooms. The 133,000-square-foot building houses clinics for family medicine, pediatrics, neurosciences, surgical specialties, obstetrics and gynecology, orthopaedics and therapy services, as well as a breast and mammography center. USA Health continues to expand its physician footprint in Mobile with primary and specialty care provided by the USA Mobile Diagnostic Center.
---
Student Health Center
The on-campus Student Health Center is staffed by physicians, nurse practitioners, registered nurses and licensed practical nurses dedicated to providing quality medical and educational services to the entire student body.
These are some of USA Health's extensive services, programs and centers for research:
Acute and Chronic Dialysis Units
Arnold Luterman Regional Burn Center
Breast Care Center
Cancer Research and Treatment
Cardiac Rehabilitation Program
Cardiovascular Diseases Center
Center of Excellence for Health Disparities
Center for Healthy Communities
Center for Human Performance
Center for Lung Biology
Center for Strategic Health Innovation
Center for Weight Loss Surgery
Center for Women's Health
Comprehensive Sickle Cell Center
Coronary, Medical, Neurotrauma, Pediatric and Surgical Intensive Care
Digestive Health Center
Epilepsy Monitoring Unit
Fanny Meisler Level I Trauma Center
Level III Neonatal Intensive Care Unit
Maternal Fetal Medicine/High-Risk Obstetrics
Neonatal Transport Service
Pediatric Complex Care Clinic
Pediatric Development Medicine (Autism Diagnostic Center)
Pediatric Healthy Life Center
Pediatric Transport Service
Plastic Surgery Center
Primary Care with Patient Centered Medical Home Designations
Pulmonary Hypertension Program
Regional Stroke Center
Reproductive Endocrinology Center
Small Baby Unit