Convocation Ceremony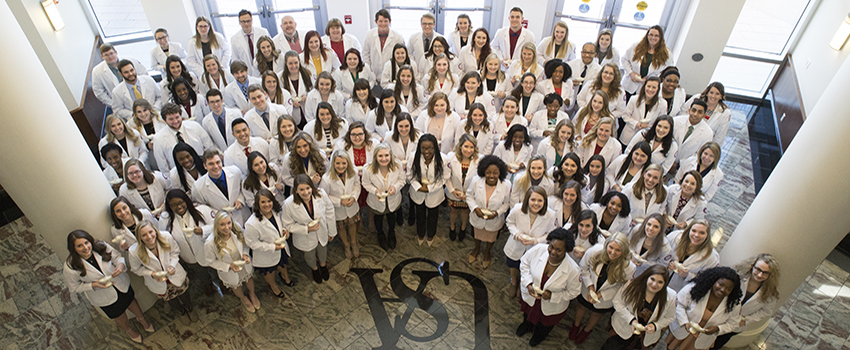 Convocation is a ceremony held in recognition of the accomplishments of our nursing graduates. It is an opportunity for nursing graduates to celebrate their success with friends, family, and College of Nursing faculty and staff.
Upcoming Convocation Dates
Spring 2021
The College of Nursing Spring 2021 Convocation ceremony was held on
Thursday, May 6, 2021, at 10:00 a.m.
in the Mitchell Center on the USA main campus. The link to the livestream video can be found at https://youtu.be/CyzKuleajFo
Summer 2021
All Summer graduates planning to participate in the Summer 2021 College of Nursing Convocation ceremony must complete the Summer 2021 Participation Form.
Regalia Information
Graduation regalia from USA's approved vendor, Graduate Supply, is required for Nursing Convocation. Participants should wear traditional business attire or business casual under the academic regalia (cap and gown).
Please visit https://gradsupply.com/ usa/ for more details and to place your regalia order. All questions regarding regalia orders should be directed to Graduate Supply or to the USA Bookstore using the contact information at the bottom of the "Frequently Asked Questions" page of the website.
Live Stream
Spring 2021 Convocation will be live-streamed. A link will be available for viewing on the day of the ceremony.
Location/Contact Information
Our mailing address is (for US postal delivery):
University of South Alabama
College of Nursing
5721 USA Drive N. Room 3068
Mobile, AL 36688-0002
Telephone: (251) 445-9400
FAX: (251) 445-9416

Google Map for the Mitchell Center