Convocation Ceremony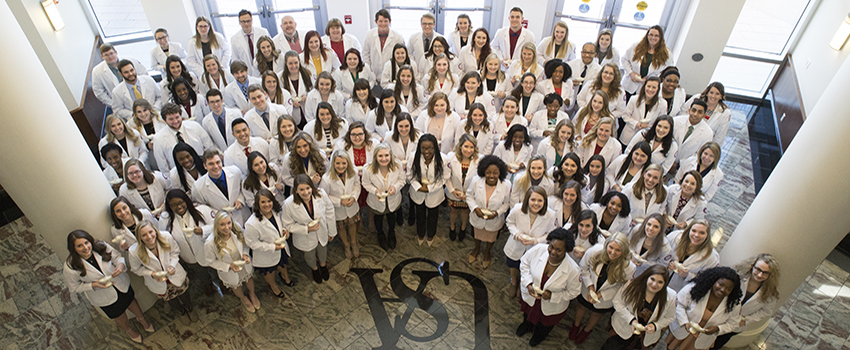 Fall 2020 Graduates in the RN-BSN, MSN, Post Graduate Certificate, and DNP Programs:
On behalf of the College of Nursing faculty, administration and staff, we are saddened by the current state of the environment as related to the COVID-19 pandemic. In light of the reported increase in COVID-19 infections across the nation and the University of South Alabama COVID-19 policies, the College of Nursing will not hold an in-person Convocation in December.
We will record a virtual Convocation Ceremony for students who are located across the U.S. The link to the recorded ceremony will be emailed and included on the College of Nursing website by December 6, 2020. A Convocation Ceremony program and College of Nursing recognition pin will be mailed to your address listed in Banner. Thank you for your understanding.
College of Nursing Fall 2020 Convocation Video for online programs available at 10am on Sunday December 6th, 2020 https://youtu.be/bngB6ADzGIA
Fall 2020 Traditional and Accelerated BSN Students:
A Convocation ceremony will be held for BSN students who have been attending in-person classes on campus during the fall 2020 semester. The Convocation Ceremony will be at 10:00 a.m. CST on November 17, 2020 at the Mitchell Center, University of South Alabama Main Campus. Only students will be able to attend the ceremony. No guests will be allowed at the ceremony; however, we are planning a live streaming of the ceremony for your family and friends to view.
Convocation FAQs
Location/Contact Information
Our mailing address is (for US postal delivery):
University of South Alabama
College of Nursing
5721 USA Drive N. Room 3068
Mobile, AL 36688-0002
Telephone: (251) 445-9400
FAX: (251) 445-9416

Google Map for the Mitchell Center