Convocation Ceremony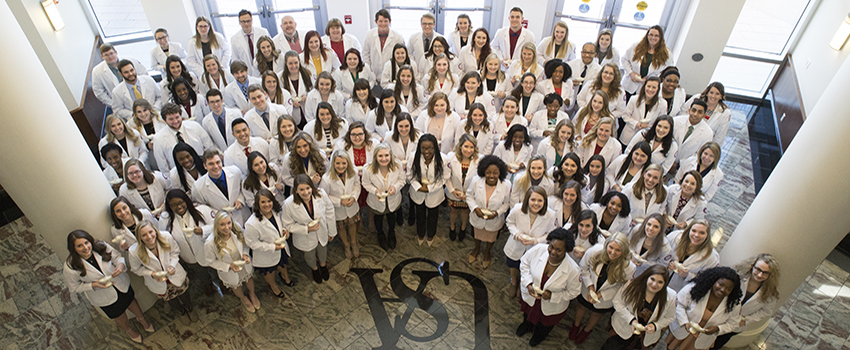 Convocation is a ceremony held in recognition of the accomplishments of our nursing graduates. It is an opportunity for nursing graduates to celebrate their success with friends, family, and College of Nursing faculty and staff.
Dear USA Students,
The leadership of the University understands that the cancellation of our May commencement ceremonies is very disappointing to our graduating students, and this decision was not made lightly. We have heard from many of you with various suggestions and ideas for an alternative plan for commencement, and we are currently reviewing all of these options, including the possibility of postponing commencement ceremonies to a later date and inviting graduates back to campus.
As you know, the situation with COVID-19 continues to evolve on a daily basis, and at this point we do not want to commit you and your families to a specific date or course of action that might have to be changed again. Please be assured we have heard your concerns, and while we are committed to making a decision as soon as possible about how to honor our May graduates, the changing circumstances surrounding this pandemic will dictate how soon a decision can be made.
In the meantime, our regalia vendor, Graduate Supply House (https://gradsupply.com/usa/), is working with our campus bookstore to mail regalia to graduates who have purchased, or want to purchase it. They also will issue refunds to those who have ordered regalia but would prefer a refund.
Your patience during this difficult time is greatly appreciated, and we will be in touch with you as soon as possible with a more specific plan of action.
Tony Waldrop, Ph.D.
President
G. David Johnson, Ph.D.
Provost and Senior Vice President
John Marymont, M.D.
Senior Vice President and Dean, College of Medicine
Upcoming Convocation Dates
The College of Nursing Summer 2020 Convocation will be held on Friday, July 31, 2020 at Cottage Hill Baptist Church located at 4255 Cottage Hill Road, Mobile, AL 36609.
Summer 2020 Nursing Convocation Participation Form
Convocation FAQs
Location/Contact Information
Our mailing address is (for US postal delivery):
University of South Alabama
College of Nursing
5721 USA Drive N. Room 3068
Mobile, AL 36688-0002
Telephone: (251) 445-9400
FAX: (251) 445-9416

Google Map for the Mitchell Center