Convocation Ceremony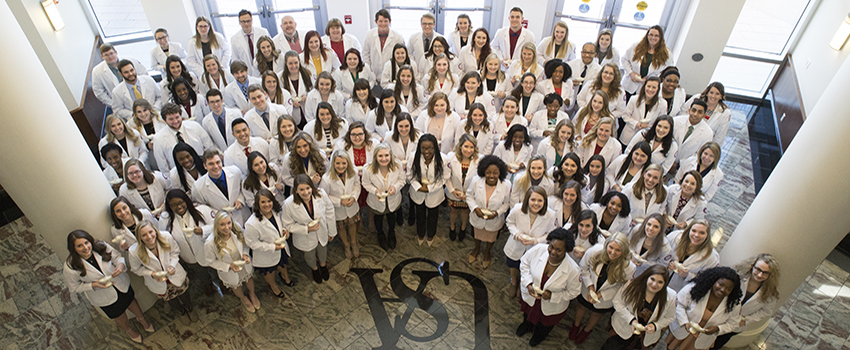 Live Stream
The Spring 2022 CON Convocation Live Stream Link for the event on May 6, 2022.
Convocation is a ceremony held in recognition of the accomplishments of our nursing graduates. It is an opportunity for nursing graduates to celebrate their success with friends, family, and College of Nursing faculty and staff.
Upcoming Convocation Dates
Summer 2022
The College of Nursing Summer 2022 Convocation ceremony will be held on Friday, July 29, 2022, at 1:00 p.m. in the USA Mitchell Center.
Detailed directions to the Mitchell Center.
All students planning to participate in the College of Nursing Convocation Ceremony must complete the Convocation Participation Form linked below.
Summer 2022 Convocation Participation Form
Regalia Information
Graduation regalia from USA's approved vendor, Graduate Supply, is required for Nursing Convocation. Participants should wear traditional business attire or business casual under the academic regalia (cap and gown).
Please visit https://gradsupply.com/ usa/ for more details and to place your regalia order. All questions regarding regalia orders should be directed to Graduate Supply or to the USA Bookstore using the contact information at the bottom of the "Frequently Asked Questions" page of the website.
Location/Contact Information
Our mailing address is (for US postal delivery):
University of South Alabama
College of Nursing
5721 USA Drive N. Room 3068
Mobile, AL 36688-0002
Telephone: (251) 445-9400
FAX: (251) 445-9416


THE NURSING CONVOCATION PROGRAM IS NOT AN OFFICIAL GRADUATION LIST. While every effort is made to ensure accuracy in the Convocation program, printing deadlines may result in omission of some names and include the names of persons not completing graduation requirements as expected. Therefore, the Nursing Convocation program should not be used to determine a student's academic or degree status. The university's official registry for conferral of degrees is the student's permanent academic record which is maintained by the Office of the Registrar.