3MT for the Graduate School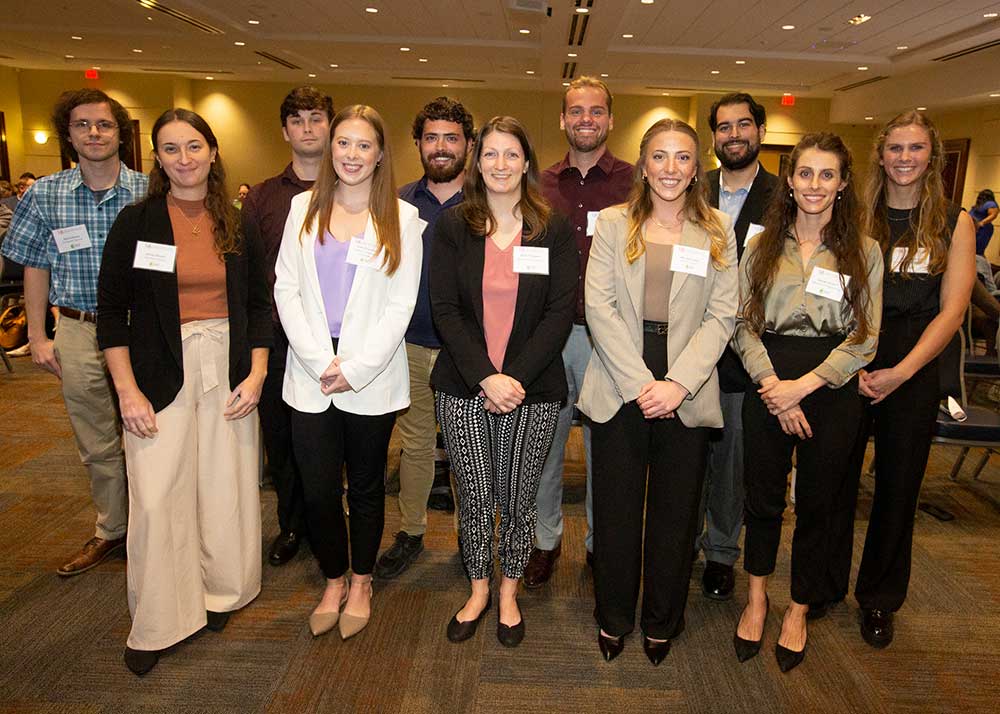 The Graduate School hosted the 3MT (Three Minute Thesis) Competition in the Student Center Ballroom on Tuesday, October 10, 2023. Graduate students nominated from their respective colleges raced against a time clock to present their research in 3 minutes in front of a live audience. The panel of judges included Dr. Al Chow, Professor of Marketing and Quantitative Methods in the Mitchell College of Business, Ms. Lynne Chronister, Vice President for Research and Economic Development at USA, Dr. Daniel Leonardi, Management Instructor and Executive-in-Residence in the Mitchell College of Business, and Mr. Abraham Mitchell of Mitchell Brothers, Inc. The following students were awarded cash prizes.
1st Place: Christa Russell "Scared Strong: Saving Oysters with Crab Pee" ($2,000)
2nd Place: Miranda Traylor "Promoting Healthy Aging: Identifying An Innovative Target" ($1,500)
3rd Place: Dylan Johnson "Effectiveness of Image-Based Deep Learning on Token-Level Software and Vulnerability Detection" ($1,000)
People's Choice: Emma Townsend "Parent Coaching: Educating Students to Create an Effective Early Language Intervention Team" ($1,000)
The Graduate School will sponsor the winner, Christa Russell, with travel funds to attend the regional CSGS (Council of Southern Graduate Schools) annual meeting and compete in their regional 3MT contest. See https://www.csgs.org/3mt-competition.
The 3MT® Competition originated at the University of Queensland in Australia. It is a research communication exercise competition that challenges graduate students to present a compelling oration on their thesis topic and its significance in only three minutes and using only one static slide.