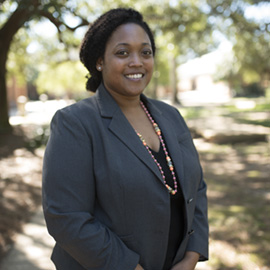 Dr. Charlene A. Dadzie
Assistant Professor Marketing and Quantitative Methods

---
Research Interests
Dr. Dadzie's research interests are in consumer behavior, international marketing, and the intersection of marketing and public policy which include: using the imagination as a persuasive tool, marketplace inclusion, firm strategy in emerging markets and subsistence consumer/producers.
---
Education
Ph.D. Business – Marketing, University of North Texas
M.I.L.R., Cornell University
B.A. History, University of Georgia
---
Publications
Dadzie, Kofi Q., David K. Amponsah, Charlene A. Dadzie, and Evelyn M. Winston. (2017): "How Firms Implement Marketing Strategies in Emerging Markets: An Empirical Assessment of The 4A Marketing Mix Framework." Journal of Marketing Theory and Practice 25, (3) 234-256.

Nguyen, Thuy, Charlene A. Dadzie, Arezoo Davari, and Francisco Guzmán (2015), "Intellectual Capital through the Eyes of the Consumer", Journal of Product and Brand Management, 24 (6), 554-566

Dadzie, Charlene. A. (2015). "Channel Member Satisfaction and Performance in African Export Marketing Channel," Journal of Marketing Channels, Vol. 22, 2.

Dadzie, Kofi Q., Charlene A. Dadzie, Evelyn Winston, and Charles Blankson. (2013). "Inclusive Economic Development Programs and Consumers' Access to Credit in Emerging Market Economies," Journal of Public Policy & Marketing, Vol. 32(2), 59-69.
See More
---
Courses
MKT 336 International Marketing
MKT 374 Consumer Behavior