Alumi Spotlight: Alan Alexander
---
Posted on January 27, 2020 by
---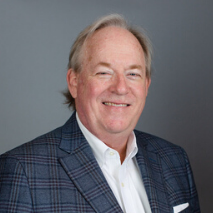 ---
Alan Alexander left his hometown of Camden, Arkansas when his father's career was transferred to Mobile, Alabama in 1973. After graduating high school, he knew he wanted to attend a college close to his home, family and job. He ultimately landed at the University of South Alabama, which proved to be a life-changing decision. South gave him much more than an education, it provided a wonderful environment for him to begin his career as a lawyer. The smaller class sizes allowed for him to excel and to create better relationships with his professors, which shaped his overall experience. "My professors knew me and took an interest in what I was doing. I realize now how fortunate we were in the seventies to be able to have informal conversations with our professors.", says Alexander. He believed the best part about the program at MCOB was the "Open Door" policy, meaning the professors are always willing to provide help where they can; their door is always open. The faculty was dedicated to the students and their success, rather than just filling a role.
In 1978, Alexander graduated from South with a Bachelors of Science in Accounting. He worked in marketing and sales in the IP paper industry for three years, which took him to over different eight states. After saving enough money, he was finally able to enter law school in 1981. Many of his colleagues from his undergraduate years were a part of his legal community throughout law school.
Currently, Alexander is a shareholder/lawyer with the Helmsing Leach Law Firm, in Mobile, AL. He is a trial lawyer, with a practice focused primarily on the defense of professional negligence claims against hospitals and healthcare providers. Since 1985, Alexander has defended hospitals and healthcare providers in medical malpractice cases. He started out as the junior lawyer acting as the second chair, and is now lead counsel in cases in which his clients face serious claims of medical negligence.
When asked what advice he would give students, Alexander said, "Use the opportunities you have to interact with 'old guys' who have been around and have a wealth of experience to share. It will benefit you when you are one of the 'old guys.'"
Alexander's wife is a "recovering" lawyer and now works as a political consultant. Alexander is the proud parent of two children. His son is a new [two years] trial lawyer making his way in the legal world and his daughter is a second year medical student. Their family is completed by a furry-four legged companion. Alexander says, "My still dog loves us, even though 3⁄4 of us are lawyers!"
---
---